A Clonmany family are hosting their final charity Christmas fundraiser after turning their garden into a festive wonderland for the past three years.
Neil and Amanda Gibbons and their family started their charity idea in 2020 during the first Covid Pandemic.
Since then the family has gone on to raise thousands of euro for deserving causes.
Now, this is their final year but they are hoping to go out with a bang and plenty of funds for their chosen charity.
Amanda take up the story of how the Christmas charity came about.
"We always had a large Christmas tree in our front garden, and I always said to Neil "I would love to sell light bulbs for one Christmas for charity."
"So, in the year of 2020 Neil and his brother Billy made a steel tree for the front garden, as the real one always seemed to blow over to the side with the winds in December through the Christmas season.
"So, the decision was made we would sell light bulbs and have a Santa drive through for kids to see Santa, as seeing Santa was not a given during social distancing during lockdown.
"We called it the Clonmany Charity Christmas Tree, and chose two charities or causes to help that Christmas."
The first charities chosen by the family that year was The Foyle Hospice and also the schools in the Clonmany parish for their sensory rooms."
Sadly, within that same year, Amanda's dad was diagnosed with cancer and died in November and never got to see the first charitable year from the tree.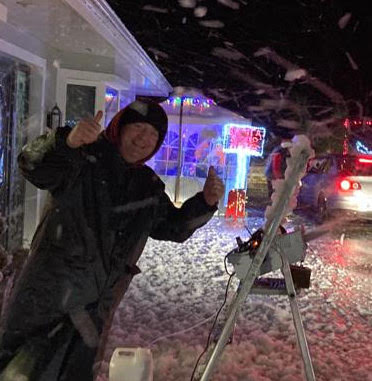 Amanda added "When we were deciding what to charge per bulb, some people were saying charge €5 or €10, but dad said "Amanda, don't charge a fortune keep it low, believe me you'll get more". He was right, the community near and far where amazing, bulbs were been bought from Donegal, parts of Ireland, England and America.
"Grandparents were buying for grandchildren in Australia that could not get home for Christmas because of the pandemic but felt them near because of the bulbs on the tree.
"That first drive through, families drove in and could see the lights, which included a hand made Coca Cola lorry my husband made with the help of his friends, Shane McShane and Pat Coyle. Shane's wife Grace played a major part in helping me too, as we had a big draw you got entered into when you purchase light bulbs."
A total of 147 kids went through that Christmas, and the Gibbons family hit the €4000 mark for the worthy causes.
In 2021 the charities were Saint Columba's Village in Clonmany, and Aoibhinn's House in Galway for Cancer Care West, both receiving €2075 each.
Amanda said this year is their last year as they had only ever planned to do the charity event for one year!
She added "We always said we would finish on a children's charity. So, this year the donations are all going to The Gavin Glynn Foundation, an amazing charity who helps families in their hour of need, when every parent's worst nightmare happens and you're told your child has cancer, and the care they need is outside of Ireland.
"The Gavin Glynn Foundation believes that all children with cancer deserve the best care, wherever in the world that might be.
"The mission of the Foundation is to assist families with all the logistics and financial aspects of travelling overseas for specialist cancer treatment not available in Ireland.
"Supporting the parents in accessing and organising that care is what the Foundation does.
"Keeping the whole family together, during travel for a child's cancer treatment, is essential for the wellbeing of the patient, as well as the parents and siblings.
"This is why The Foundation covers the travel and accommodation costs for the whole family.
"By taking the financial burden and stress away from the families, it allows parents focus all their time on their child and family."
So for the final year the Gibbons family has pulled out all the stops to put on the best light show they could manage.
Amanda revealed "The final drive through this year includes more light, a train added as well as the Coca Cola lorry made from light, extra blow ups, snow machines and some surprises.
As always kids will receive a gift each from birth up to the age of sixth class primary school. This is free of charge to see Santa, all we ask is you put a small donation in the bucket on the night for Gavin Glynn foundation, even the adults get sweets on the night from Santa."
The drive through takes place this year on the 3rd December 6-8 pm and there will be a free draw for people who donated to bulbs takes place on Saturday 10th December.
To see Santa, please book through their Facebook page 'Charity tree Amanda Gibbons' and you can also purchase light bulbs and see prizes for the draw here as well.
"We would like to take this opportunity to thank each and every one who helped, sponsored and donated in any way in the past three years, thank you so very much, and God bless," said Amnda.