Over 20 hardy souls participated in the 'Celtic Sleep Out' for charity which took place in west Donegal last night.
The event took place on a bitter cold night at the Naomh Muire GAA club in Mullach Dearg.
The Sleep Out event in Donegal is part of this year's Celtic FC Foundation Christmas Appeal, from which a portion of the proceeds raised will be donated to assisting those affected by the Creeslough tragedy, over the festive period.
Sleep Out participants, including for Celtic coach and Donegal manager, Jim McGuinness,  spent the night – from 10.00pm to 6.00am – for a wonderful cause, which can still be donated to here.
McGuinness (below) also took part in a Q&A session in the clubhouse.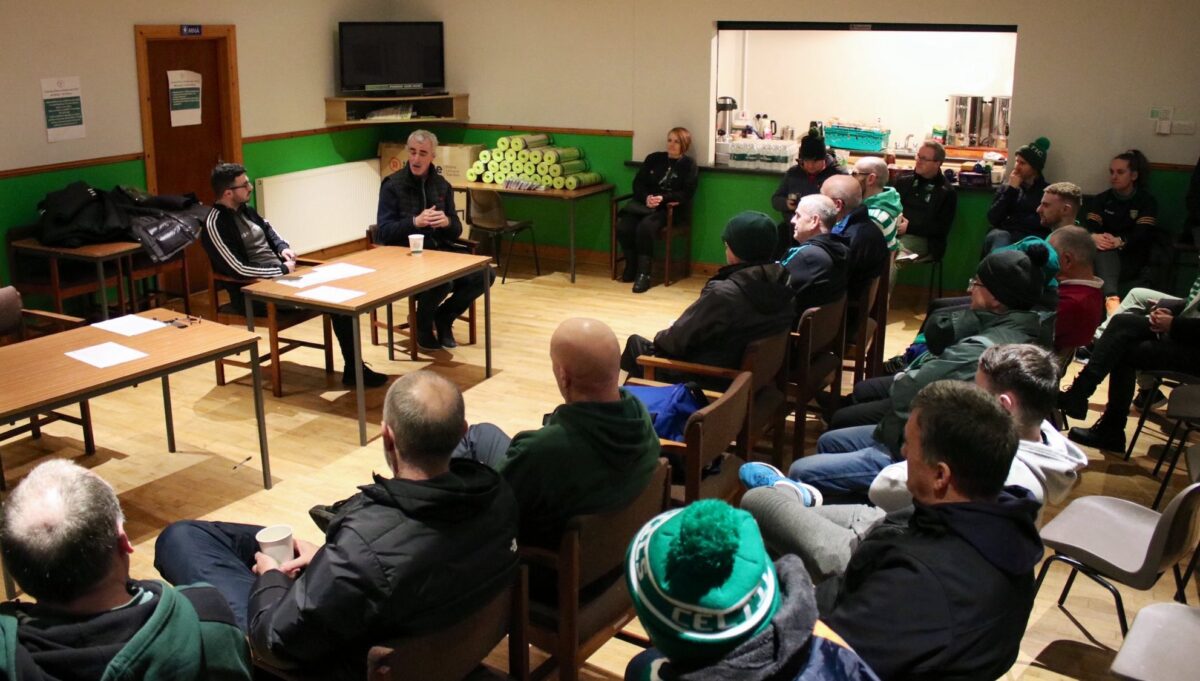 Jimmy Boyle, a Glasgow native who has lived in Donegal for 40 years, is the secretary of the Rosses Celtic Supporters Club, who were approached by the foundation.
He thanked Naomh Muire who were kind enough to let them use their facilities for the sleep out and nominated the St. Vincent De Paul Annagry charity for a donation.
Any money raised from the Irish Sleep Out stays in Ireland and will go to other charities, like the local SVDP.
The Rosses area holds special historical significance to Celtic Football Club, having provided the first sod of turf to be laid at the new Celtic Park in April 1995.
The Celtic Foundation knows it is a difficult time for fundraising due to the economic climate, but it is that issue which drives them on to make their Christmas Appeal, and hopefully make it a better Christmas for some of the vulnerable and needy this year.
A spokesperson for the Celtic FC Foundation said: "We offer special thanks to our friends at The Association of Irish Celtic Supporters Clubs, the Association of Donegal Celtic Supporters, the Rosses CSC and our fantastic hosts at Naomh Muire Íochtar Na Rosann, whose unwavering generosity, advice and assistance have been instrumental in the organisation of the event.
"Funds raised will help to bring relief this festive season to those who are struggling at an especially challenging time of year.
"The primary focus for monies raised through this Donegal event will be to provide support directly in Ireland, including to those within the Creeslough community.
"So please follow in the footsteps of Brother Walfrid and help us make a difference to those most in need within our communities this Christmas."
Tags: