Pobalscoil Chloich Cheannfhaola (PCC Falcarragh) have been named top of the Donegal section for feeder schools for progression to third level education.
The tables, compiled by the Irish Times, measure how many students are progressing to higher education from second-level schools, with Falcarragh having a superb 103% progression rate, with Loreto Letterkenny in second with 95%.
The list comprises the number of 2022 college registrations in each school (including those students that completed the Leaving Certificate prior to 2022) in proportion to the number of students registered at each school who completed the Leaving Certificate in 2022.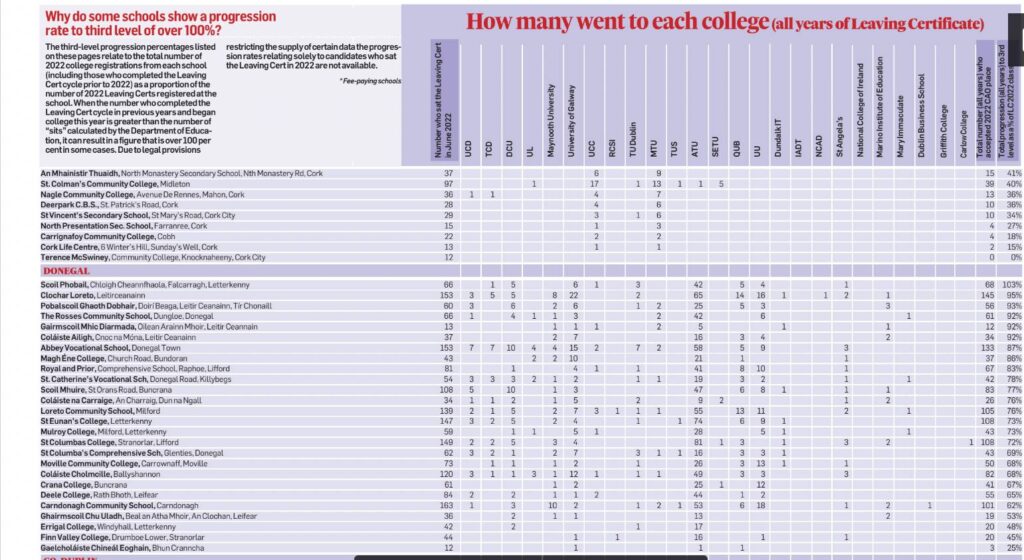 Across the country, fee-paying schools still dominate the most sought-after courses in our traditional universities. They secured 2,935 places, or 71.5 per cent, as a proportion of their 2022 6th year numbers.
Deis schools on the other hand secured 2,205 places in traditional universities, representing 22.3 per cent of the numbers who sat the Leaving Cert in those schools.
Of the 40,986 students who completed the Leaving Cert cycle in non-Deis/non fee-paying schools, 42.9 per cent of the 2022 Leaving Cert cohort (17,572) progressed to places in traditional universities.
Research carried out with those who have progressed to third-level indicate that most Irish school leavers apply to attend colleges where they can continue to socialise with their peer group.
There is also a growing economic factor causing students to select their local institutions, driven in large part by the soaring cost of accommodation in our towns and cities: living away from home adds hugely to the cost of attending college.
There are significantly lower third-level progression rates among students in counties or geographic locations which do not have access to third-level institutions and who are therefore unable to attend a chosen course without living away from home.