The body of Irish UN peacekeeper Seán Rooney is expected to arrive at Casement Aerodrome in Baldonnel this morning.
The 24-year-old's remains will arrive back in Ireland after travelling from Beirut International Airport overnight on an Air Corps aircraft.
Private Rooney, 24, who spent many years in Newtowncunningham, was shot and killed last week when the armoured vehicle he was travelling in was attacked in a coastal village in southern Lebanon.
After a solemn UN ceremony at the airport yesterday, Pte Rooney's remains were placed on an Air Corps CASA plane which stopped off in Malta for refuelling and is due to land in Dublin early this morning.
No details have yet been released about his funeral but his family are expected to decide those details shortly.
Taoiseach Leo Varadkar said the Government will offer Pte Rooney's family a full military funeral for Sean.
His colleague, Trooper Shane Kearney, 23, suffered blunt force trauma to the head in the attack, however the Irish officer commanding the 121st Battalion, Lieutenant Colonel Damien Murphy said that Trooper Kearney was making progress – even if still critically injured.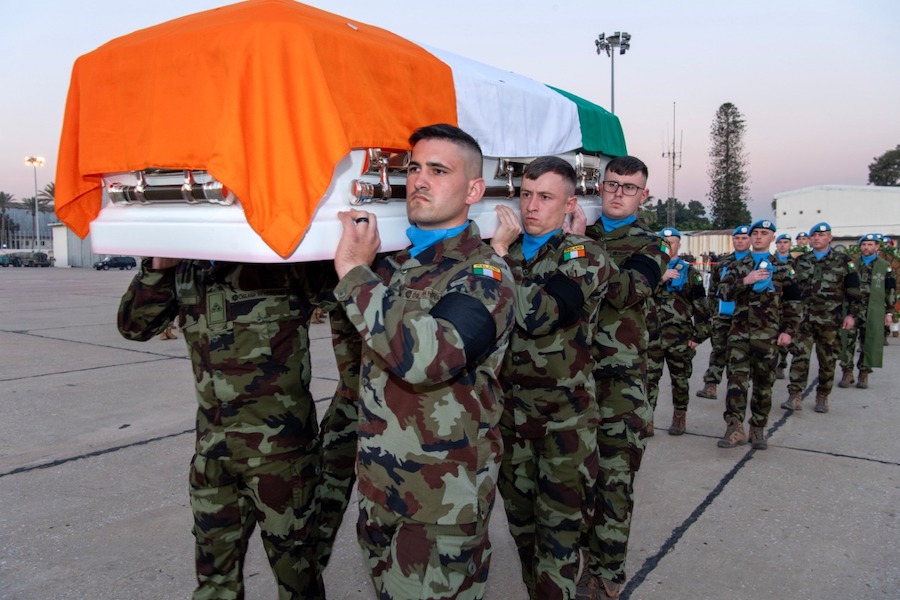 Meanwhile, three separate investigations are under way into what happened last Wednesday night at the coastal village south of the city of Sidon.
Lebanese Army General Pierre Saab said at Pte Rooney's repatriation ceremony yesterday that all of his security agencies will do their best to reveal the truth.
He said anyone who proves to be an aggressor against UNIFIL – which is totally rejected by the Lebanese people – will be punished.
The Irish Defence Forces is conducting its own investigation which will be augmented today by a team of three Military Police and a lawyer from Dublin, as well as a specialised team from An Garda Síochána.