A great field of 327 people turned up to blow away the Christmas cobwebs at the Finn Valley AC's Annual St Stephen's Day 5k.
There weren't too many raised eyebrows when Finn Valley AC's European Cross County silver medallist Sean McGinley won his club's festive event.
McGinley took to the crisp Twin Tows streets just a couple of weeks after helping the Ireland Under-20 men to second spot.
McGinley finished 12th at Mandria Park in Turin, having been sixth in the national junior race, and he followed up on Monday by leading the charge at the 52nd annual Finn Valley AC St Stephen's Day 5k.
McGinley clocked 15 minutes and 39 seconds to win from Letterkenny AC's John McCallion, who finished in 16:03 while Paul Smith was third.
Finn Valley AC duo Dermot Brennan and Enda Doherty completed the top five.
McGinley was one of three Finn Valley athletes to medal in Turin. The Flanagan twins, Eilish and Roisin, who won bronze with the Ireland senior women's team, were unable to take part in Monday's race they prepare to jet back to their base in Colorado.
Galway City Harriers athlete Anna McGinley was the leading female, crossing the line in19:04, with Finn Valley AC's Maggie O'Hara (19:54) and Catriona Devine (20:02) second and third.
Professional boxer Jason Quigley was among the 327 participants. Quigley, the 2021 WBO world middleweight challenger, came home in 21:33.
Finn Valley pair Oisin Browne (19:58) and Darci Clarke (20:59) were the underage winners.
Many thanks to photographer Joe Boland for both taking off his Christmas pyjamas and for these photos!

All the results are at the bottom of this piece after the pictures.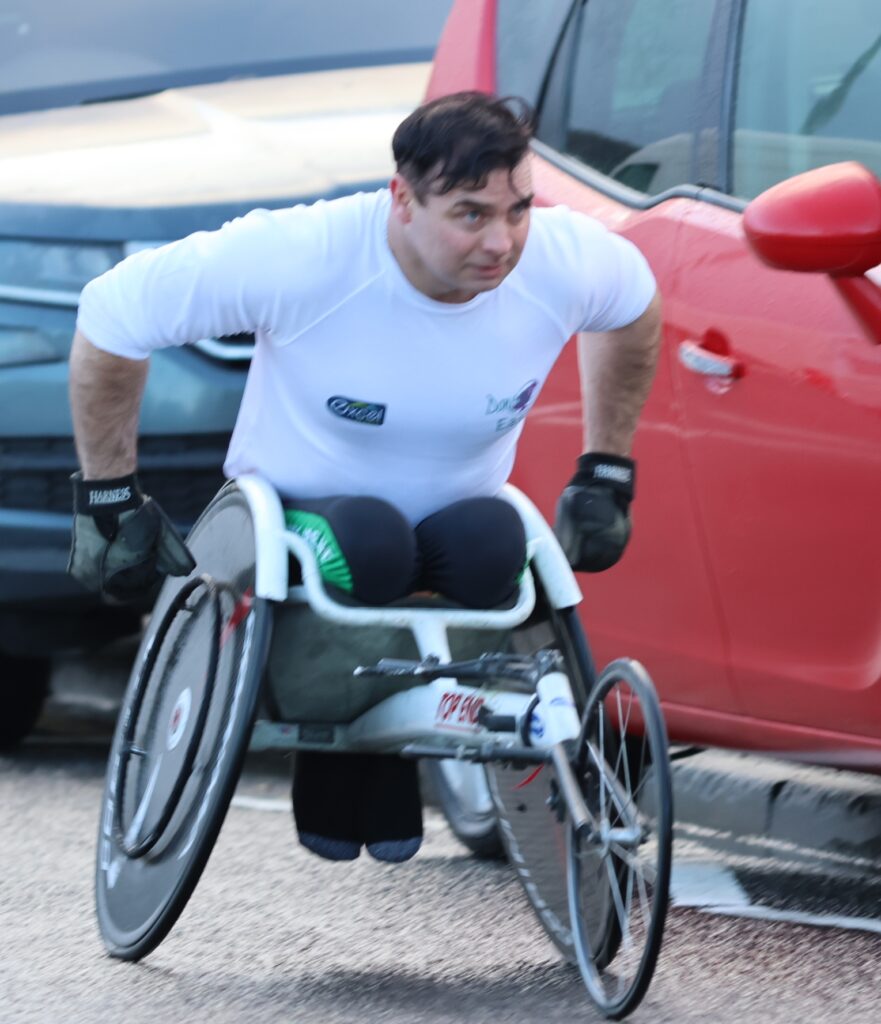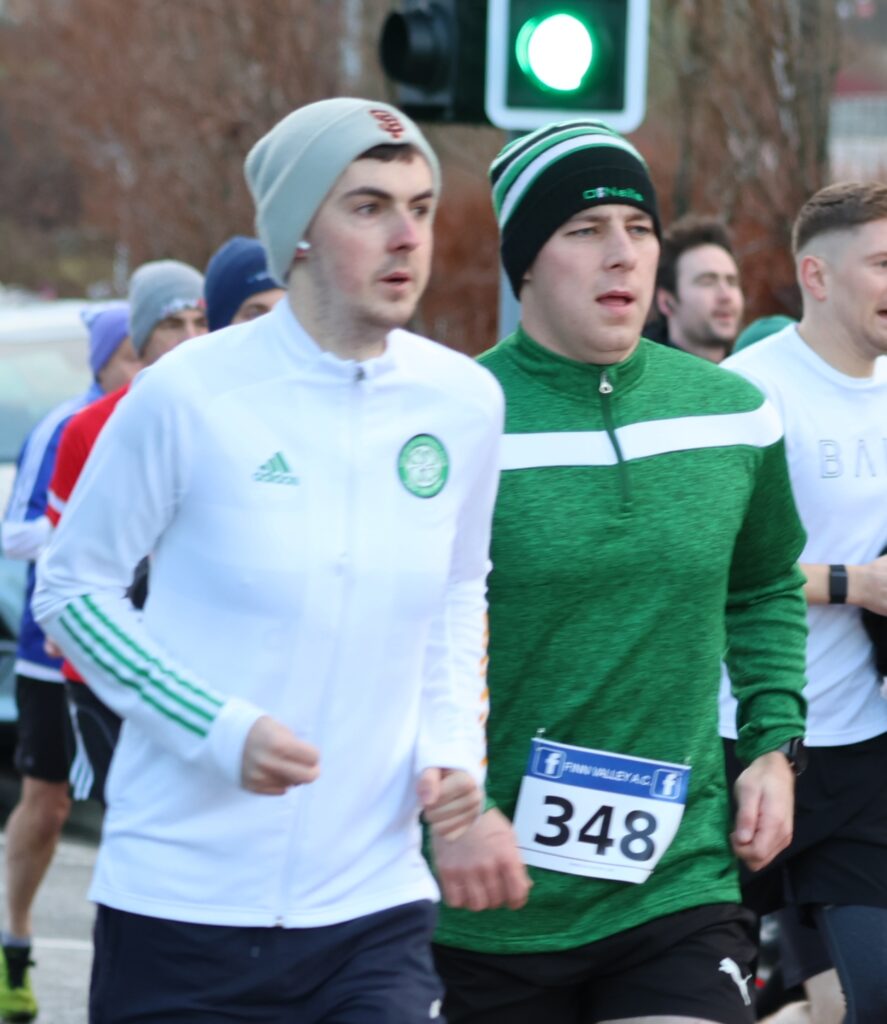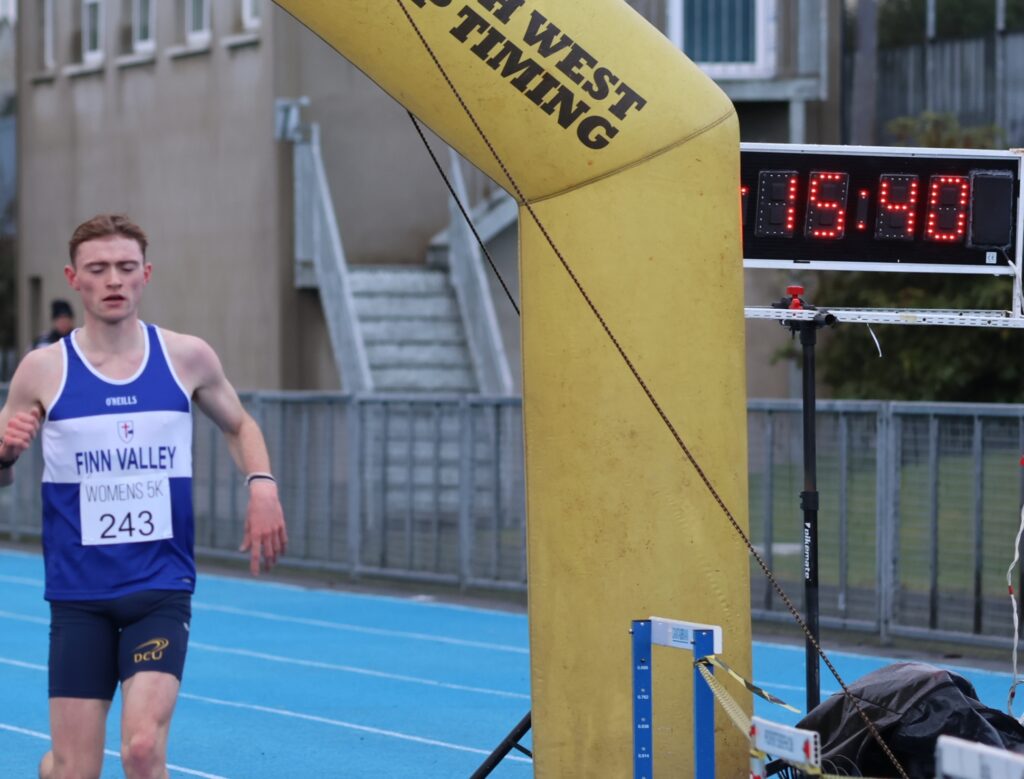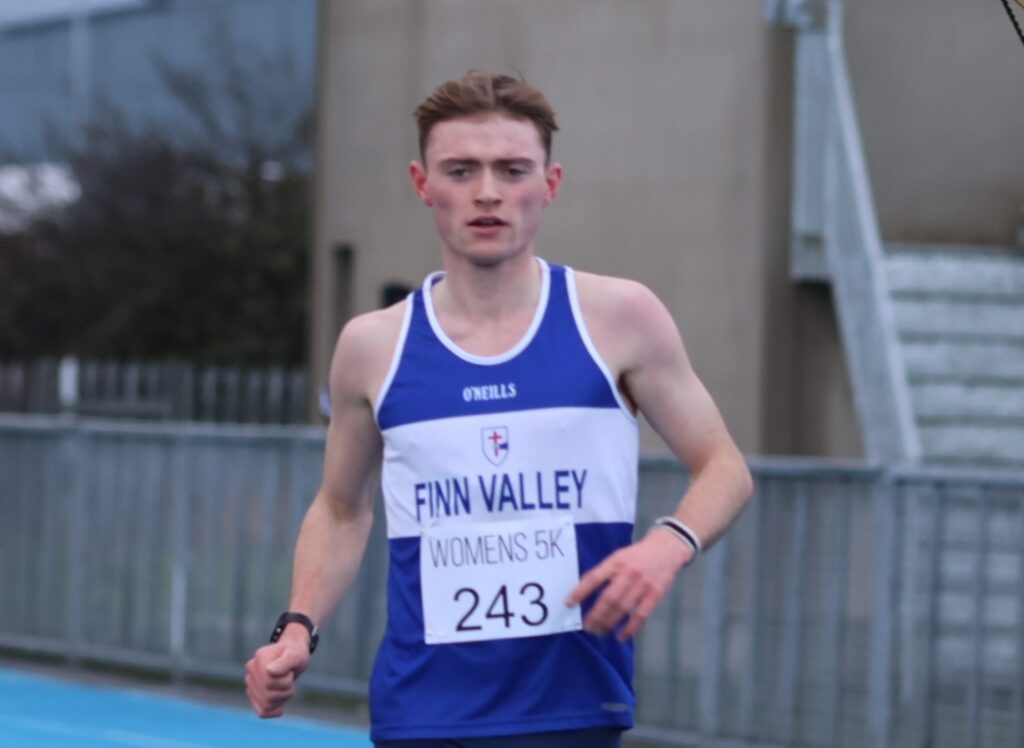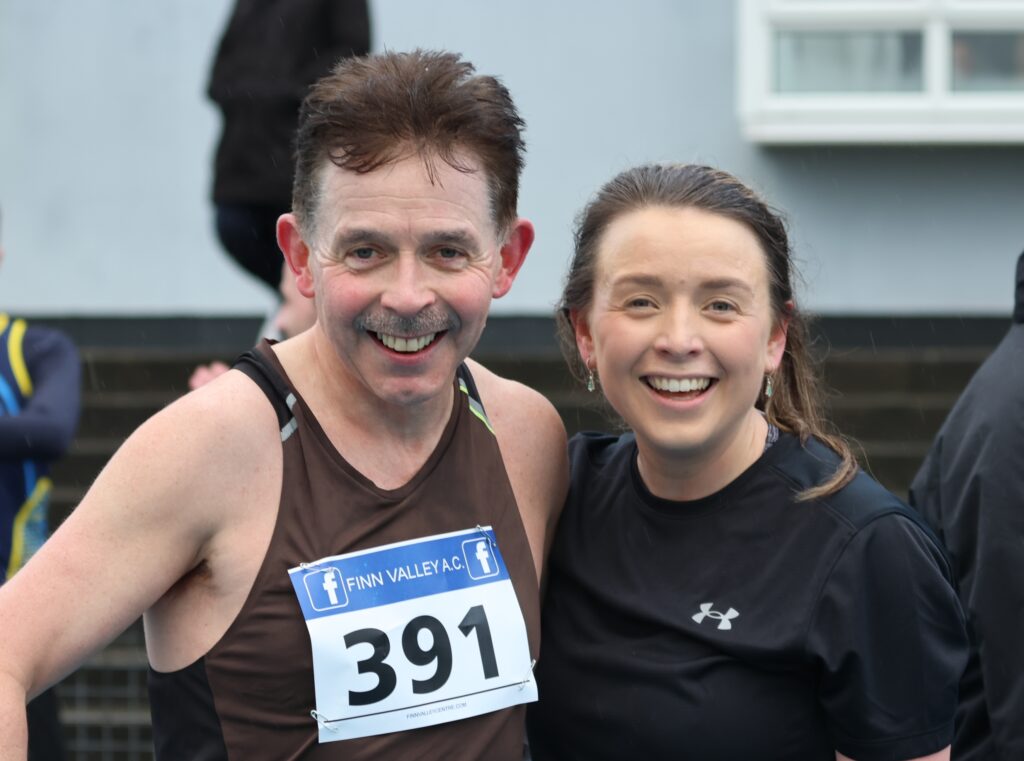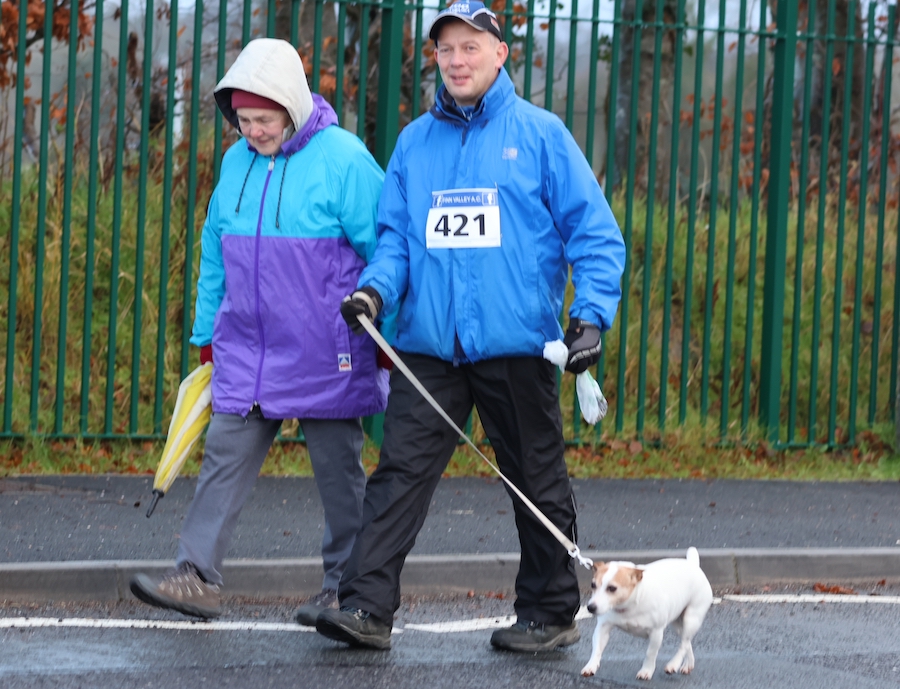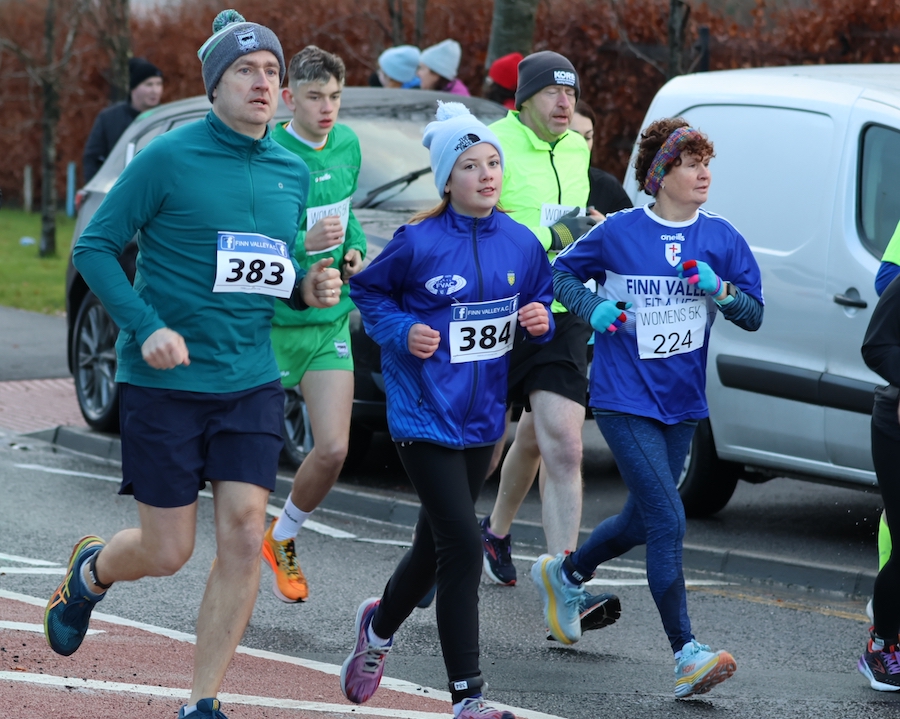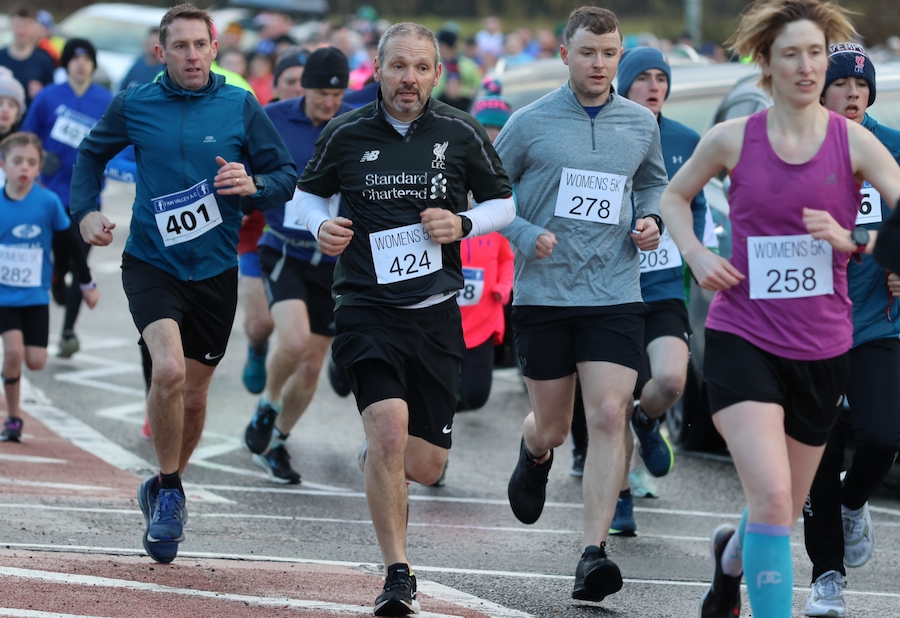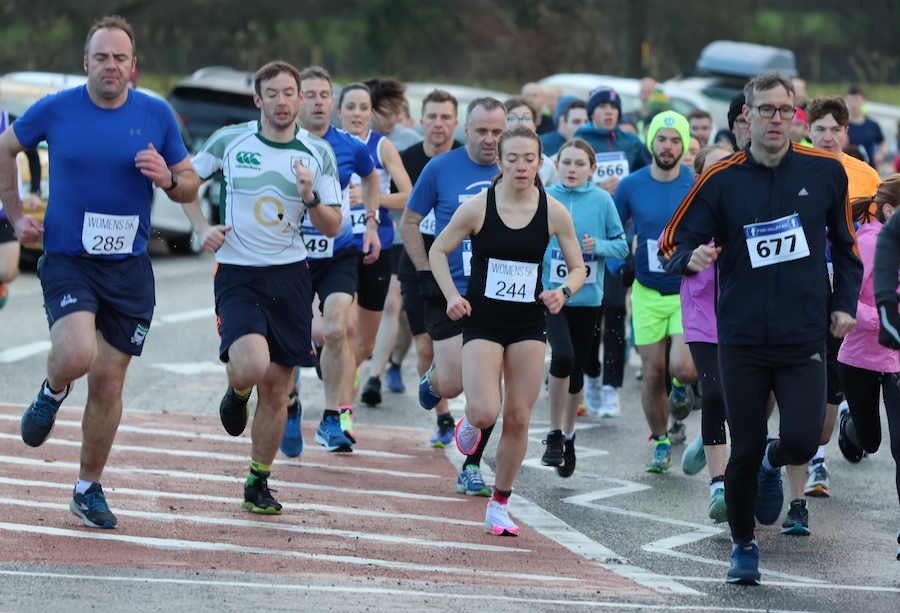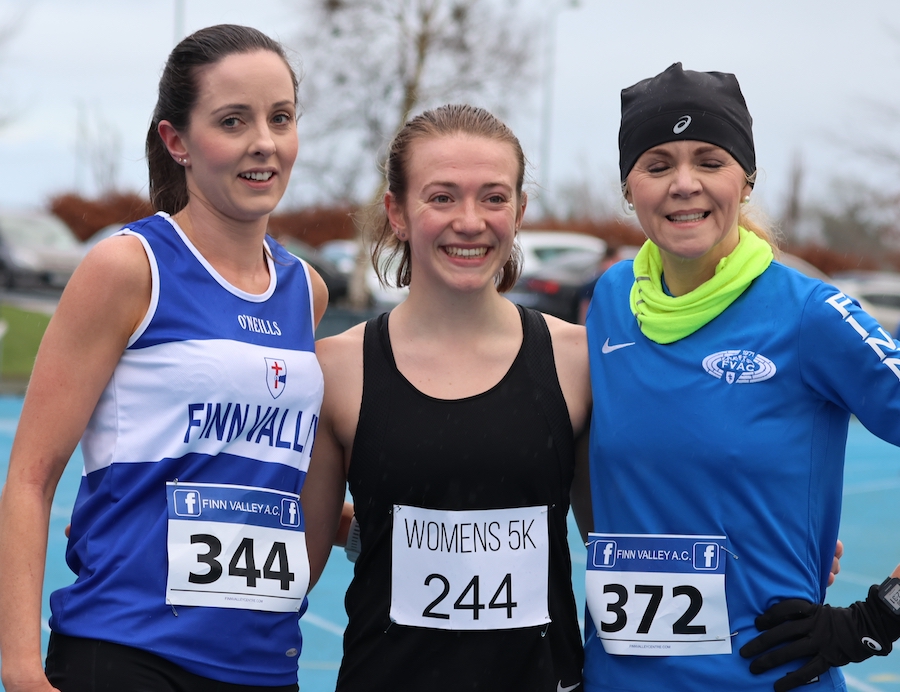 Finn Valley AC  Boxing Day 5k 2022
Place Bib Name M/F AG Club GunTime
1. 243 McGinley, Sean M MO Finn Valley AC 15:39
2. 235 McCallion, John M MO Letterkenny 16:03
3. 266 Smith, Paul M MO 17:02
4. 360 Brennan, Dermot M MO Finn Valley AC 17:14
5. 310 Doherty, Enda M MO Finn Valley AC 17:20
6. 455 Quinn, Ryan M MO Finn Valley AC 17:39
7. 334 Toland, Darren M MO Finn Valley AC 17:55
8. 353 Friel, Cian M MO Letterkenny AC 18:32
9. 228 Gilbride, Caolan M MO Tir Chonaill 18:37
10. 355 Carr, Ben M MO Finn Valley AC 18:42
11. 268 Wasson, Trevor M MO Strabane Runners 19:02
12. 244 McGinley, Anna F FO Galway City Harriers 19:04
13. 359 MacIntyre, Brian M MO 19:19
14. 430 McGill, Joseph M MO 19:21
15. 401 Kilpatrick, Alan M MO Convoy Suffolks 19:24
16. 206 Allan, Finbar M MO Raphoe Road Runners 19:31
17. 391 Gormley, Martin F FO Finn Valley AC 19:32
18. 429 McBride, Jack M MO 19:34
19. 677 Bannan, Ciaran M MO LAC 19:49
20. 284 Gillespie, Caolan M MO Finn Valley AC 19:54
21. 344 O Hara, Maggie F FO Finn Valley AC 19:54
22. 314 Browne, Oisin M MO Finn Valley AC 19:58
23. 372 Devine, Catriona F FO 20:02
24. 275 Kelly, Sarah F FO Sligo 20:04
25. 202 Alexander, Mark M MO 20:21
26. 218 Cromie, Robert M MO 20:26
27. 349 McCabe, Paul M MO Finn Valley Fit4life 20:29
28. 324 Shaw, Robert M MO 20:30
29. 424 Bates, Mark M MO 20:33
30. 368 Patton, Conor M MO 20:33
31. 374 Molloy, Sean M MO Foyle Valley AC 20:36
32. 258 O'Donnell, Selina F FO 20:40
33. 436 McNulty, Holly F FO Finn Valley AC 20:41
34. 659 Power, Aisling F FO Dundrum South Dublin 20:43
35. 335 Penrose, Michael M MO Finn Valley AC 20:46
36. 392 Gormley, Jane F FO Finn Valley AC 20:54
37. 222 Earley, Aidan M MO 20:54
38. 217 Cromie, Joel F FO 20:57
39. 336 Bradley, Damien M MO Team Legacy 20:58
40. 378 Gallagher, Gary M MO Finn Valley AC 20:59
41. 213 Clarke, Darcie F FO 20:59
42. 377 Crumley, Stephen M MO Melvin WJR 21:01
43. 658 Power, David M MO 21:02
44. 285 Gillespie, Adrian M MO 21:04
45. 467 Toye, John M MO St Mary's 21:05
46. 347 Doherty, Gareth M MO 21:10
47. 370 Gallagher, Declan M MO Run for Fun 21:16
48. 203 Alexander, Ciaran M MO 21:19
49. 400 Connolly, Michael M MO 21:21
50. 278 O Leary, Chris M MO 21:22
51. 346 O Neill, Michael M MO Marino AC 21:24
52. 330 Fealty, John M MO Milford AC 21:30
53. 209 Byrne, Nia F FO 21:32
54. 361 Quigley, Jason M MO Finn Valley AC 21:33
55. 259 O'Donnell, Joshua M MO Finn Valley AC 21:34
56. 494 McGlynn, Liam M MO Mullingar Harriers 21:39
57. 320 Mulrine, Niall M MO 24/7 Triathlon Club 21:47
58. 219 Cromie, John M MO 21:54
59. 238 McCrory, Órlaith F FO Finn Valley AC 21:56
60. 234 Maguire, Thomas M MO Finn Valley Fit4Life 22:10
61. 329 Irwin, Rodney M MO 22:11
62. 242 McGillion, Johnny M MO Melvin 22:14
63. 305 McLaughlin, Kealan M MO 22:18
64. 375 Crowe, David M MO Ballymena Runners 22:21
65. 380 Doherty, Karol M MO 22:24
66. 466 Ryan, Mark M MO 22:26
67. 379 Burke, Richard M MO Foyle Valley AC 22:27
68. 245 McGlinchey, Finnian M MO 22:28
69. 489 Herron, Dean M MO 22:29
70. 207 Bonner, Noreen F FO Finn Valley 22:31
71. 452 McGeehan, Matthew M MO Finn Valley AC 22:56
72. 667 Thompson, Michael M MO Finn Valley AC 22:57
73. 231 Hannigan, Paddy M MO 22:58
74. 402 Catterson, Alan M MO 22:59
75. 319 Carlin, Shea M MO Finn Valley AC 23:00
76. 354 Carlin, Cormac M MO Lifford AC 23:01
77. 396 Gallagher, Shane M MO Finn Valley AC 23:02
78. 480 Gallagher, Barry M MO Finn Valley AC 23:02
79. 249 McGlinchey, Niamh F FO 23:06
80. 412 Gilligan, Saorla F FO 23:06
81. 460 McElchar, Aimee F FO Finn Valley AC 23:07
82. 247 McGlinchey, Adriana F FO 23:07
83. 236 McCauley, Tracey F FO 23:08
84. 253 McMenamin, Christopher M MO Letterkenny AC 23:10
85. 394 Lafferty, Jessica F FO Finn Valley AC 23:20
86. 453 McGeehan, A M MO 23:22
87. 422 Kelly, Matthew M MO 23:28
88. 427 Temple, Paul F FO 23:41
89. 225 Friel, Orla F FO Fit 4 Life 23:46
90. 220 Doherty, Ross M MO Finn Valley Fit 4 Life 23:47
91. 650 McGlynn, William M MO Fit4life 23:53
92. 369 Coyle, Brendan M MO 23:56
93. 433 Patton, Adrian M MO Munich Colmcilles 23:59
94. 226 Gallagher, Diane F FO KCR 24:08
95. 441 Hippsley, Mary F FO 24:12
96. 435 O'Leary, Sean M MO 24:14
97. 397 Anderson, Martin M MO Finn Valley AC 24:15
98. 643 Doherty, Gareth M MO 24:19
99. 365 Doherty, Orlaith F FO 24:19
100. 487 Griffin, John M MO Finn Valley Fit4life 24:21
101. 426 Temple, Dylan d Finn Valley AC 24:25
102. 393 McElhinney, Caoimhe F FO Finn Valley AC 24:26
103. 475 McMenamin, Kate F FO Finn Valley AC 24:30
104. 322 McGee, Orlaith F FO Finn Valley AC 24:33
105. 491 Doherty, Paddy M MO Finn Valley Fit4life 24:42
106. 403 Galllagher Jnr, Eamonn M MO 24:43
107. 399 Doherty, Christopher M MO Milford AC 24:44
108. 251 McHugh, Ruairi M MO 24:48
109. 265 Roulstone, Gary M MO Raphoe 24:49
110. 418 Kelly, Gavin M MO 24:50
111. 316 Bradley, Colin M MO South London Harriers 25:01
112. 490 Jansen, Daneilla F FO Finn Valley AC 25:01
113. 434 McGlinchey, Dominic M MO Castlefin Running 25:04
114. 311 Hunter, Angus M MO 25:08
115. 666 Malone, Jacob M MO Finn Valley AC 25:10
116. 348 Thompson, Shane M MO 25:11
117. 308 O'Connell, Damien M MO 25:12
118. 449 McNulty, Michael M MO 25:14
119. 448 McNulty, Alan M MO 25:16
120. 293 Gallen, Jamie M MO 25:20
121. 292 Gallen, Gary M MO 25:20
122. 373 McDaid, AJ M MO 25:24
123. 681 Patton, Martin M MO Finn Valley Fit4life 25:25
124. 237 McCrory, Martin M MO 25:25
125. 439 McNulty, Pat M MO Finn Valley AC 25:31
126. 654 Power, Eabha F FO 25:38
127. 493 Watt, Wendy F FO Finn Valley AC 25:39
128. 438 McNulty, Patrick M MO Finn Valley AC 25:39
129. 471 McElhinney, Aoibhinn F FO Finn Valley AC 25:40
130. 437 O'Brien, Charmaine F FO Finn Valley AC 25:43
131. 691 Pimm, Matthew M MO King Pimm Racing 25:54
132. 387 Lafferty, Grace F FO Finn Valley AC 26:04
133. 263 O'Donnell, Ellen F FO 26:06
134. 382 Lavelle, Eilis F FO Finn Valley AC 26:09
135. 381 O Dea, Darren M MO Finn Valley AC 26:10
136. 440 Bonnar, Doire M MO 26:11
137. 371 McGranaghan, Lee M MO Finn Valley AC 26:26
138. 668 Malone, Beth F FO Finn Valley AC 26:30
139. 500 Dowds, Matthew M MO Finn Valley AC 26:33
140. 483 Gallagher, Aoibheann F FO Finn Valley AC 26:40
141. 484 Gallagher, Odhran M MO Finn Valley AC 26:41
142. 389 Lafferty, Maya F FO Finn Valley AC 26:43
143. 239 McDaid, Rachael F FO Melvin 26:48
144. 252 Mclaughlin, Conor M MO Melvin 26:49
145. 469 McLaughlin, Sarah F FO 26:53
146. 286 Floyd, Damien M MO 26:54
147. 388 Lafferty, Kiara F FO Finn Valley AC 26:56
148. 651 McGlynn, Annie May F FO Finn Valley AC 26:56
149. 472 472, N.N. 26:57
150. 476 Clarke, Fiona F FO 26:58
151. 260 O'Donnell, Orla F FO 26:59
152. 486 486, N.N. 27:03
153. 276 Mitchell, Pauric M MO Finn Valley AC 27:05
154. 386 Lafferty, Raonaid F FO Finn Valley AC 27:10
155. 216 Coyle, Tony M MO 27:12
156. 485 Gallagher, Peter M MO Finn Valley AC 27:15
157. 646 Ferguson, Denise F FO Finn Valley Fit4Life 27:18
158. 211 Cardoso De Souza, Arthur M MO 27:18
159. 357 Patton, PJ M MO Run for Fun 27:22
160. 338 Gallagher, Mia F FO Finn Valley AC 27:23
161. 282 Gillespie, Caitlin F FO Finn Valley AC 27:24
162. 277 O Leary, Laura F FO 27:28
163. 304 Killen, Aoibhinn F FO 27:31
164. 345 O Neill, Molly F FO Raheny Shamrocks AC 27:36
165. 656 Bannan, Deirdre F FO 27:42
166. 366 McHugh, Danny M MO Finn Valley AC 27:45
167. 367 McHugh, Adrian M MO 27:45
168. 254 Moss, Caroline F FO Finn Valley 27:50
169. 289 Barrett Doherty, Siobhan F FO Finn Valley AC 27:55
170. 649 McGlynn, Frances F FO Fit4life 27:57
171. 445 Kelly, James M MO 28:02
172. 444 Carlin, Eugene M MO Finn Valley AC 28:10
173. 462 McGinley, Eugene M MO Raphoe Road Runners 28:10
174. 287 Lyons, Sharon F FO 28:13
175. 446 Wright, Jono M MO 28:35
176. 447 Kelly, Geraldine F FO 28:35
177. 414 Gildea, Kathleen Mary F FO 28:35
178. 413 Gibbons, Kathryn F FO 28:38
179. 288 Lyons, Abbi F FO Finn Valley AC 28:44
180. 224 Friel, Deirdre F FO Fit 4 Life 28:46
181. 337 Gallagher, Martha F FO Finn Valley AC 28:49
182. 465 Ryan, David M MO 28:50
183. 341 Gallagher, Michael M MO Finn Valley AC 28:51
184. 290 Barrett Doherty, Jasmine F FO Finn Valley AC 28:51
185. 364 Dunne, Clodagh F FO Liverpool Irish Rivers 28:58
186. 450 Patton, Keith M MO 29:04
187. 233 Johnston, Marc M MO 29:08
188. 425 Temple, Ryan M MO Finn Valley AC 29:15
189. 204 Alexander, Hugh M MO 29:20
190. 205 Alexander, Shane M MO 29:20
191. 352 McCabe, Caoil Fhinn M MO Finn Valley Fit4life 29:22
192. 201 Alexander, Sara F FO 29:26
193. 405 King, Sarah F FO 29:30
194. 457 McElchar, Luke M MO 29:40
195. 456 McElchar, Jerome M MO Pro Fitness 29:40
196. 458 McElhar, Maureen F FO 29:42
197. 481 Gallagher, Enya F FO 29:44
198. 376 McGranaghan, Meghan F FO Finn Valley AC 29:53
199. 404 McGinley, Maria F FO 29:54
200. 332 Mahon, Ryan M MO 29:56
201. 331 Mahon, Harry M MO 29:57
202. 363 Daly, Ailish F FO Melvin Strabane 30:11
203. 250 McGrath, Aoife F FO Finn Valley AC 30:12
204. 323 McGee, Ruby F FO Finn Valley AC 30:12
205. 317 McGee, John M MO Finn Valley AC 30:12
206. 358 Black, Declan M MO Run for Fun 30:13
207. 419 McLaughlin, Aoibhin F FO 30:17
208. 420 Kelly, Aoife F FO 30:17
209. 423 McLaughlin, Rose F FO 30:17
210. 384 Sleigh, Caoimhe F FO Finn Valley AC 30:30
211. 383 Sleigh, Richard M MO Finn Valley AC 30:30
212. 281 McHugh, Gavin M MO 30:40
213. 411 Gilligan, Ultan M MO 30:43
214. 676 Gallen, Jamie M MO 31:03
215. 674 Gallen, Shauna F FO 31:04
216. 675 Walsh, Louise F FO 31:06
217. 294 Rule, Jennifer F FO 31:24
218. 295 Pearson, Hilary F FO 31:24
219. 417 Kelly, Amanda F FO 31:29
220. 340 Martin, Mary F FO Finn Valley AC 31:31
221. 477 McMenamin, Dylan M MO Finn Valley AC 31:36
222. 362 Gallagher, Sarah F FO Melvin Strabane 31:48
223. 482 Dolan Gallagher, Helen F FO 31:49
224. 428 Temple, Roisin F FO 31:49
225. 333 Mahon, Barbara F FO 31:51
226. 230 Goudie, Dylan M MO 31:52
227. 229 Goudie, Ivor M MO 31:54
228. 385 Lafferty, Ciara F FO Finn Valley AC 32:01
229. 390 Lafferty, Nicola F FO Finn Valley AC 32:03
230. 261 O'Donnell, Aoife F FO 32:33
231. 398 Doherty, Deirdre M MO Milford AC 32:37
232. 686 Lyons, Seamus M MO 32:38
233. 443 McHugh, Kevin M MO 33:24
234. 653 Power, Alannah F FO Dundrum South Dublin 34:12
235. 327 Bradley, Amelia F FO 34:13
236. 318 McGee, Sophie F FO Finn Valley AC 34:15
237. 645 Dowds, Anna F FO 34:15
238. 326 Bradley, Lynn F FO 34:21
239. 267 Sweeney, Lornagh F FO Bray 35:52
240. 648 McGranaghan, Peadar M MO 37:22
241. 694 O'Donnell, Dermot M MO 38:41
242. 693 O'Donnell, Grace F FO 38:42
243. 299 McNulty, Brendan M MO 39:11
244. 678 McGlynn, Danny M MO 39:11
245. 474 Clarke, Niall M MO 39:24
246. 459 McElhar, Aoibhe F FO 39:29
247. 461 DrogosZ, Emily F FO 39:29
248. 283 Gillespie, Catriona F FO 39:38
249. 407 McConnell, Julie F FO 39:59
250. 406 O'Leary, Kathleen F FO 39:59
251. 296 Moss, Fiona F FO 40:39
252. 262 O'DONNELL, BRIAN M MO 40:48
253. 307 Keating, Niamh F FO Finn Valley AC 41:05
254. 306 Keating, Aine F FO Finn Valley AC 41:06
255. 669 Goudie, Hannah F FO 41:31
256. 478 McMenamin, Daireen F FO 41:46
257. 246 McGlinchey, Adrian M MO 42:04
258. 432 McGlinchey, Dolours M MO Finn Valley AC 42:05
259. 248 McGlinchey, Kenny M MO 42:06
260. 297 Judge, Michelle F FO 42:12
261. 298 Moss, Kathryn F FO 42:12
262. 670 Goudie, Ryan M MO 42:18
263. 665 Goudie, Louise F FO Raphoe Road Runners 42:19
264. 655 Power, Cara F FO 42:21
265. 652 Power, Fionnuala F FO 42:21
266. 339 Dullaghan, Owen M MO Finn Valley AC 42:23
267. 671 Browne, Geraldine F FO Finn Valley AC 42:27
268. 672 Dullaghan, Shaun M MO 42:27
269. 431 McGlinchey, John M MO Finn Valley AC 42:59
270. 415 Murphy, Michael M MO 43:36
271. 416 Murphy, Damien M MO Finn Valley AC 43:36
272. 463 Gallen, Bronagh F FO 44:23
273. 464 Gallen, Bridget F FO 44:25
274. 492 Doherty, Rea F FO Finn Valley Fit4life 45:02
275. 351 McCabe, Caroline F FO Finn Valley Fit4life 45:02
276. 356 Patton, Yanaina` F FO 45:07
277. 328 Martin, Neil M MO Finn Valley AC 45:53
278. 442 Hegarty, Pat M MO Finn Valley AC 45:54
279. 232 Hannigan, Catherine Rose F FO 46:45
280. 291 Doherty, Breege F FO 46:45
281. 685 McNulty, John Paul M MO 46:49
282. 683 Kennedy, Kelley F FO 46:49
283. 221 Duffner, Karin F FO 46:55
284. 497 Scanlon, Shauna F FO Finn Valley AC 46:55
285. 454 McGeehan, Bernard M MO 46:59
286. 451 McGeehan, Ashling F FO Finn Valley AC 46:59
287. 498 McGettigan, Anya F FO 48:19
288. 350 McCabe, Maoliosa F FO Finn Valley Fit4life 48:19
289. 309 Doherty, Eadaoinn F FO Finn Valley AC 48:24
290. 684 Brennan, Caoimhe F FO Finn Valley AC 48:24
291. 689 689, N.N. 49:18
292. 302 Killen, Marit F FO 49:23
293. 301 Herron, Jarlaith M MO 49:30
294. 315 Browne, Barry M MO Finn Valley AC 49:38
295. 312 Browne, Sheila F FO Finn Valley AC 49:39
296. 300 Herron, Linda F FO 49:39
297. 690 Thomas, Leanne F FO 49:41
298. 692 Sweeney, Michael M MO 49:41
299. 303 Killen, Mollie F FO 49:48
300. 280 McHugh, Gary M MO 50:03
301. 279 McHugh, Cathal M MO 50:03
302. 641 Wellens, Jonas M MO Morning walking Club 50:06
303. 644 Mullin, Rosie F FO Morning walking Club 50:06
304. 642 Scanlon, Barry M MO Morning walking Club 50:07
305. 313 Browne, Sinead F FO Finn Valley AC 50:15
306. 479 Gallagher, Rachel F FO 50:29
307. 473 Slevin, Wilma F FO 50:29
308. 274 274, N.N. 50:35
309. 272 Henderson, Eva F FO 50:35
310. 496 Scanlon, Pauric M MO Finn Valley AC 50:39
311. 495 McDermott, Caoimhe F FO Finn Valley AC 50:40
312. 273 Henderson, Stephen M MO 51:01
313. 271 Henderson, Sophia F FO 51:01
314. 695 Geis, Ann-Sophie F FO 51:09
315. 697 Tamburrini, Diletta F FO 51:10
316. 269 Duffy, Suzie F FO 53:33
317. 270 Duffy, Margaret F FO 53:33
318. 660 Bannan, Liam M MO 54:23
319. 661 Bannan, Eileen F FO 54:23
320. 664 McGonagle, Caitlin F FO Finn Valley AC 54:52
321. 663 McGonagle, Maria F FO Finn Valley AC 54:53
322. 421 McNaught, Tommy M MO 55:49
323. 343 Gallagher, Luke M MO Finn Valley Ac 59:17
324. 342 Gallagher, Lynn F FO Finn Valley AC 59:28
325. 682 Bannan, Aidan M MO 59:52
326. 680 Conaghan, Danielle F FO Finn Valley AC 59:52
327. 679 Bannan, Donall M MO 59:56
328. 673 McCready, Gareth M MO 1:00:33