Provisional figures released show that 155 people lost their lives in 2022 as a result of road traffic collisions, which includes 8 fatalities in Donegal.
Many more have to live with life changing injuries, along with families and friends grieving for lives lost needlessly.
The figures show that the number of pedestrians killed in 2022 was 41, compared to 21 in 2021.
The high number of pedestrians fatalities, who are our most vulnerable road users, is a major concern.
Despite numerous campaigns motorists continue to put lives at risk by driving at excessive speed and driving under the influence of alcohol or drugs.
A visit to any collision location, an Accident & Emergency Department or Coroner's Court will bring home the reality of destroyed lives, horrific deaths and grieving families following road traffic death and injury.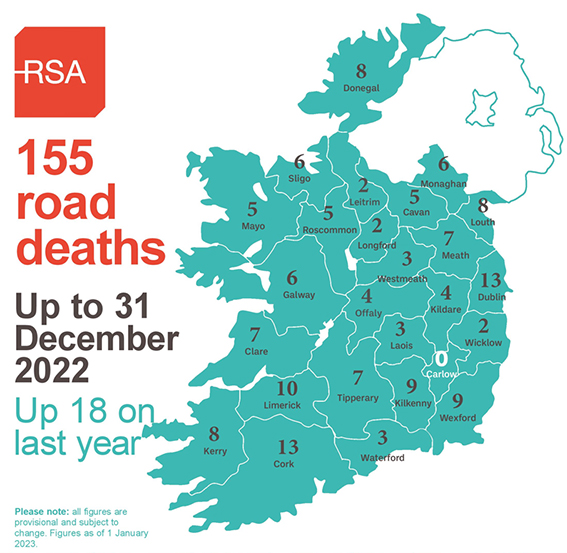 Brian O'Donnell, Road Safety Officer said "We all have a responsibility to reduce the number of deaths on our roads. A large number of collisions are caused by motorists driving irresponsibly or simply ignoring the law.
"We all have to share the road and we can all make a difference when it comes to reducing the number of deaths and serious injuries. The National Road Safety Strategy has at its core a target of vision zero by 2050.
"For every driver and road user, road deaths and injuries are a personal responsibility. That responsibility should not and cannot be evaded and must be maintained into 2023 and beyond.
"Will this New Year be the year that we see a serious reduction in road traffic collisions? We would all like to think so. Every one of us has a responsibility to make our roads safer for all road users."