It was an historic Christmas for Letterkenny Shotokan karate in December 2022 as they celebrated nine new black belt level awards.
Over the course of 2 months the club held junior and senior gradings for the students of Ireland's oldest karate club. Never before has the club been able to promote nine individuals to black belt or above. Having a single black belt training regularly in any club is a special achievement let alone nine.
5 students made it to their 1st Dan (Shodan) having trained over the course of several years to achieve the coveted Kuro Obi or black belt as translated from Japanese.
Manoj Radhakrishnan (started training 2006) , Peter Ogle (club secretary, 2018), Daithi Lee (2001), Ajith Mani (2004) and Cormac Quinn (2011) were the latest to be awarded their grade under Sensei John Wilkie (1978). John will be celebrating 45 years in karate during 2023 and has continued the hard work to keep the club running over several decades in the town.
Two Letterkenny brothers made the momentous celebration of moving up to 2nd Dan (Nidan). Brian McGlynn and Damien McGlynn started training with the club in 1982 as young boys and made almost every grade advancement together on the same day.
Making it to 1st Dan is a huge achievement in itself in any martial art, making that together and moving on to 2nd Dan as brothers is an occurrence so rare one would hardly know where to look to get the statistics on its frequency.
Brian is well regarded in the club for his kata knowledge and Damien equally recognised for his excellent spirit in kumite (fighting). Together they make for quite a formidable team.
At the most senior level in the club are assistant club instructor Sensei Christopher O'Donnell (1989) and Sensei Mary Lynn O'Neill (1995).
Both of these seasoned karateka now hold the rank of 3rd Dan (Sandan). It is often quoted that for every 10,000 people who start karate about ten will make it to the 1st Dan level, and along with the rest, most of those will stop training never to return.
That figure increases with each further move upwards. One or two at most of that 10,000 make it to 2nd Dan. To have progressed to 3rd Dan is a rare step indeed.
Apart from the many years to reach 1st Dan there is at least two years training required to move to 2nd Dan and a further 3 years to 3rd Dan and so on.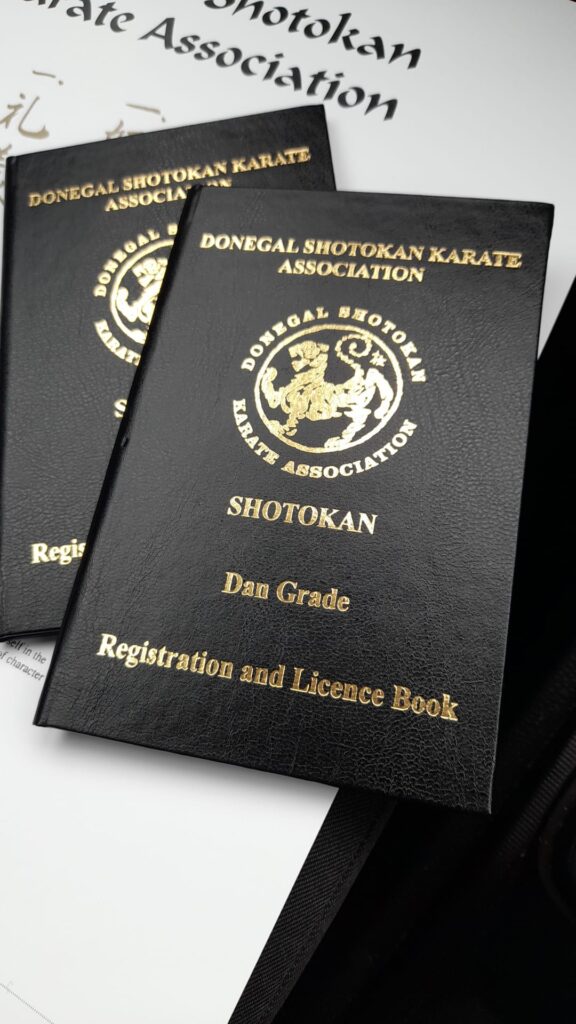 Dedication, discipline and consistency being demonstrated by these 2 superior karateka without doubt. It is no wonder that both Christopher and Mary possess the speed, power, poise and technical ability required to be considered worthy of that rank having honed their art over many years. Letterkenny can be proud to be so well represented in the traditional martial art of Shotokan karate.
A club celebration was held for the nine students just before closing for the holidays on the 21st of December. Each student was presented with their Dan Certificate and newly prepared black belt grading book.
The future looks very bright indeed for Shotokan karate in Letterkenny and Donegal with a high level of talent leading the way forward under the head of the Donegal Shotokan Karate Association John Wilkie.
New members, either children or adults, are catered for and should contact John through the Facebook page at Letterkenny Shotokan Karate Club. Training is held on Monday, Wednesday, Friday and Saturday in the spiritual home of the club dojo at Letterkenny Community Centre.