Sponsored Post
Aoife Sweeney joined Atlantic Technological University (ATU) Donegal in 2022 having studied her Leaving Certificate in St. Columba's College Stranorlar.
When it came to making her CAO choices, Aoife knew that she was keen to progress her studies at ATU Donegal and follow in her sisters' footsteps. 
Uninterested in moving away from home, Aoife was focused on pursuing a degree in Food Science and Nutrition, she said, "I applied to ATU Donegal in my CAO choices as I knew ATU was the best choice for me. I watched my older sister Niamh study at ATU Donegal, and her influence had a big impression on me when it came to making my CAO choices. ATU Donegal also offered the degree programme that I was interested in, and all of these factors helped me to decide my CAO options."
Since Aoife started the degree programme in Food Science & Nutrition, she has embraced all of the opportunities given to her.
Here is Aoife's story: 
Aoife added, "At ATU, you get to explore so many different scientific areas; I get to practice laboratory techniques, which keeps things interesting, and I get hands-on experience using state-of-the-art equipment in the labs – which is pretty unique. When I was making my CAO choices, I knew that the modules on the programme would provide me with the tools and knowledge I needed for my future career. On a personal note, I watched my sister progress through ATU Donegal, and she has now forged a successful career in Science having studied Pharmaceutical & Medicinal Science at the Letterkenny campus."
The smaller class sizes, the connection between lecturer and student, and the access to state-of-the-art laboratory facilities have enhanced Aoife's student experience, she commented, "Compared to other universities and colleges around Ireland, the Donegal university offers an excellent student support system. The smaller class groups allow for a lot more one-to-one time with your lecturers and this helps with building great relationships and your own communication skills. A great part about the Food Science and Nutrition degree programme was the theory to practical ratio. I get to spend as much time in the lab as I do in the lecture theatre. This is really important to me, as I really enjoy the practical aspects of my programme."
Aoife hopes to progress to a career in Dietetics following the completion of her studies at ATU Donegal.
Aoife added, "I have no regrets about choosing ATU and I am excited about the next few years ahead. I am at the start of my university education and I am delighted with the choice I have made. There was no other place that could've provided me with not only what I needed, but also with so much more. I'm surrounded by people who encourage and motivate me and I really enjoy my student life here."
ATU Donegal will host an Open Evening in the Letterkenny campus on Wednesday 18th January from 4-7pm. If you are making your CAO decisions over the coming weeks, be sure to attend this event. 
To register to attend this event, visit www.atu.ie/donegal-open-evening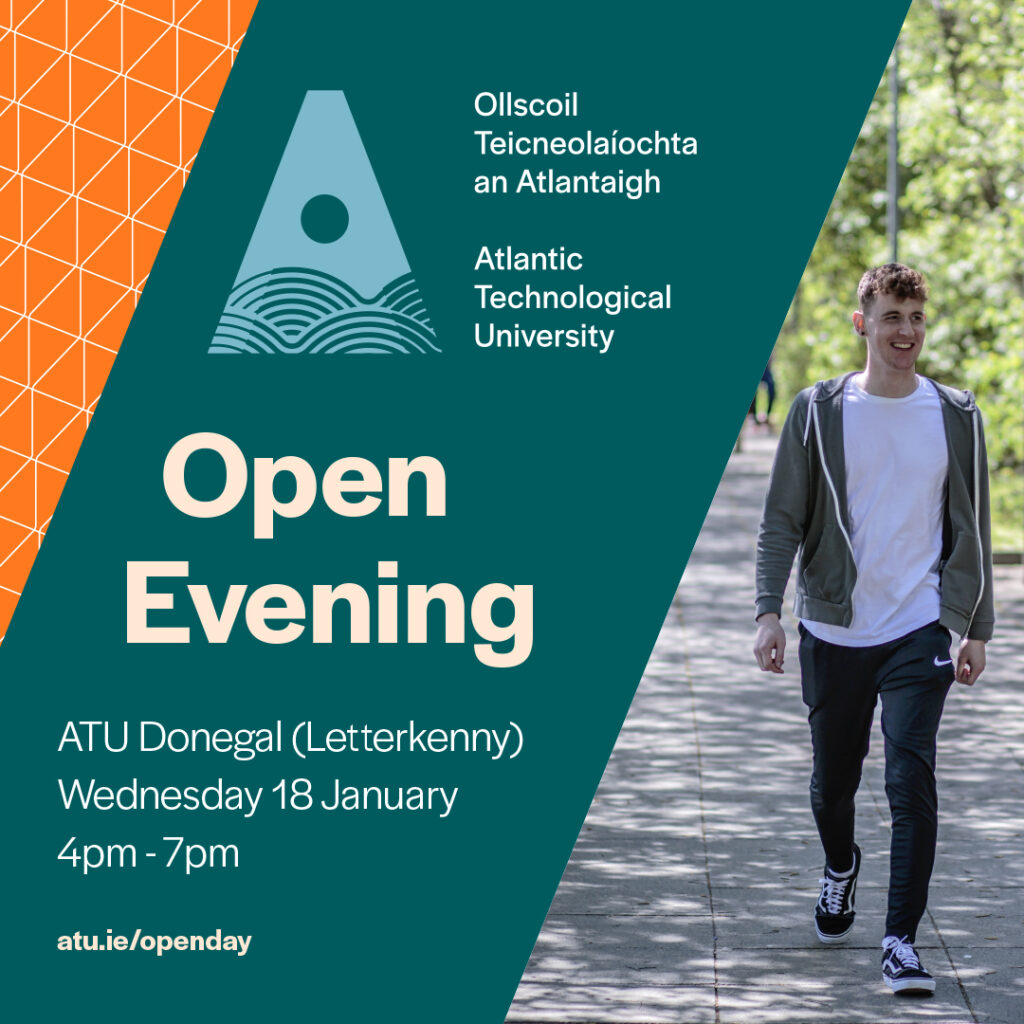 The future is here.
Tags: