A major lorry run is making its way to Creeslough next month to raise funds for the victims of the October explosion.
Saturday 4th will see a parade of impressive lorries on a run from Ballybofey to Creeslough before returning to the Silver Tassie in Letterkenny for an evening of entertainment and fundraising.
The run is being organised by St. Johnston man Colin Kilpatrick, who was one of the first responders on the scene of the devastating explosion on October 7th.
Colin, who works for Ballybofey company Bernard Long & Son Transport was making a delivery to the creamery across the road from the Applegreen service station when the tragic events unfolded. The explosion knocked him off his feet, he said, and he immediately rushed over to help the victims.
Colin and the other first responders worked together to lift heavy debris from people trapped underneath the rubble. Colin remained on the scene for the next 24 hours operating a lorry to locate all find the victims.
Ten people lost their lives in the tragedy: James O Flaherty, 48 years, Jessica Gallagher, 24 years, Martin McGill, 49 years, Catherine O Donnell, 39 years, and her son James Monaghan, 13 years, Hugh Kelly, 59 years, Martina Martin, 49 years, Robert Garwe, 50 years; and his daughter Shauna Flanagan Garwe, 5 years, Leona Harper, 14 years.
In the months that followed, Colin wanted to do something to help the bereaved families. He decided to connect his colleagues and friends in the lorrying community to organise "Trucking for Creeslough" with the support of his employer, Bernard Long, Bernard's son Patrick and his colleague Dean Mc Laughlin.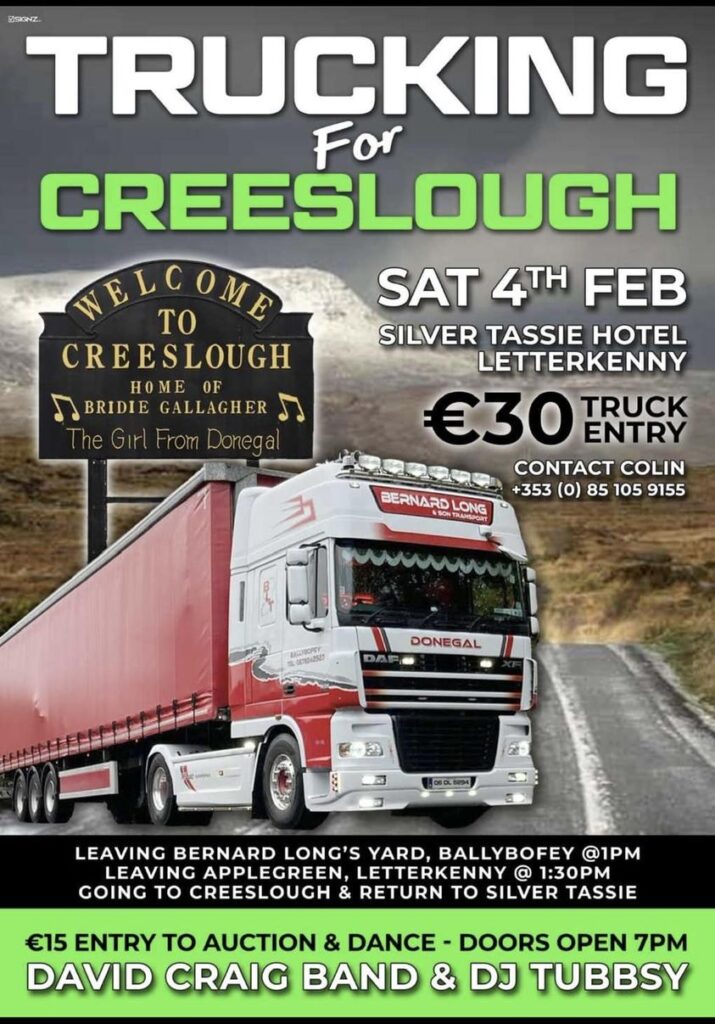 The event will launch with the lorry run from Bernard Long & Sons yard in Ballybofey at 1pm or drivers can set off from Applegreen in Letterkenny at 1.30pm. The route will go through Kilmacrennan, Termon and Creeslough and families are invited to come out and show their support in their local towns.
Truckers are coming from as far as Clare, Monaghan, Tyrone, Belfast and Sligo for the day, Colin says.
"Lorrying is a community in itself and it's great to see the support," he said.
Pre-registration is not necessary, simply turn up on the day.
The convoy will travel back to the Silver Tassie Hotel for refreshments before an auction and dance. Doors open at 7pm, tickets €15.
Tony Morning will be at the helm for the exciting auction, where there will be something for everyone, including new tyres, hotel breaks, rally experiences, tools and even sheep.
The evening will round off with dancing to the David Craig Band and DJ Tubbsy, as well as more special guests to be announced. All welcome.
Follow the Facebook event page for updates: https://fb.me/e/5zPh3RwWn
Or if you would like to sponsor a lot for the auction please contact Colin on 0851059155.