The 8th Donegal Scouts group in Carndonagh are hosting a glamourous black tie ball event to raise funds for a new base.
The vibrant, progressive Scout group has served up to 100 young people and more every year since 1976.
On Friday 10th February, they'll be hosting an unmissable ball at the Ballyliffin Lodge for an amazing new scout den.
Tickets are €55 each with complimentary drinks red carpet reception, meal, music by The Untouchables, followed by disco.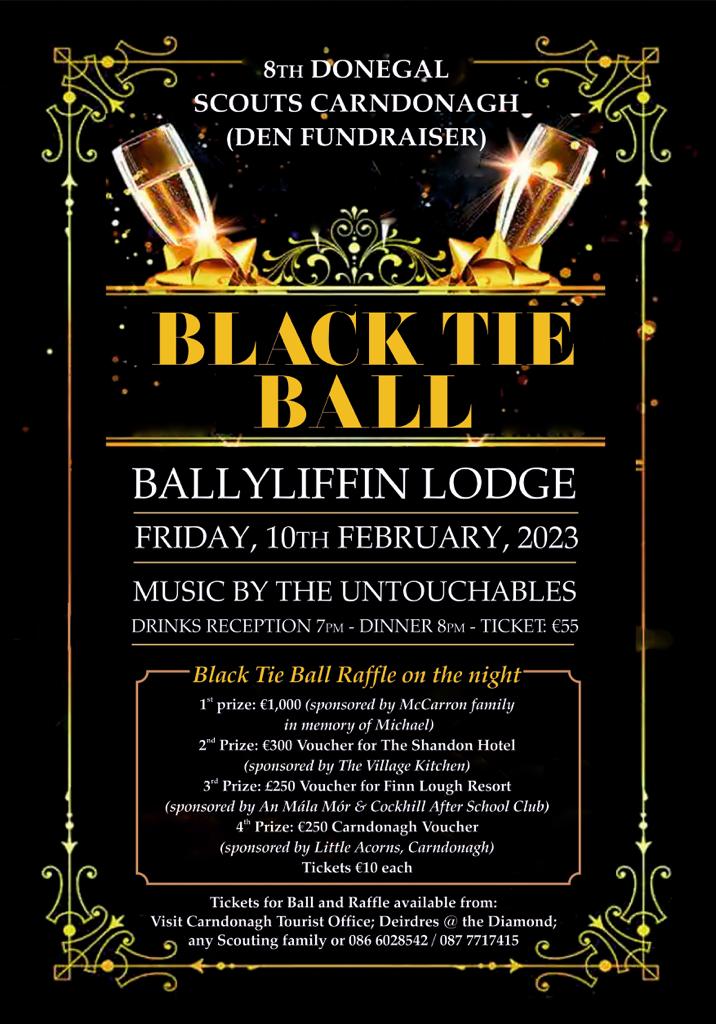 A spokesperson said: "Since Carndonagh is one of the most disadvantaged areas in Ireland in terms of unemployment, educational attainment, lone parent families, EAL population (including Ukrainian and Syrian refugees) and people with disabilities, we have to work hard each year to subsidise registration fees and activity costs to ensure that Scouting is available to any child who wishes to join.
"Because of this economic disadvantage, we have never been able to afford a "home" to call our own – until now! Recently, we have become owners of a derelict building – a former GAA Club / youth club building which was purchased with 35 years of donations for a weekly community newsletter publication by founding 8th Donegal scouter, Michael McCarron (my father), who sadly passed away in March 2018 just as his dream was becoming a reality.
"As the building requires extensive renovation, we have been working for the past five years on design and funding applications and we are beyond excited to that we have secured LEADER and Sports Capital Programme funding which will realise our vision for a fully accessible, modern Scout Den with large sports hall, activity rooms, changing room, toilets & showers while grounds are planned to have equipped spaces for camping, pioneering & other outdoor pursuits. Phase 1 (LEADER) is almost complete, we are about to commence phase 2 (Sports Capital) and it is so exciting to see our vision realised!
"We now have to raise €50,000 match funding (15k already raised) which is ambitious in such a disadvantaged area but, with fantastic local support and a huge number of willing volunteers, we aim to do so within the next 6 months! "
For more information check out the Facebook page https://www.facebook.com/groups/131841360273227