Donegal Local Development Company has appointed Juliia Melnyk as the county's latest Community Links Officer.
The Bundoran-based community volunteer, who has been living in Ireland since last March, says she is very grateful to people of the Bundoran for the support received by her family.
"People have been so friendly so welcoming in Bundoran," she says. "And there were less than 2000 people in Bundoran before the war so it's a big increase in population, it is hard for the local communities."
Jolene Kuyper, Ukrainian Refugee Project Co-ordinator with DLDC, said: "Juliia has been doing trojan work in the county to support the Ukrainian community so when she applied for the job she was more than qualified."
"She was already doing all this amazing work voluntarily so now she is doing it as a job" she adds.
Juliia will be working along with her DLDC team and the 900 or so Ukrainian refugees who are currently living in the Bundoran area of Donegal. As she has good English her translation skills are essential.
"I am delighted to get the job," says Juliia, "There are a huge amount of Ukrainian people here so the role is very busy".
On February 24th last, Juliia Melnyk's life changed utterly.
Russian troops invaded her family's home town of Sumy in north east Ukraine, 30 kilometres from the Russian border.
"My husband said I had to leave him there and go with the two girls, I didn't want to but we knew we had no choice with Russian soldiers on the streets".
Juliia's friend in Sumy read an article about Ireland and suggested as they had English that they Come here. The journey is still a blur to Juliia.
"We were all in shock so I still don't remember the journey through Ukraine to Poland and Germany and then the flight to Dublin," she says.
They arrived in Ireland on March 17th and came to Bundoran. She was stunned by the beauty of the Donegal region.
"I had never travelled abroad before then so everything was completely new" she said. "But a few months previously I had painted a scene of the sea and cliffs just from my imagination but then when we came to Donegal it looked so like it, so it was like I had dreamed it".
With a PhD in economics, Juliia was a lecturer in the University in Ukraine.
It's a long way from economics to volunteering in Bundoran but Juliia immediately got stuck in. She had started working in a local bar by Easter.
Last summer Juliia got involved with the surfing club, introducing a group of young Ukrainians to the waves of Bundoran.
"The children had of course never surfed before and they loved it".
The surfing group have since won a local community award for their volunteering efforts.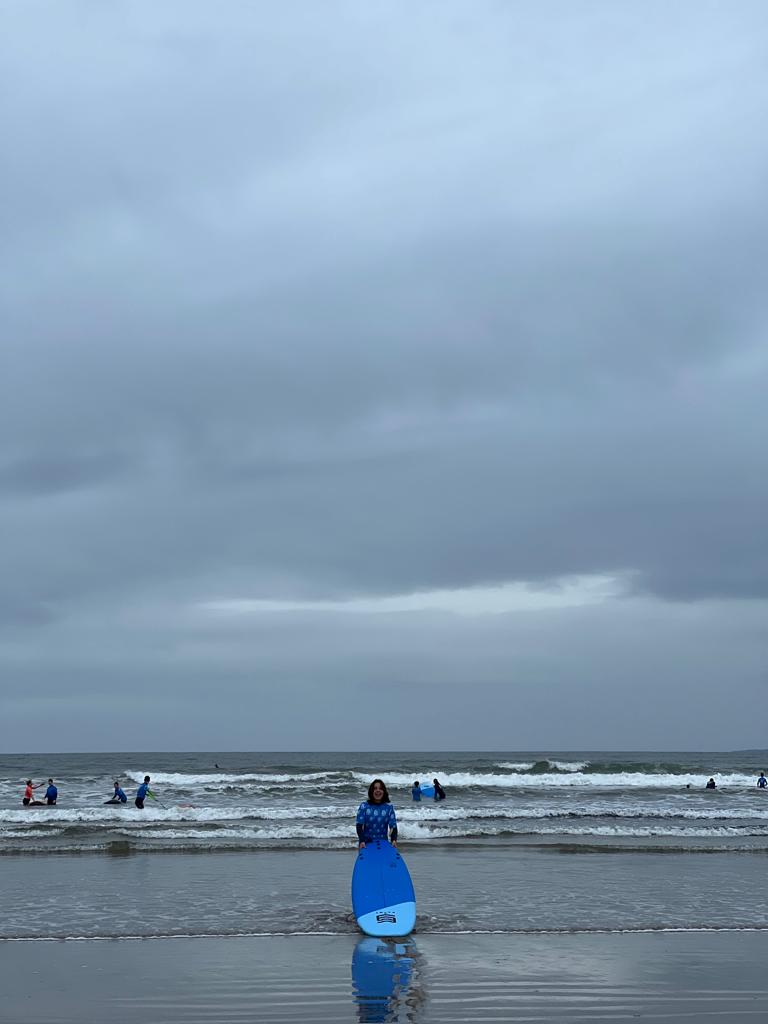 She now also runs a Walk and Chat Group, bringing Ukrainians and locals together on scenic walks around the Bundoran area learning about local nature, history, and sharing their stories after over soup and sandwiches. She also works with local children with disabilities and Foroige.
Juliia is of course hopeful that the war will end but she fears what will come first. For now her home city Sumy is back in Ukrainian hands but they expect a major offensive by Russia in the region in the next few months. Her husband is still in the local security force at home in Ukraine. Juliia is as philosophical as she can be in the circumstances.
"For something like this to happen for Russia to actually invade in our modern society is unbelievable, I still cannot take it in, we hope it will end soon".
Juliia and her family live in a hotel in Bundoran where they share a room. Her two girls are now 10 and 11, a year older and they now know a lot more about surfing and Ireland than they did a year ago.