This second round league clash at McGovern Park in Ruislip, West London produced a cracking game of hurling between two very committed teams.
London 2-13 v 1-18 Donegal
Last weekend London scored 3-18 but still lost to Tyrone by two points, while Donegal had to battle hard to beat Sligo by four points, 1-16 to 0-15.
By Charlie Collins in London
With Division 2B expected to be very keenly contested, this game showed why as both teams gave it their all.
The home team took the lead with two Ronan Crowley frees but Donegal hit back with a Ronan McDermott goal when he reacted quickest to a Declan Coulter free dropping short. Coulter added two quick points, one from play and Donegal led by 1-02 to 0-02 after seven minutes .
Crowley added another free for London, Brian McIntyre replied for Donegal, Padraig Mullan got London's first from play but Ruairi Campbell and Ronan McDermott converted two excellent points from play also and Donegal led by 1-05 to 0-04 after 23 minutes.
London then missed a penalty, Ronan Crowley's poorly struck shot easily saved by Luke White , a missed opportunity to get within a point of Donegal.
The visitors made them pay for that miss as Declan Coulter sent over four points in a row, a 65 , two frees and a cracker from play and suddenly it was 1-10 to 0-04 and London in trouble it seems.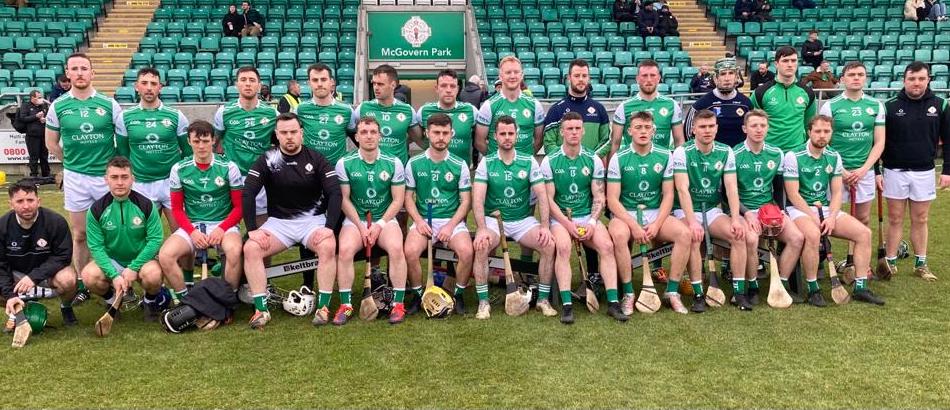 However, they made a couple of substitutes and finished the half very well with two points apiece from Crowley and Rory Lodge to leave just five in it at the break , 1-10 to 0-08.
When sub Malcolm Flannery netted for London in the 2nd minute of the second-half it was really game on with only two between them.
Crowley for London and Coulter for Donegal continued exchanging points and Flannery for London and Ruairi Campbell and Bernard Lafferty chipping in for Donegal we got to 1-16 to 1-13 in Donegal's favour as injury-time approached.
Then London struck goal again, who else but Conor Crowley hammering to the net to finish a super move, 1-16 to 2-13 and the home team looking favourites to win it .
But Mickey McCann's team showed brilliant determination and excellent points by Richie Ryan and the outstanding Declan Coulter won it for Donegal in a super game of hurling.
Two wins from two, a good start to their league campaign for Donegal.
London ; Padraig Collins , Eoin Phelan , Stephen Bardon , Evan Kelly , Conor Byrne , Niall Broderick, Eoghan Ryan, Daithi Heffernan , Padraig Mullan , Ronan Crowley , Rory Lodge , Eoin McHugh , Adam Cunny , Daithi Barron , Jack Goulding. Subs used ; Malcolm Flannery , Sean Glynn , Conor McCormack ,
Donegal: Luke White , Stephen McBride, Stephen Gillespie, Michael Donoghue, Brian McIntyre (0-01), Christopher McDermott, Jack O Loughlin (0-01), Declan Coulter (0-11), Danny Cullern; Liam McKinney, Gavin Browne , Gerry Gilmore, Conor Gartland, Ronan McDermott (1-1 ), Ruairi Campbell (0-2). Subs , Richie Ryan (0-01), Bernard Lafferty (0-01), Daire O Maoleidigh ,
Referee ; James Clarke ( Cavan).