Advertisement
St. Mary's GAA Club in Convoy are hosting an unmissable €50,000 prize draw on St. Patrick's Day to raise much-needed funds for the redevelopment of their pitch and clubhouse.
And for anyone who buys a ticket before this Saturday 18th February, there is a BONUS DRAW for one lucky winner to get €500. 
The main draw for €50,000 will take place on St. Patrick's night, along with five x €1000 prizes. 
Get your tickets here: https://stmarysgaadraw.ie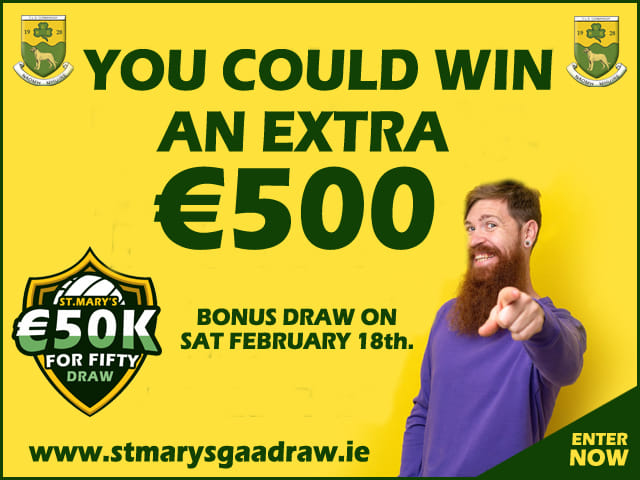 Record Youth Numbers Need Redevelopment
St. Mary's Club has teams performing at all grades in both men's and ladies' football, from Under 7s to representatives on County panels and two players in the All-Ireland winning Donegal Masters squad. 
On any Friday evening you would see over 100+ u7, u9 and u11 mixed age groups coming to train on the different sections of the pitch. The impressive numbers at our underage level have been growing and growing since training re-commenced after Covid.
Monday to Thursday the pitch is used for over 150 young people from u13, u15 u17 boys to u10, u12, u14, u16 and u18 girls. These are all getting their training sessions in before our Senior teams take to the field for their practice sessions. 
The issue for young people in St Mary's is space. They currently only have two dressing rooms. Some evenings would see underage training, senior ladies training and then a minor game on the same evening and you can see the pressure everyone is under to get in and out before the next group arrives. They aim to build more changing rooms and to re-surface the pitch so that it meets the demands of such an active club. 
This redevelopment will serve the young people of Convoy, Raphoe and Drumkeen and ensure that there is a worthwhile amenity long into the future. 
To help, and be in with a chance of winning €50,000, get your ticket from the link here: www.stmarysgaadraw.ie.