Finn Harps 1 – 2 Galway United
It was a new dawn down Navenny Street as Finn Harps started their latest chapter with a new manager, a very new-look team and a very different approach both on and off the field.
In the end, Dave Rogers and his team fell short of snatching a point which may have suggested 'mission accomplished' in their quest to send the 2,500 fans which paid the entry fee to Finn Park tonight.
Played in woeful conditions, Harps can take many positives from tonight's performance.
But they must also acknowledge that they were beaten by a team that were quicker to the ball, hungrier to capitalise on mistakes and who ultimately scored one more goal than their opponents.
It was a night of many different moments as the Harps faithful turned up to see what exactly might lie in store as they get more used to life in the First Division.
One such moment happened even before a ball was kicked.
That one such moment was the recognition of the outstanding contribution of much loved steward Ronan Ruddy, who passed away last month, which was acknowledged by the club in the form of one minute's applause.
Ronan had manned the gates at the player's tunnel with his good friend and colleague Tommy Dullaghan for almost two decades.
Members of Ronan's family were in attendance as the club showed its gratitude for his outstanding volunteer service to the club, and as another reminder of that, the club's first-team will don an orange symbol # ForRonan on the back of the home and away shirts for the 2023 season.
We also witnessed the return to Finn Park of long serving former Harps manager Olllie Horgan, now Assistant Manager at Galway United plus both Regan Donelon and Rob Slevin, who were part of the Harps squad last season.
Harps' line-up was much changed from that which was relegated from the Premier Division last season with only vice-captain Ryan Rainey in the starting line-up, where he was joined by team captain Keith Cowan, making a welcomed return to Harps colours.
Horgan's replacement Dave Rodgers had spread his net far and wide as he set about building a squad whose ultimate ambition will be a return to the top flight but more immediately will be to be competitive in the First Division.
Along with Waterford United, tonight's visitors are seen by many as favourites to take the title and the automatic promotion spot that goes with it, with the other expected to fill the second spot and a play-off place. The teams finishing in 2nd to 5th place will be involved in those play-offs, and given the many changes at Finn Park, a spot in those play-offs would be a good achievement, anything more than that would be a super season.
Heavy rain for several hours before kick-off, which persisted for all of the game, made playing conditions very tricky for the players on a very slippery playing surface on which keeping your feet was a real challenge.
Galway had an early chance when Donelon's throw-in dropped kindly for Ronan Manning but Keeper Tim Hiemer got down well to save.
A minute later the keeper was beaten, Manning's free-kick found Killian Brouder who headed the ball across the six yard box to leave Vincent Borden with a simple tap-in, 0-1 to Galway in the third minute,
The visitors almost made it two in the 14th minute, a dangerous cross from the left took a deflection off a Harps defender and Keith Cowan did well to scramble it off the line.
Harps had another big let-off in the 25th minute when keeper Tim Hiemer was closed down by Stephen Walsh, lost possession and was fortunate that Walsh's follow-up shot was straight at him.
At this stage Harps had failed to trouble the Galway defence or keeper as they struggled to retain any quality possession in the visitors' half.
Harps got a lifeline in the 41st minute when Rob Slevin was adjudged to have pulled dorm. Michael Harris in the penalty box as Caoimhin Porter's cross from the right came into a dangerous area, Ryan Rainey slammed home the resulting penalty, 1-1 and the home side level at the break.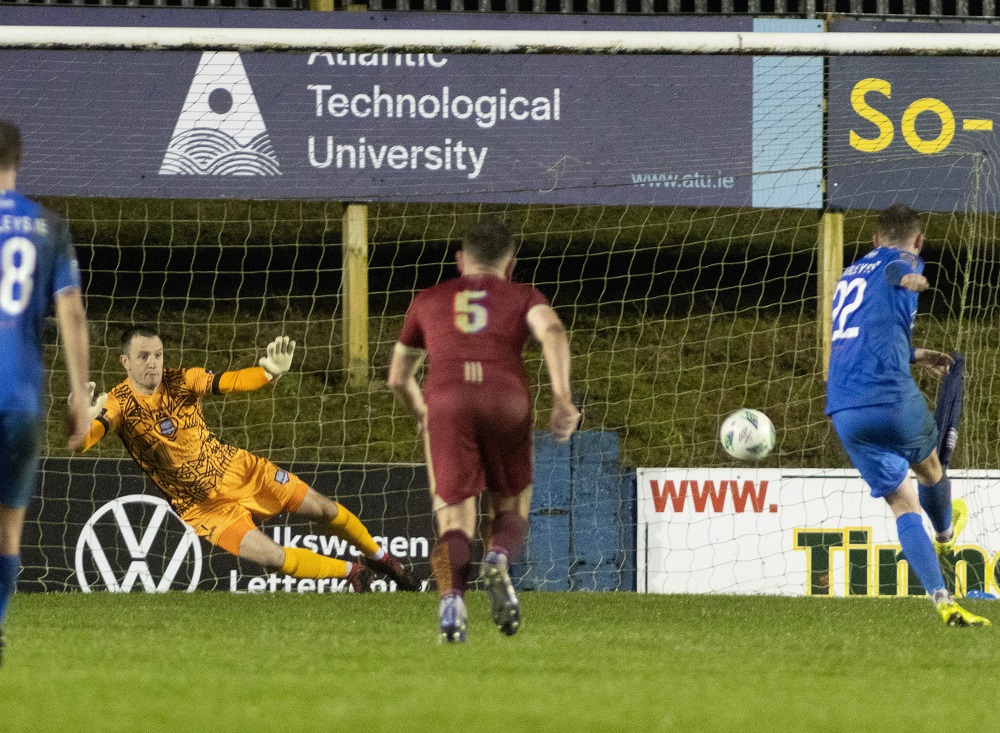 Galway threatened first after the break, Ronan Manning's piledriver just flashing wide in the 50th minute. Harps replied with a Seamas Keogh drive from 20 yards which the keeper dealt with well. Galway trained the lead on the hour mark, Manning did well on the left to breakthrough a couple of tackles and when his cross took a deflection into the path of Vincent Borden the big midfielder just got enough on it to roll into the net with a couple of defenders wrong-footed by a slight deflection.
As overhead conditions with the constant rain and strong worsened play became a bit scrappy but credit to both sides as the tempo and effort from both continued.
Galway should have wrapped it up in the 76th minute when a stray pass by Harps allowed Eddie McCarthy to race clear from inside his own half but keeper Hiemer advanced to deny him.
Six minutes later McCarthy's replacement Maurice Nugent almost scored with his first touch but Hiemer also denied him with a fine low save.
Overall Galway were the better, creating more chances and keeping Harps fairly quiet in terms of chances over the ninety minutes but Manager Dave Rodgers should be pleased with his new team's efforts against one of the favourites to gain promotion this season.
Finn Harps ; Tim Hiemer, Caoimhin Porter, Ryan Flood, Daithi McCallion, Keith Cowan, Katlego Mashigo, Michael Harris ( Sean 0 Donnell 88mins),, Seamas Keogh ( Filip Da Silva 70mins), Okwuy Okutwe ( Cian Lynch 50mins), Ellis Farrar, Ryan Rainey.
Galway Utd ; Brendan Clarke, Regan Donelon, Rob Slevin, Killian Brouder, Stephen Walsh ( Francely Lomboto 88mins), Rob Manly ( David Hurley 60mins), Ronan Manning ( Micheal Walsh Rowe 88mins), Vincent Borden, Colm Horgan, Conor McCormack, Edward McCarthy ( Maurice Nugent 82mins). Referee ; David Dunne.