The seaside village of Rathmullan will be buzzing tomorrow (Saturday) for the return of the Polar Plunge fundraiser for Special Olympics Ireland.
Brrrrave volunteers and a number of local gardaí will once again get 'Chilly in the Swilly'  for a great cause.
Crowds will also be treated to a visit from the Irish Navy. The LE George Bernard Shaw will visit Rathmullan Pier and will be open to the public from 1pm-5pm on Saturday.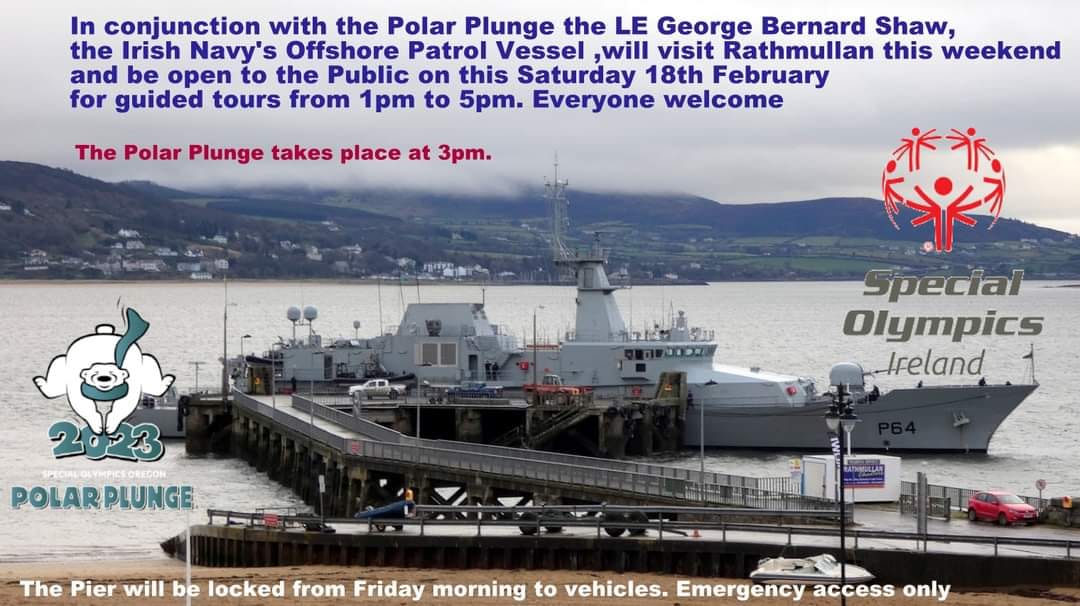 The Polar Plunge kicks off at 3pm. Families, Special Olympic Athletes, businesses and individuals are welcome to take part. There's still time to register at: https://www.specialolympics.ie/polar-plunge-rathmullan
Registration costs just €15 with plungers encouraged to raise an additional €25. Plungers who raise an additional €25 receive a complimentary Polar Plunge t-shirt. 
Special Olympics Ireland has been running the Annual Polar Plunge for 20 years in collaboration with the Law Enforcement Torch Run to raise funds to support Special Olympics athletes in communities across the country.
Special Olympics are hoping that this year's event will be just as popular with potential plungers, so that much needed funds for the organisation and its athletes can be raised.  
The organisation provides sporting opportunities for nearly 8,000 athletes with intellectual disabilities across over 200 clubs all over Ireland.  
Special Olympics Ireland's Ulster Region Director, Shaun Cassidy said: "Now in its sixth year the Polar Plunge fundraiser is a great community event and this year will be even better than before. Every day, the athletes of Special Olympics Ulster step up to meet the challenges of the sport that they love and do so with a smile. We would encourage everyone to sign up today and take on a fun challenge in support of these inspirational athletes." 
Those who think they are brave enough to take the Polar Plunge can register at https://www.specialolympics.ie/polar-plunge-rathmullan  
Tags: