Donegal County Council is calling for the public's views on the development of the Barnesmore Gap Greenway project.
The Barnesmore Gap Greenway project aims to provide an attractive trail between the towns of Donegal Town and Ballybofey/Stranorlar in County Donegal, mainly to be used for recreational purposes by pedestrians, cyclists and people with impaired mobility. It will also act as a valuable corridor safely connecting rural communities and neighbours as well as providing a safe, green and healthy modal option to/from urban areas and to public and community facilities.
The first public consultation has opened for residents of the Donegal Town and Ballybofey/Stranorlar areas, members of the public and other interested parties.
This is a non-statutory public consultation on the Study Area, Constraints and Opportunities for the Barnesmore Gap Greenway Project, open from Friday 17th February to Friday 10th March 2023.
Two in-person public consultation events will take place in Donegal Town and Ballybofey this week:
The Abbey Hotel, The Diamond, Donegal Town, F94 AP8W
Wednesday 22nd February 2023: 12:00 – 20:00
Jackson's Hotel, Glenfin St, Ballybofey, Donegal, F93 RD40
Thursday 23rd February 2023: 12:00 – 20:00
Members of the project team will be available to discuss any queries or concerns regarding the project.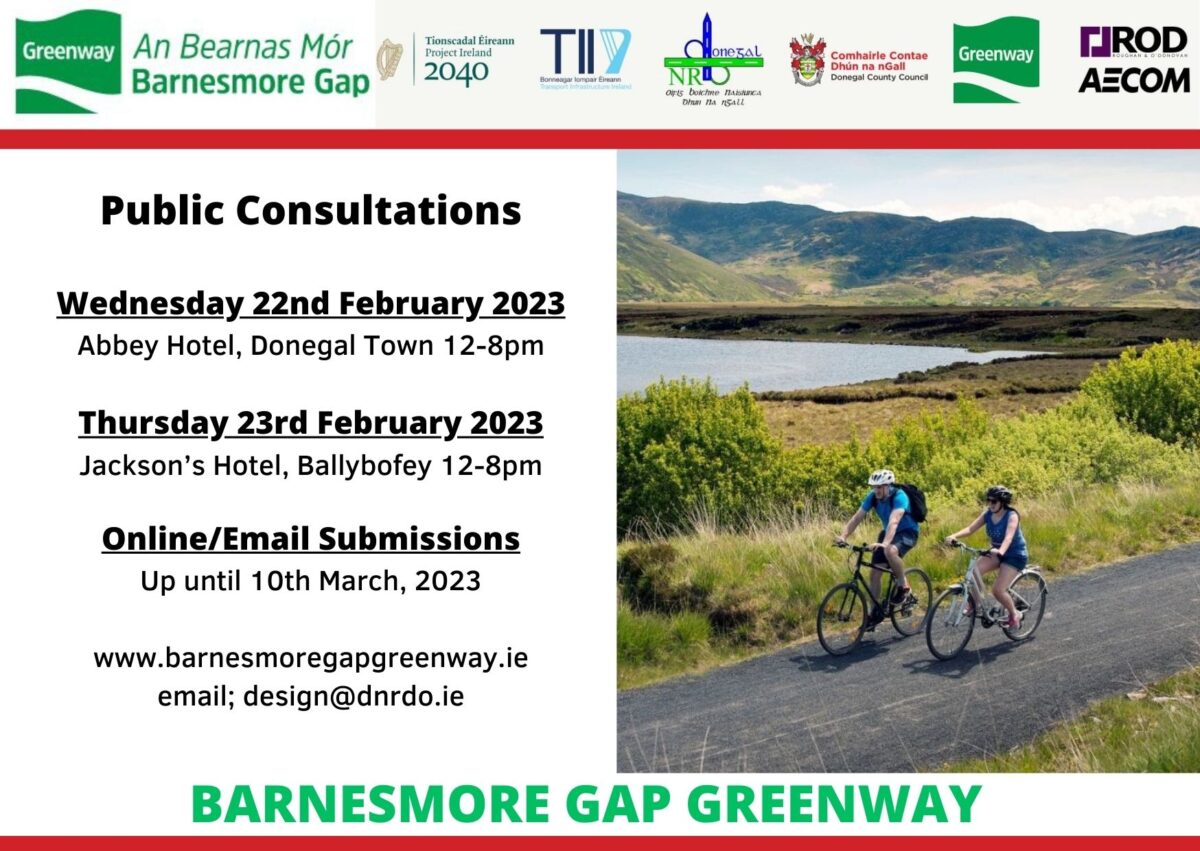 For additional project information, or to complete the feedback form online, please visit the dedicated project website at https://barnesmoregapgreenway.ie or contact the Donegal National Roads Office on 074 97 24500 or by email at design@dnrdo.ie.
In anticipation of keen interest in the consultation, a brochure containing information about the project has been produced and is available to download here. The brochure also contains a questionnaire which provides an opportunity to have your say on the project. It is noted that this questionnaire can also be completed online here.