Advertisement
Pancake Tuesday takes place this week and we've teamed up with Doherty's SuperValu Carndonagh for a recipe to flip out for!
Here's a simple recipe from SuperValu.ie to get the homemade batter just right.
Ingredients 
(Serves 4)
2 – Eggs
400 ml Milk
250 g Plain Flour
1 pinch Salt
1 tsp SuperValu Sunflower Oil for frying
Method
To make the pancake batter, sift the flour into a bowl, add the salt and make a well in the centre.
Break the eggs into the well and add a little of the milk.
Gradually add the remaining milk into the egg and flour mixture using a large whisk until a smooth consistency has been achieved.
Cover with cling film and stand in the fridge for 1 hour if possible.
Heat a heavy-based frying pan and when hot, brush with the minimum amount of oil.
Pour a small amount of the batter onto the pan and swirl it around until it is evenly and thinly spread over the bottom.
Cook over a moderate to high heat for about 1 minute or until the edges are curling and the underside is golden.
Flip over and cook the second side for 30 seconds or so until golden.
After that, all that's left to do is have fun with the toppings!
Fresh fruit, chocolate spread, mini marshmallows make a mouth-watering treat.
Or you can't go wrong with the traditional lemon juice and sprinkle of sugar!
Supervalu in Carndonagh has stacks of toppings on special offer this week, whether you love fruit, chocolate or something different. See the offers below and view the online recipe leaflet here: bit.ly/3Ive0OQ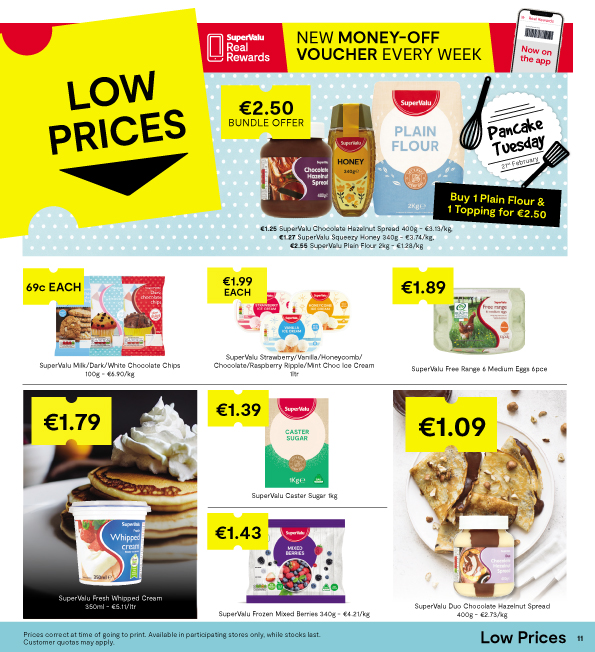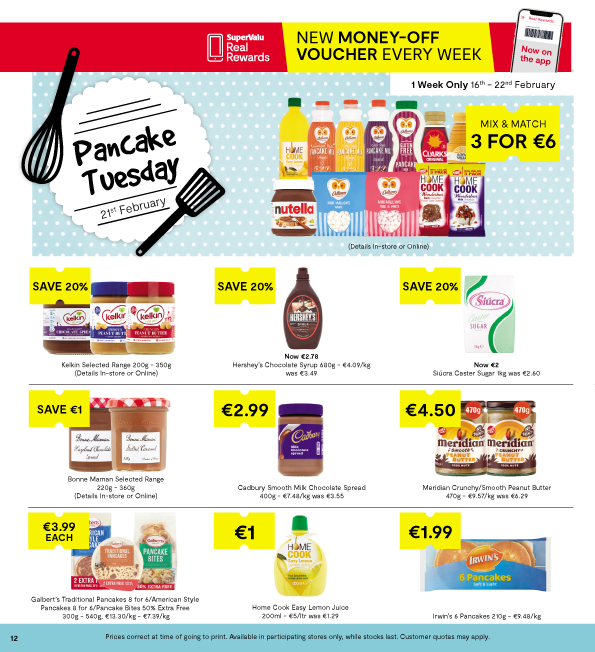 For more recipes, including savoury pancakes, banana panckes and American style, check out supervalu.ie/recipes