Advertisement
The Coloplast nursing team will host a free pop-up ostomy support clinic in the Radisson BLU hotel Letterkenny on Tuesday 28th February 10am-3pm.
People are invited to book a FREE stoma review with Coloplast nurse Eileen Lim Joon.
The review will help patients assess their requirements, review their own products, and learn how to register for Coloplast Care.
Booking is advised, to make an appointment, email gbkdn@coloplast.com or call 01 9190190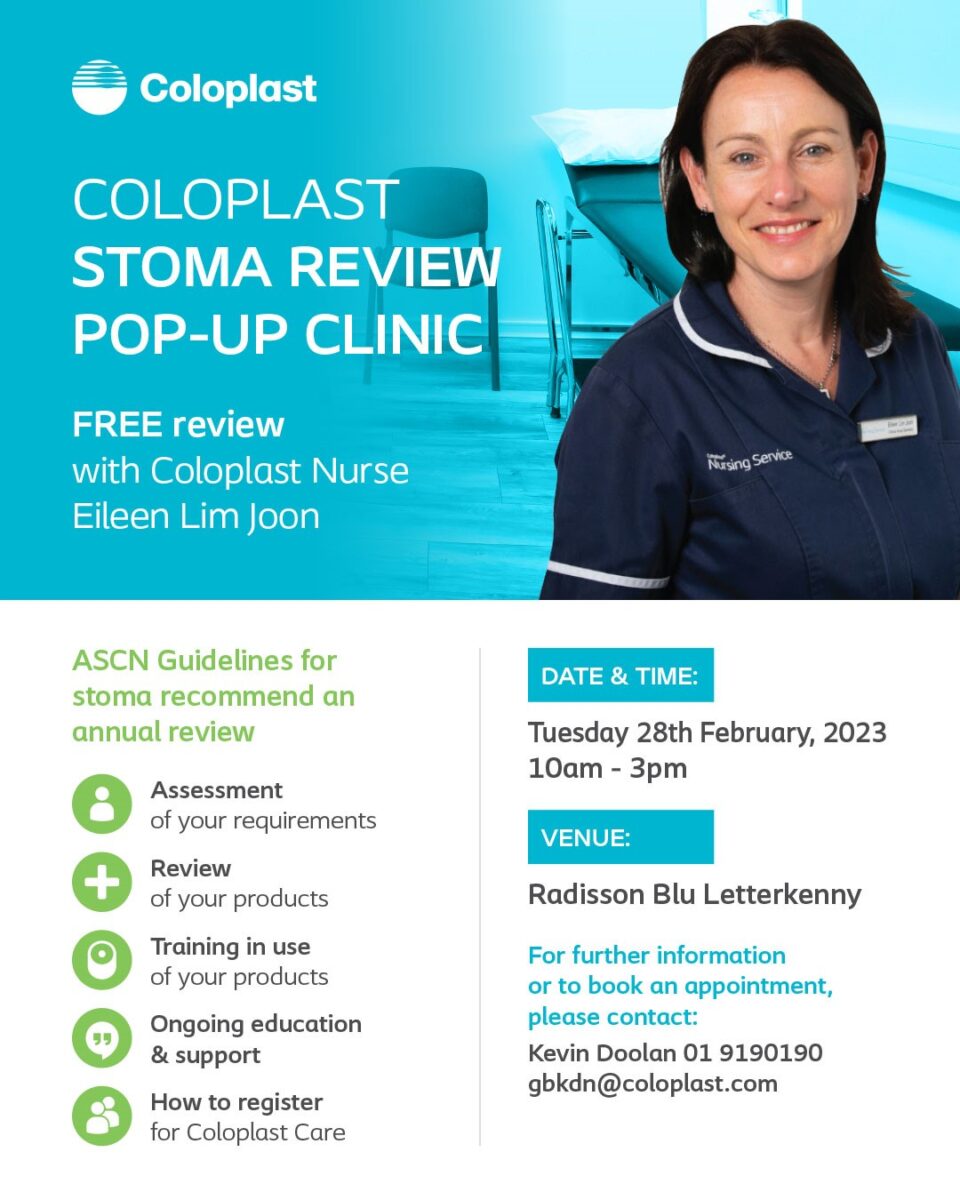 Living your life to the full with a stoma
You may not have a Stoma but the likelihood is you know someone that does live with a Stoma and Yes, it is true. People with a stoma can live full, active, and fulfilling lives with proper management and support. Advances in stoma care and technology have made it possible for many individuals to continue with their daily activities, work, and participate in sports and hobbies. With the right resources and support, individuals with a stoma can maintain a high quality of life.
The exact number of people in Ireland living with a stoma is not readily available. However, it is estimated that there are several thousand people in Ireland with a stoma, numbers of surgeries annually is approx. 2300 (some of these will be reversed) and this number is growing each year due to factors such as an aging population and an increase in the number of conditions that may require stoma surgery.
Recent advances in stoma care include the development of new, more discreet, and comfortable stoma bags, and skin-friendly adhesives. Additionally, support groups and online communities have made it easier for people with stomas to connect and share their experiences. These developments have greatly improved the quality of life for those with stomas. In Ireland there are many Stoma groups both at local and national levels that support one another before and after surgery.
A stoma should not prevent you from travelling but plan ahead and be prepared. Take plenty of supplies, more than you would normally use for the timeframe you are away. If you have travel insurance be sure to check what you are covered for with your stoma, bring your stoma product codes with you, but also a description of your products as codes may differ between countries eg Coloplast, convex, drainable cut at 30mm
Get a travel certificate- these explain about a stoma in many different languages- Ostomy Association of Ireland can help you here. Always pack stoma supplies in your carry-on bag, sprays are all less than 100mls. Keep hydrated especially if travelling to warm climates.
People living with a stoma may face several physical, emotional, and practical challenges. Some of the most common issues include:
Skin irritation or damage: The skin around the stoma may become red, raw, or irritated from the constant exposure to waste and stoma appliance.

Diet changes: The digestive system may be altered after stoma surgery and the need for dietary modifications.

Body image and self-esteem: The appearance of the stoma and its surrounding area can affect body image and self-esteem.

Social isolation: People with a stoma may feel self-conscious or embarrassed about their condition, leading to social isolation and a reduced quality of life.

Leakage refers to any output that is present on your baseplate when you change your pouch.
Leakage does not necessarily mean your pouch comes away or soils your clothes but in order to keep your skin healthy there should be no visible signs on back of flange.
These issues can vary in severity and impact from person to person, but they can be managed with the help of a healthcare professional and support groups.
The Association of Stoma Care Nurses (ASCN) guidelines recommend that individuals with stomas should have an annual review with a healthcare professional, such as a stoma nurse, to assess their physical and emotional health and well-being, and to address any issues related to their stoma and its management. The review may include a physical examination, assessment of the stoma site, and discussion of any problems or concerns. The individual's stoma care plan may also be reviewed and updated as needed.
---
Book your free stoma review at the Radisson BLU hotel Letterkenny on Tuesday 28th February 10am-3pm.
Email gbkdn@coloplast.com or call 01 9190190