Transition Year students from Deele College, Eunan O'Hagan and Travis Gibson presented a cheque for €800 to Jigsaw this week, which was raised through the sales of their CD, 'The Irish Tin Whistle Way.' 
The students combined to produce the CD, with Eunan putting together a compilation of classic Irish folk songs, while Travis put together the CD cover and the graphic design. The CD was a huge success among the school and the wider community, with huge sales in the local shops and on social media.
They met with representatives from Jigsaw on Thursday to hand over the proceeds of the CD to help with the funding of mental health services in Donegal. This continues the close links between Jigsaw and Deele College, who are currently in the second year of the One Good School Programme.
Eunan also gave a performance to the clinicians in Jigsaw, who were highly impressed with his talent and he also presented them with a copy of his CD.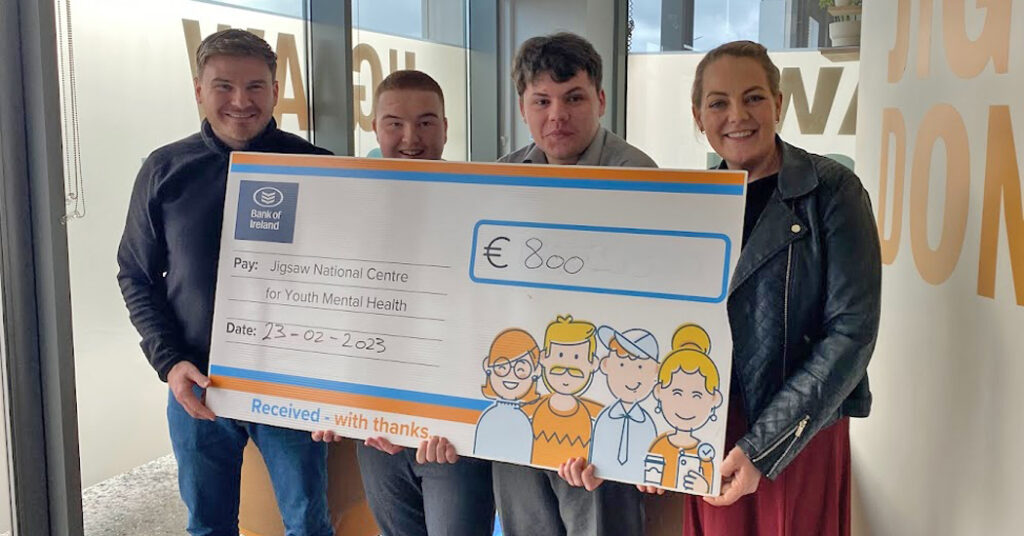 A huge thank you must go to Mr Con McFadden, the school's music teacher, who helped with the production of the CD and Miss Gillespie who supported the boys with the idea.
The CD was such a success that it has now been entered into the finals of the Local Enterprise Organisation competition and the NFTE regional finals, where it is hoped that the boys will see further success.
Having featured live on Highland Radio with Paul McDevitt, the unique sounds of Eunan's tin whistle and Travis' flair for graphic design has received widespread praise and recognition throughout the county.
School principal, Mr Joe Boyle says that everyone in the school is very proud of the boys' achievements.
"When we heard that Eunan was going to put together a CD of his songs on the tin whistle, we had no idea how good or how professional the finished article would be. I am delighted that the boys have received the recognition that they have and it is great that they have got to showcase their skills throughout the county.
"I would like to thank all the staff who helped out with the project and I hope that the boys see continued success with their project."