Inishowen Co Op invites the community to attend their free Farm Sustainability event next Tuesday night March 7th in the Inishowen Gateway Hotel, Buncrana.
The event is part of a series of FREE information evenings under the Inishowen Co-Op Farm Support Scheme introduced in 2022, designed to help support regional farmers against the rising costs of production.
The farm sustainability event will be the 3rd information evening under the scheme aimed at delivering more information on sustainable agriculture including organic seaweed fertilisers and renewable energy projects suitable for rural farming businesses, farm buildings and households.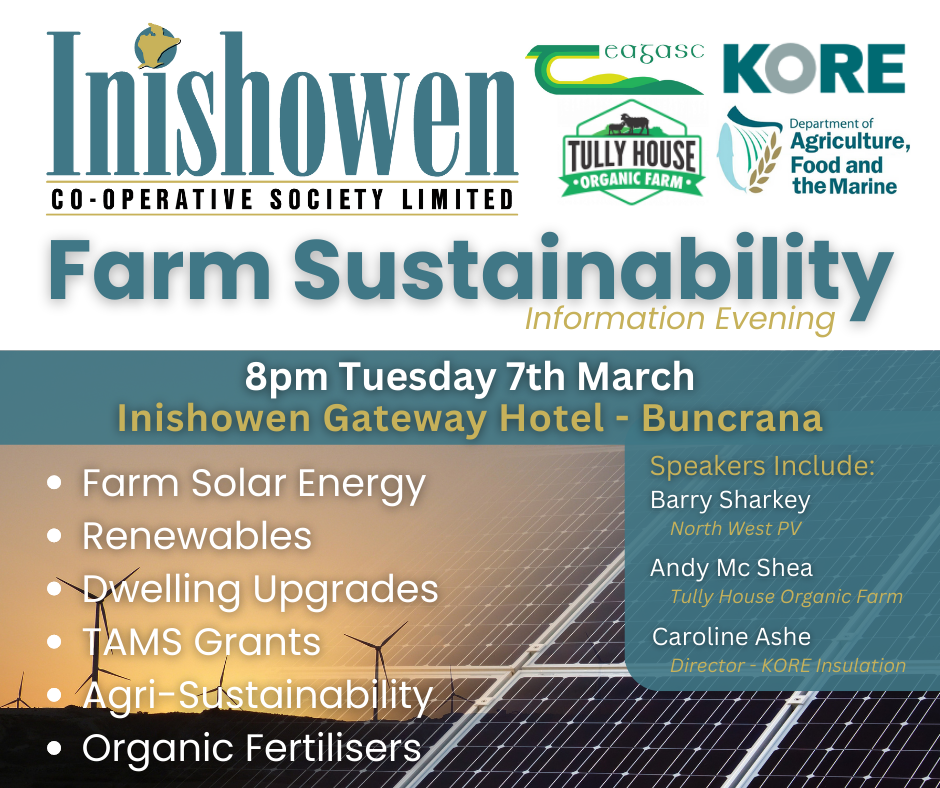 Speakers on the night include:
Andy Mc Shea (Tully House Organic Farm) who will be delivering a presentation on liquid seaweed fertilisers and their role in soil rejuvenation, sustainable production systems and organic farming.
Barry Sharkey (North West PV) will deliver a presentation on Solar installations suitable for farm buildings and retrofit projects to existing farmhouse dwellings. Barry will advise on government grants and supports that are available for such projects and initiatives which may be available through TAMS scheme.
Caroline Ashe (Commercial Director – KORE Insulation) will give a presentation on upgrading farm dwellings to be more energy efficient through the 'One-Stop-Shop' service, open to anyone for application, not necessarily farm houses.
The installation of all projects through the KORE 'One-Stop-Shop' Service in the North-West is carried out by Brendan Donaghey (B.Donaghey & Sons Ltd) who will introduce KORE Insulation on the night and give a brief summary of what is involved in the 'One-Stop-Shop' with some examples of projects completed in the area.
The event is open to everyone and although it will feature farm sustainability it will also include information suitable for rural households and older farmhouses, which may be suitable for grant approval through The SEAI (Sustainable Energy Authority of Ireland).
The event takes place Tuesday March 7th , 8pm , Inishowen Gateway Hotel. View Inishowen Co-Op social media for further details.