The Leo Molloy singles darts tournament takes place this Saturday March 11 and with the biggest prize fund yet.
This year there is €2,500 in prizes up for grabs with the winner guaranteed €1,000!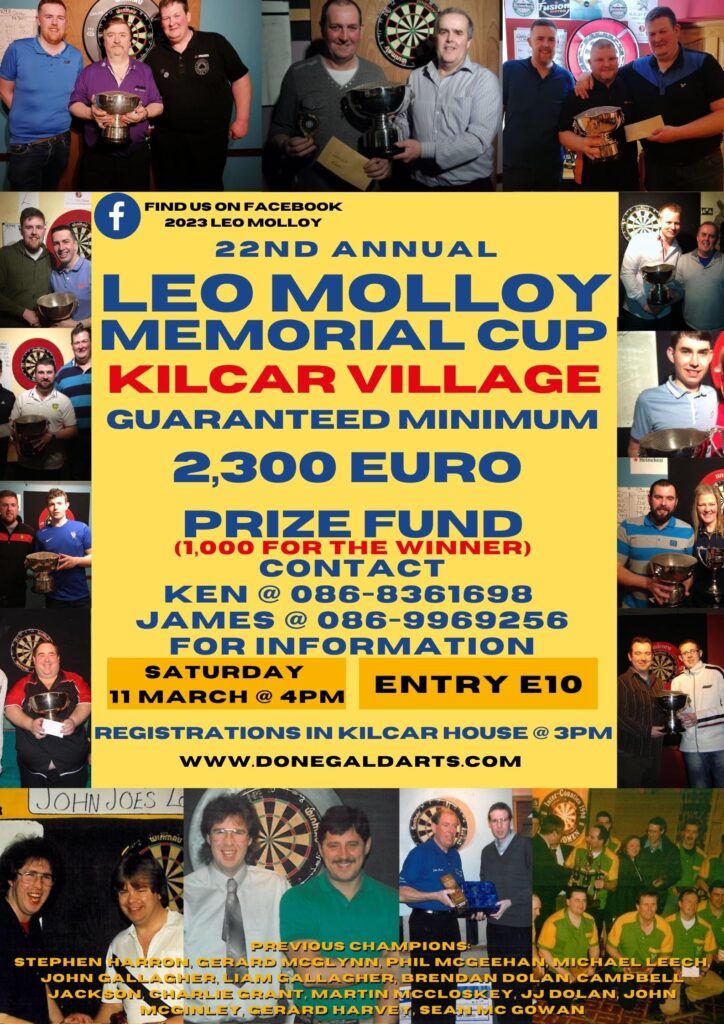 Since 2000, some of the biggest names in darts have travelled to Kilcar to play in this tournament in memory of Leo.
Leo Molloy was much loved and respected in the world of darts and was heavily involved in the South West area with reforming the league in the early 1990s and helping to run tournaments including the famous Norman Blaine Competition in The Glenbay which was one of the biggest in Ireland at the time in the late 80s early 90s.
He was the first manager to manage the Donegal darts team to an All-Ireland title in 1998 but he was sadly taken at a young age in 1999 so this tournament is a fitting tribute to him.
Organisers are now taking entries and all names to be in before 3pm on the day with the first matches at 4pm.
Contact Ken at 086-8361698 or James at 086-9969256 for information.
Previous Mens finals: 
2022 Stephen Harron 6 Charlie Grant 4
2020 Sean McGowan 6 Gerard McGlynn 2
2019 Gerard McGlynn 6 Denise Cassidy 3
2018 Phil McGeehan 6 Declan Cunningham 3
2017 Michael Leech 6 Stephen Harron 3
2016 John Gallagher 6 Liam Gallagher 4
2015 Liam Gallagher 6 Antony Mularkey 1
2014 Charlie Grant 6 Amir Quiambao 1
2013 Campbell Jackson 6 Charlie Grant 1
2012 John Gallagher 5 John Con McGinley 2
2010 JJ Dolan 5 James Deery 2
2009 Brendan Dolan 5 John Con McGinley 2
2008 Brendan Dolan 5 John Con McGinley 2
2007 Gerald Harvey 5 Danny McDaid 0
2006 John Con McGinley 5 Brendan Dolan 4
2005 Martin McCloskey 5 Amir Quiambao 1
2004 Brendan Dolan 5 Declan Cunningham 2
2003 Brendan Dolan 5 Sean McGowan 2
2002 Sean McGowan 5 Martin McCloskey 3
2001 Martin McCloskey 5 Anthony Whoriskey 0
2000 Martin McCloskey 5 Gerald Harvey 0