Swilly Rovers can crown a remarkable Donegal League campaign by clinching the Temple Domestic Appliances Division One title on Sunday.
The Ramelton side will be confirmed league champions if they defeat Letterkenny Rovers at Swilly Park.
And even if they don't win this game, a draw would probably be enough, although their nearest  rivals Milford United would have to win their game away to Letterbarrow Celtic to deny Swilly the title this Sunday.
So on a weekend when the cold snap is threatening to impact on the local soccer scene, the champagne is on ice at Swilly Park.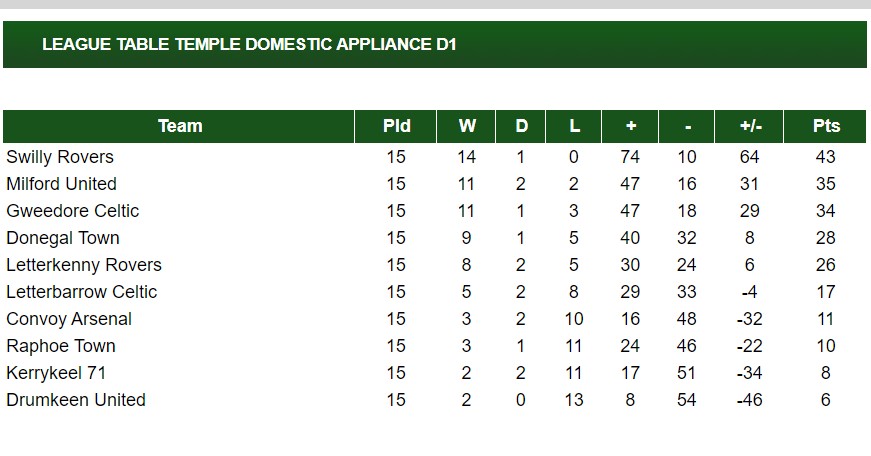 A league title win will be just rewards for a team that's been so impressive all season. The team is blessed with quality and experience with Shane McNamee, Kyle Black, Dylan Hegarty goalkeeper Dane Dunworth and the experienced Marty McDaid among their top performers. 
Under Paul Callan and Lawrence Toland, Swilly Rovers have won 14 of their 15 league games  and with just three games left to play, they lie eight points clear at the top ahead of Milford.
Indeed, the only team to have denied Swilly a win in the league was Gweedore Celtic who held Rovers to a draw at Swilly Park back in December. Gweedore have themselves enjoyed a very good season and sit third in the table.
Swilly are now looking forward to return to the Premier Division of the Donegal League for the first time since they became part of the newly formed Ulster Senior League back i n1985/86.
On Sunday, they welcome their old rivals Letterkenny Rovers to Swilly Park for a match that is sure to draw a big crowd. And if everything goes according to play, expect big celebrations in Ramelton on Sunday night.