A huge black pig which ran loose in Co Donegal had to be "brought down" and sedated using a tranquilliser gun.
A number of animal organisations were tasked with "bringing home the bacon" after the 60kg animal was found wandering on rural roads.
The Vietnamese Potbellied pig was spotted roaming freely near traffic in Donegal Town setting alarm bells ringing.
Gardai received a call about the porkie and immediately contacted the animal agencies.
A number of groups including the Animals In Need Charity, Wild Ireland, the ISPCA as well as a number of local vets swung into action to rescue the roaming creature.
The Animals in Need charity members initially enticed the pig away from any danger posed by roads by enticing the pig with some food into a local field.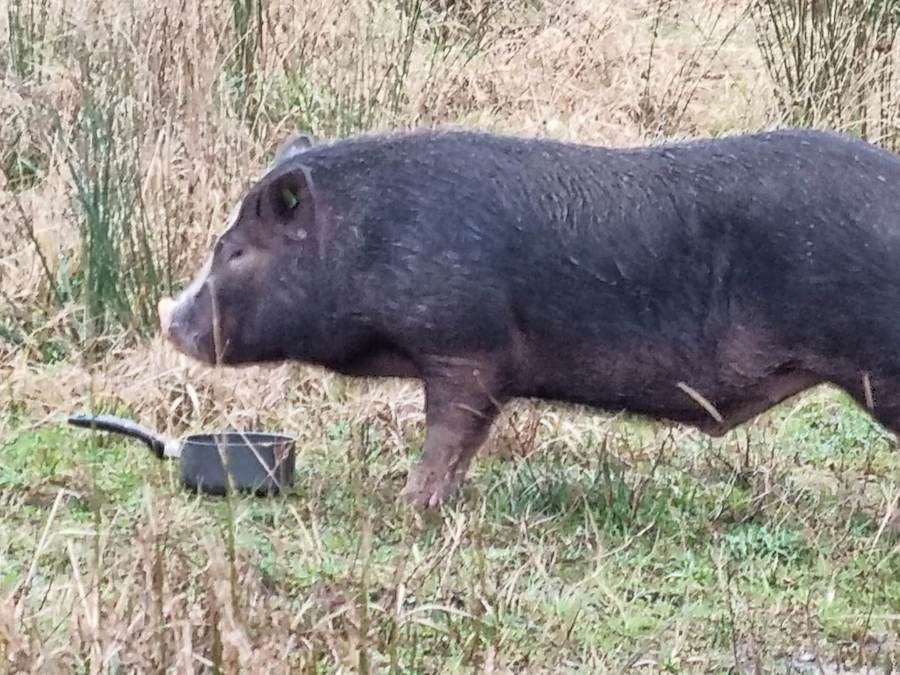 However, when they tried to trap the pig it managed to give them the slip.
An AIN volunteer explained 'We then set up a large, humane trap to try to catch him, but when we went back to check on it, he was standing outside it, having a good look, and all we'd caught was a fed-up looking cat.'
Due to the proximity to traffic, it became a multi-agency job to catch the pig.
After trying several different ways to secure the pig, it was decided that it needed to be sedated.
Killian McLaughlin of the Wild Ireland animal sanctuary was contacted and rushed to the scene.
Mr McLaughlin, who has experience using tranquilliser guns at his animal centre in Burnfoot, then surveyed the scene along with local vet Nick Garvey, the vet from Old Church Vets, and ISPCA Inspector Kevin McGinley.
He said "It was quite a tense situation as there was the real danger that the pig could have ran back into traffic and put lives at risk.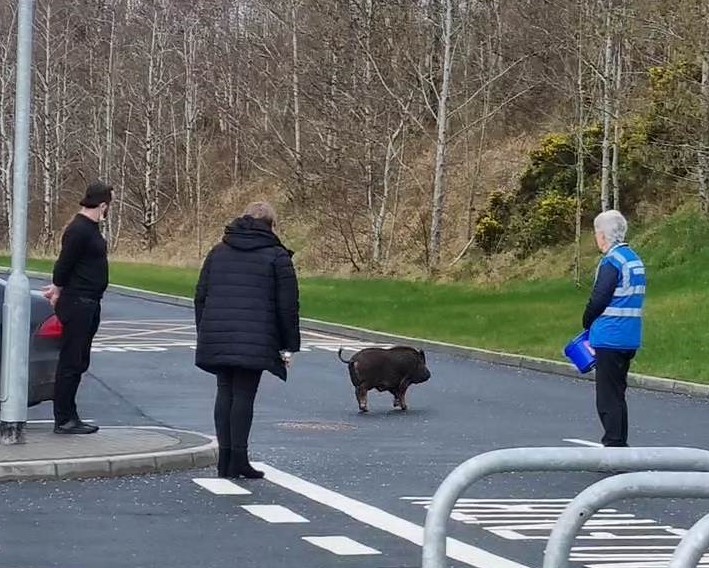 "He was weaving in and out of traffic and it was potentially very dangerous.
"Thankfully we managed to get him into an isolated spot and we took him down.
"We then managed to get him into a horse trailer and he was transported to the ISPCA centre at Ballyare outside Letterkenny.
"I have used the tranquilliser a number of times but not out in the field and there was a little bit of pressure to take down the animal but thankfully it all went well."
It is understood the pig has now been safely rehoused and is not too stressed after his ordeal.