There was an enjoyable and entertaining night in the Carraig Airt Parish Hall last Saturday night when the people of the parish celebrated the Irish language and culture as part of the ongoing Seachtain na Gaeilge events.
In addition, the community gave very generously to the collection taken up for the Mevagh Fire Service, a service operating entirely on a voluntary basis.
The concert was organised by Rannóg na Gaeilge, Donegal County Council in collaboration with LPT Thuaisceart Dhún na nGall.
Róise Ní Laifeartaigh, Oifigeach Gaeilge Pobail, Rannóg na Gaeilge gave a warm welcome to the large crowd in attendance.  She introduced her colleague, Séan Ó Daimhín, Oifigeach Seirbhísí Gaeilge, Rannóg na Gaeilge and he was the fear a'tí for the night.
Seán said that he was very happy to be present and encouraged people to use whatever amount of Irish they had and not to be intimidated when they were in the company of fluent Irish speakers. He revealed that he himself did not speak any Irish until he started learning Irish when he was almost twenty years old.
Among the crowd, was Cllr Micheál Choilm Mac Giolla Easpuig, Cathaoirleach of Choiste na Gaeilge and he came forward to commence the night's proceedings. Cllr Mac Giolla Easpuig spoke passionately about the Irish language and how important it is for the community to work together to ensure that the language is preserved for the next generation.
He said that he was no stranger to that area and that in fact he had spent many times in the company of his old friend, Charlie Mhandaí Ó Gallchóir from Na Dúnaibh (deceased) when they were campaigning for the Irish language.
The audience enjoyed the music, singing, Irish dancing, comedy sketch, poetry etc that formed the programme of events for the night.  Children from three parish schools took part in the concert. The Naíonáin Mhóra in Scoil Naomh Bríd, Na Dúnaibh performed an Irish dance and some other children recited poems very eloquently.
Sophie Elliott from Scoil Eoin Baiste, Carraig Airt sent sparks flying from the wooden stage floor with here impressive heavy jig and slip jig, her ability and talent being very evident. Also from Scoil Eoin Baiste, was a group of 12 children who sang a song and recited a poem, and their performance was thoroughly enjoyed by the audience.
Dónal Mac Daibhéid hails from the scenic area of Na Dúnaibh and he sang some favourites as Gaeilge at his leisure.  It is no toil for Dónal to interchange between traditional Irish songs and country music. It was clear that he had captured the audience's attention from start to finish.
Aisteoirí Mhíobhaí, a group of men in this instance, lifted the hearts of the audience with their comedy sketch and while they may have been off-script on occasion, it just added to the entertainment value of the performance.  The audience was in convulsions watching their antics on the stage.
The Dubhlinn Riabhach School Band made a great impression on those present with their songs and tunes. This group had a great presence on stage and their mix of musical instruments was remarkable. They will be seen again in the St. Patrick's Day procession in Carraig Airt.
Caoimhín Mac a' Baird came to the rescue when required to do so on the night. He entertained the audience with upbeat songs together with helping out with other tasks along the way.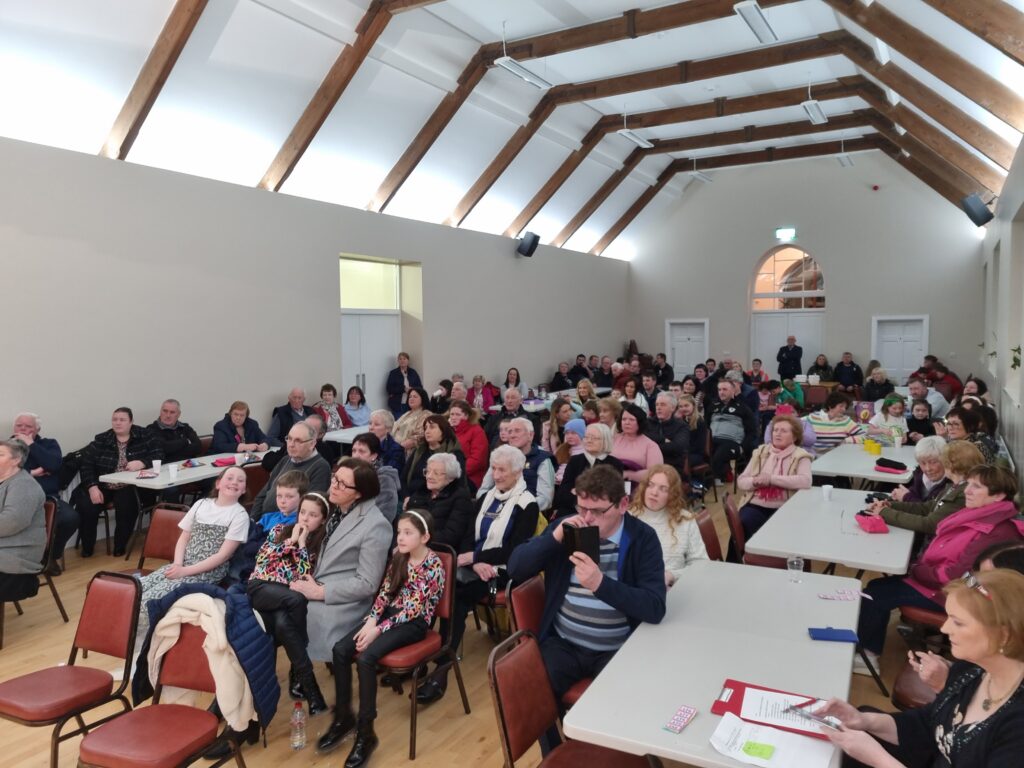 Bri Carr, the musician, composer, dramatist, amongst other things, started and ended the night's events.  She sang a newly composed song 'Is tú mo chúis' followed by a number of her own songs, finishing off the night with 'Amhrán na bhFiann'.
A collection of €1,200 was taken for the Mevagh Fire Service and a presentation will shortly be made.
It would be remiss to conclude without making a special reference to the Welcoming Committee and to extend a special thank you to the ladies who provided refreshments throughout the night. And likewise, to the caretakers, Micheal, and Donnelly, who ensured that, under their watchful eye, all was in order.
It is hoped that events like this will encourage the local people to embrace the Irish language once again or to set about learning the language from the start.  Póilín Uí Ghallachóir, Language Planning Officer invited those interested in the language to contact her and offered all the support that she can give.
Mar a deirtear 'ar scáth a chéile …'