The Scoil Cholmcille Letterkenny Parents' Association have unveiled some incredible prizes you can get your teeth into in this year's Easter Draw.
Prizes worth up to €5,000 are up for grabs this year. The top prize is a FREE Orthodontic Treatment up to €3,600 sponsored by Blue Poppy Dentistry and Orthodontics!
Another special prize is four mountain bikes!
Check out the rest of the exciting prizes below, generously sponsored by local businesses: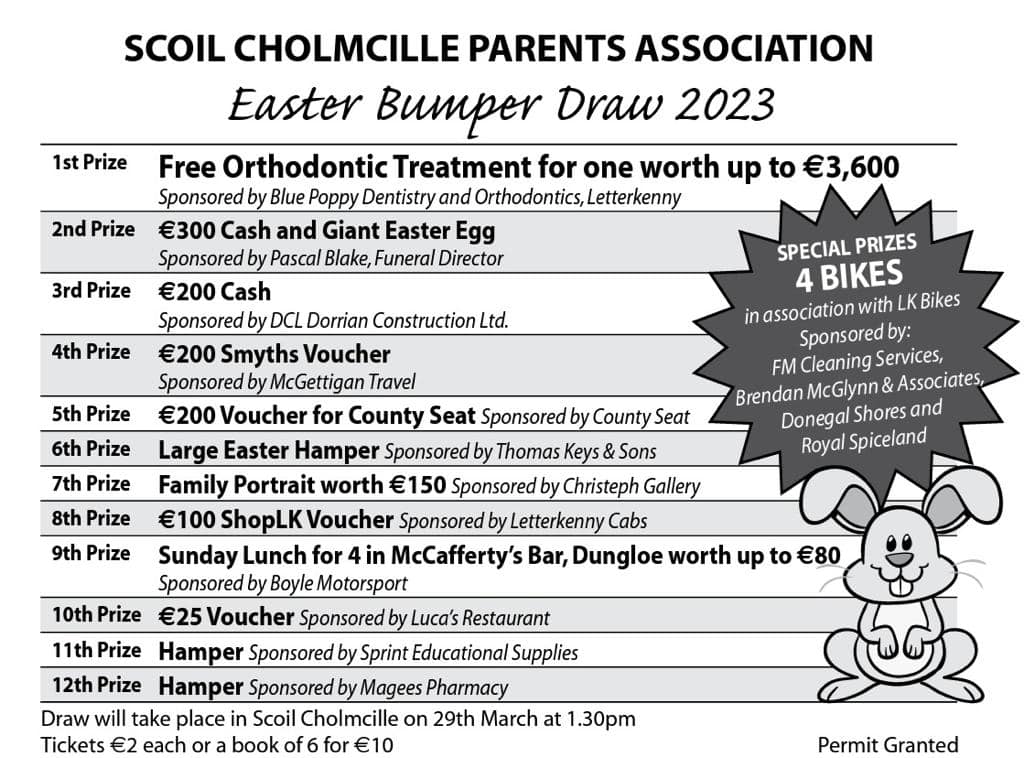 All money raised will be used to purchase school resources.
Tickets are now available online for the first time at https://www.idonate.ie/raffle/LKEasterDraw2023
The Annual Easter Draw was launched in Scoil Cholmcille's newly developed school hall on the 8th March 2023.
The launch was attended by staff, pupils and members of the Parents' Association. Mr Paraig Cannon, Principal welcomed all present and thanked all the Parents' Association including Mr Shaun Gallagher, Chairman of the Parents' Association, Mrs Elaine Dear, Treasurer, Mrs Louisa Tonna, Secretary, Mrs Noelle Mulrain, teachers who were central in organising the draw.  He also thanked the pupils and parents who will be selling tickets and the community for supporting the draw. 
Shaun Gallagher listed the sponsors and expressed the Parents' Association's gratitude for their generosity which resulted in thousands of euro worth in prizes to be won.  He also praised the unique and exciting traditional aspect of the draw in which all the pupils who sell tickets can win one of four mountain bikes, easter eggs, cash and bonus prizes.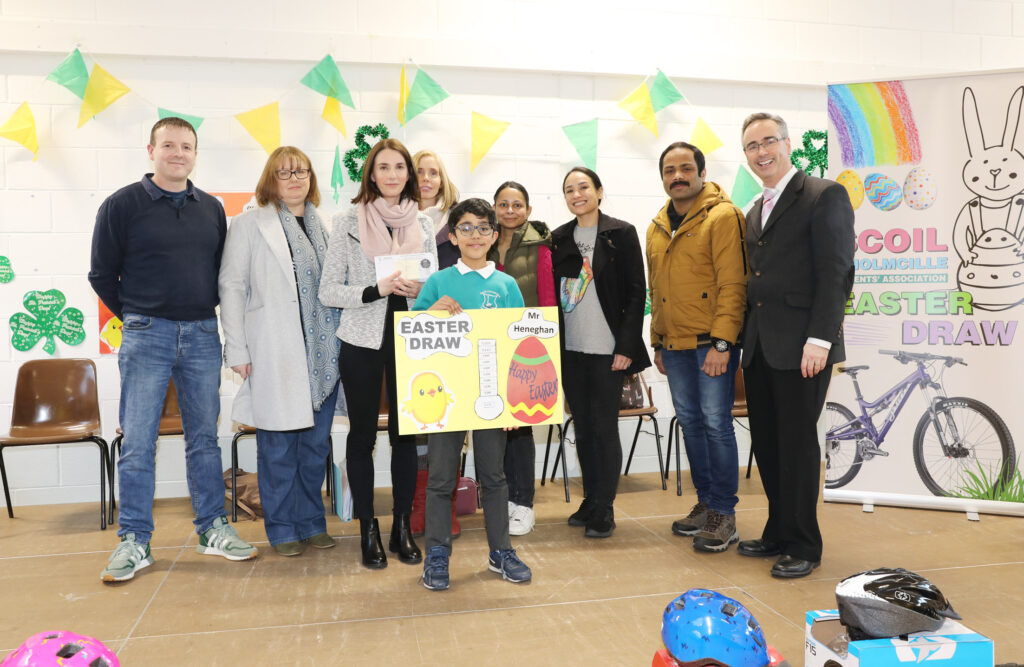 This year's sponsors include Blue Poppy Dentistry and Orthodontics, Letterkenny; Pascal Blake, Funeral Director; DCL Dorrian Construction Ltd.; McGettigan Travel; Aura Leisure Centre; County Seat; Thomas Keys & Sons; Christeph Gallery; Quiet Moment Tearooms; FM Cleaning Services; Donegal Shores; Royal Spiceland; Brendan McGlynn & Associates; Boyle Motorsport; Letterkenny Cabs; Compupac I.T.; Luca's Restaurant; Sprint Educational Supplies; McGee's Chemist; and LK Bikes.
The draw will run for a three-week period and will take place in the school on Wednesday 29th March 2023 at 1.30pm. Get yours from members of the Parents' Association or online at: https://www.idonate.ie/raffle/LKEasterDraw2023