The 25th annual Good Friday Golan Pad Walk returns to Milford this year, taking place on April 7th at 5.30pm.
The walk is a staple of the Easter calendar in the Milford area and organisers are looking forward to a big turnout again this year. The walk has raised over €100,000 for local charities and initiatives since the 1990s and this year will be no different. Donations this year will be collected for Milford Community Care of the Aged and the Swilly-Mulroy Mobility Bus.
The Swilly-Mulroy Mobility Bus is a joint initiative of Milford & District Resource Centre, Mevagh Family Resource Centre and the Swilly-Mulroy Community Health Forum. Last year the three organisations secured €62,000 in funding from the Department of Rural and Community Development to purchase a bus which will operate as a shared community mobility vehicle, which will be used to take people with additional mobility needs to appointments, support groups and outings in the wider Milford-Fanad-Rosguill area. The bus is badly needed to address social isolation experienced by those living with disabilities in an area with poor accessible public transport. The three organisations involved are raising money to meet match funding requirements and to cover the first year of operation. It is hoped the bus will come into service later this year.
Declan Meehan, manager of Milford & District Resource Centre, said "The Good Friday Golan Pad Walk is a great way for people to start their long Easter weekend. It's always an enjoyable opportunity to catch up with people, while contributing to good causes." Donations will be accepted on the day at the start of the walk and at the halfway point at Golan Chapel, where refreshments will be served as usual. There will also be fundraising buckets throughout the town in the week running up to the walk where people can still donate to the two causes, even if they can't make it on the day.
Brídín McMahon, of Milford Community Care of the Aged, said "This is a fantastic family-friendly event on Good Friday and we look forward to seeing everyone there on the day. We are delighted to be organising this year's walk with two great charities as the beneficiaries of any money raised." This is very much a community spirited event, and we would encourage everyone to come on out on Good Friday.
The walk will commence at 5.30 pm on Good Friday, leaving from the top of the town. All are welcome!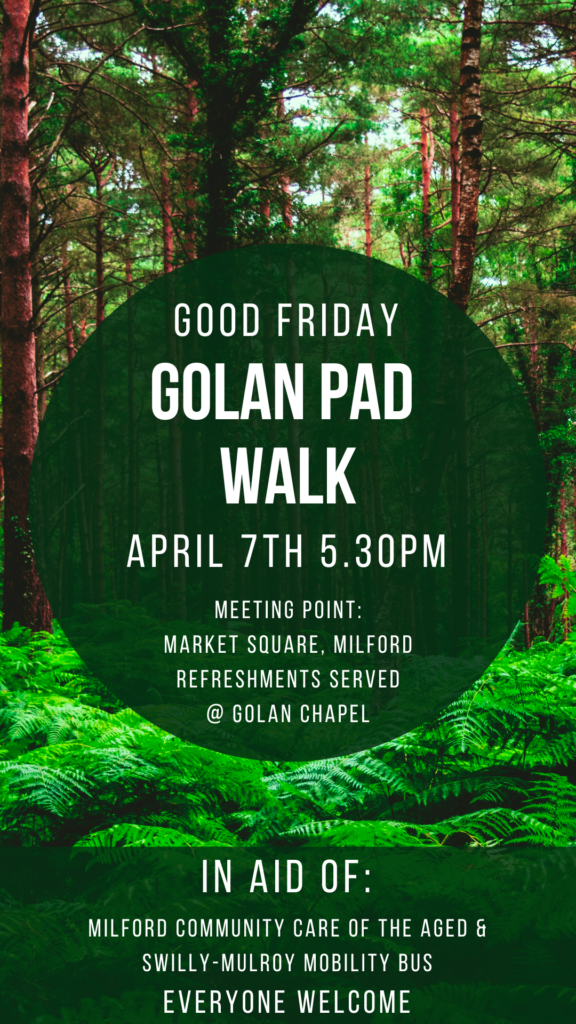 Tags: