Advertisement
As the tourism season returns for 2023, the team at Sliabh Liag Distillers is looking forward to a busy season at the Ardara Distillery.
Head through the doors of The Ardara Distillery and appreciate an alternative side of Irish whiskey making, inspired by an almost lost smoky spirit style; one that honours the methods of Donegal's illicit forefathers, brought up to date with the very best distillation know-how.
During the tour you will learn about the history of Donegal's immense distilling heritage and see skilled distillers breathing new life into this ancient craft.
The Ardara Distillery is home to Sliabh Liag Distillers and houses all of its distilling operations. It sits on the Show Field in the historic festival town of Ardara, overlooking the beautiful Loughrosmore Bay, close to Maghera Beach and Caves, the majestic Sliabh Liag Cliffs, The Silver Strand Beach, Assaranca Waterfall and many more of Donegal's most picturesque spots.
Inspired by a sense of place and community, and with the mission of reclaiming the distilling heritage of Donegal, James and Moira Doherty returned to the northwest coast of Ireland to establish Sliabh Liag Distillers. James' childhood holidays in Donegal nurtured a love for the folk tales of the Sliabh Liag peninsula resulting in the first product launched by the business, The Silkie range – named after the mermaids who would come ashore, shedding their seal-like coat to become beautiful dark-haired maidens and steal the hearts of local fishermen.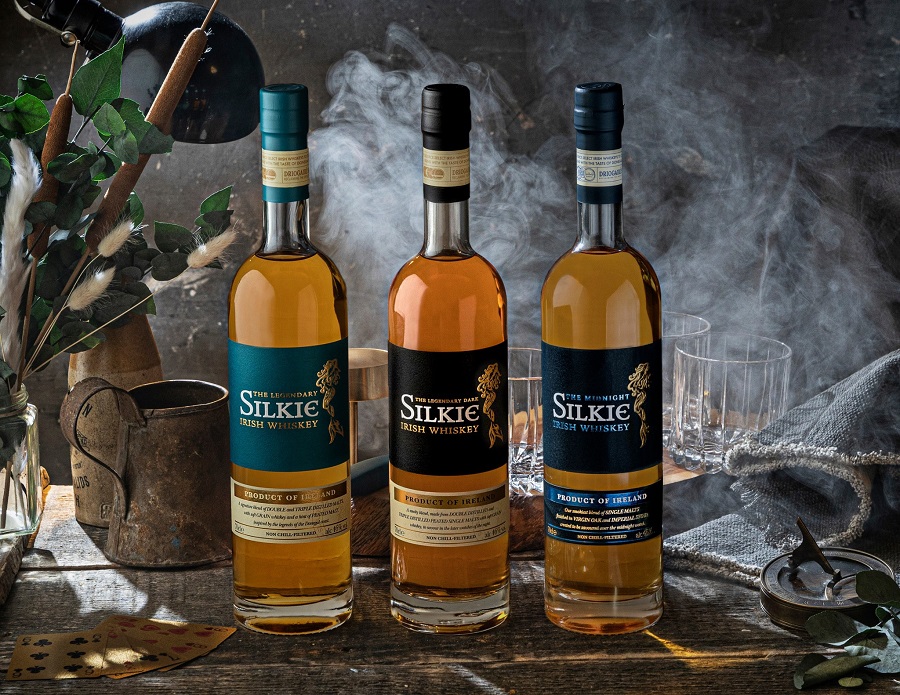 The first legal distilling company in the county for 175 years, Sliabh Liag Distillers is now an international drinks business based in Donegal exporting to 40 countries. During the tour, visitors will get to experience a full-scale whiskey distillery in operation, one that has the capacity to produce up to 600,000 litres of spirit per year. Co-founder James Doherty is looking forward to welcoming lots more visitors this year: "The tour itself immerses visitors in an alternative, a Donegal, side of Irish whiskey making, one that honours the methods of our illicit forefathers while harnessing the best of modern technology and making a wonderful soft rich smoky spirit. We haven't been open long, but we've had terrific feedback so far from visitors near and far. It's also great that the distillery is located near so many of Donegal's hotspots and hidden gems, as it means visitors and tourists can explore our stunning surroundings when they visit."
The distillery, which only opened to the public in July 2022, has already proven to be popular with tourists and locals alike. Tours of the distillery are available from Monday to Saturday at 10am, 12pm, 2pm and 4pm and each tour lasts around an hour. The team at the Ardara Distillery advises that each group checks in ten minutes before their tour begins. A tasting tour, that includes Gin and Whiskey, costs €25 whilst a tour without tasting is €15. All children from the ages of 8 to 18 are free of charge, however children any younger than eight years old are not permitted. All are welcome to join with tours being fully accessible for wheelchair users and guide dogs. Booking in advance is essential as there is a limit of ten people per tour. Find out more and reserve your place via the website.
The distillery's Seanchaí Cask Club is another chance to own a piece of history. In Donegal, a seanchaí (pronounced shan-a-key) is the keeper of an area's oral tradition; someone who imbibes stories, myths, facts, and folklore and fuses them together to recount rich tales.
In owning a cask of the Ardara Distillery's whiskey, you become one of Donegal's Seanchaí. The stories you tell of its distinctiveness will help reclaim Donegal's distilling heritage and build the legend.
Casks are available for €6,000 which covers samples and insurance.
At the end of the five years, you can age it some more or sell it back to the distillery. Find out more at www.sliabhliagdistillers.com
Tags: