Environ 2023, the 33rd Irish Environmental Researchers Colloquium, will take place at the ATU Letterkenny campus from the 3rd to the 5th of April. 
The three-day event themed "Evidence and Plans Towards Transitions to a Sustainable Future," will feature a range of focused sessions examining the most pressing issues facing the Irish environment including climate, biodiversity, circular economy, carbon capture, agriculture, and water. 
Environ is the longest running and most prominent forum for environmental researchers in Ireland with over 275 delegates attending the event annually. This year, ESAI and ATU have joined forces to deliver an exciting and engaging conference experience featuring a host of national and international scientists, academics, and experts.
Dr Rick Officer, ATU Vice President for Research and Innovation said that "ATU is delighted to be hosting Environ 2023 at our Letterkenny campus. This year's event will bring together a broad cross-section of communities including environmental and social scientists, engineers, and policy influencers to share knowledge and address important global challenges relating to the environment and sustainability. A mix of keynote talks, and panel discussions will explore the spectrum of environmental science and examine the real-world implications for local communities." 
Sinead Macken, ESAI Conference Liaison, highlighted how Donegal's Wild Atlantic Way, is the ideal location for this year's event. "With its unspoilt natural environment and rugged coastline, Donegal will be the perfect backdrop to this years Environ conference. This year's event will see over 120 presentations as well as participation from some of Ireland's leading environmental organisations and industry groups including the EPA, SEAI, IFA and the Marine Institute. We have a comprehensive scientific program scheduled this year, with plenary lectures, keynote lectures, parallel sessions, as well as poster sessions and workshops."
Environ 2023 will kick off on Monday, April 3rd with a delegate field trip to Glenveagh National Park followed by a public reception and panel debate titled "The Implications and Solutions of Future Climate Actions on Agriculture" at ATU Letterkenny Campus.
Dr Denis McCrudden, co-organiser of the event, and Lecturer in Analytical Science and Instrumentation at ATU Donegal, encouraged the local farming community to get involved in the public panel event. "The Environ Public Panel session at ATU Letterkenny will see a selection of keynote addresses delivered from a panel of agriculture experts followed by an open and interactive public discussion on the impact of climate adaptation for Irish farms."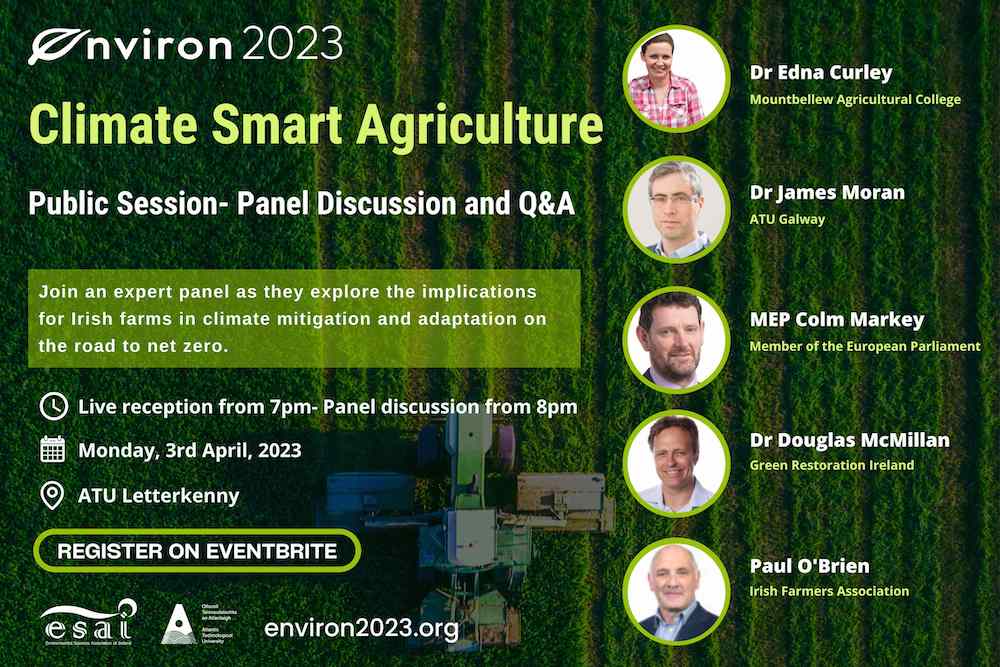 "A refreshments reception will be served from 7pm at the Letterkenny campus followed by the public panel session at 8pm. The panel, chaired by Dr Edna Curley, Principal of Mountbellew Agricultural College, will share their differing views and prospectives on the future of Irish farming with keynote talks from Dr James Moran of ATU Galway, Paul O'Brien of the IFA, Colm Markey MEP, and Dr Douglas McMillan of Green Restoration Ireland." 
"The Northwest has a diverse farming community, many of whom have taken significant action to reduce their carbon footprint, despite soaring costs and I would encourage local farmers to come along to the public session and share their views for what will be an insightful and thought-provoking debate on the implications for Irish farms on the road to net zero." 
To register for the Environ 2023, Public Panel Session visit www.esaiweb.org/environ/public-events/