The award winning Encore Performing Arts Academy returns to the stage with a production of hit family classic, 'The Sound Of Music' this April.
The production will mark ten years since Encore first staged it and Director Rebecca Thompson is thrilled to be at the helm of this much loved show.
"The cast have been working incredibly hard since January and although rehearsals have been busy, everyone has stepped up to the mark and brought their amazing talent and passion to their roles" Rebecca enthused.
"We always aim to cast age appropriately and so we are incredibly lucky to have been able to cast our von Trapp children from our current Musical Theatre students from both Letterkenny and Strabane, and our adult leads derive from past students of Encore PAA and parents / families of current students.
"We also have members who have long standing relationship with Encore alongside a few new faces who were up for the challenge – and the craic – in getting involved with Encore Theatre Productions. We are thrilled to have such a talented cast and crew working on this production."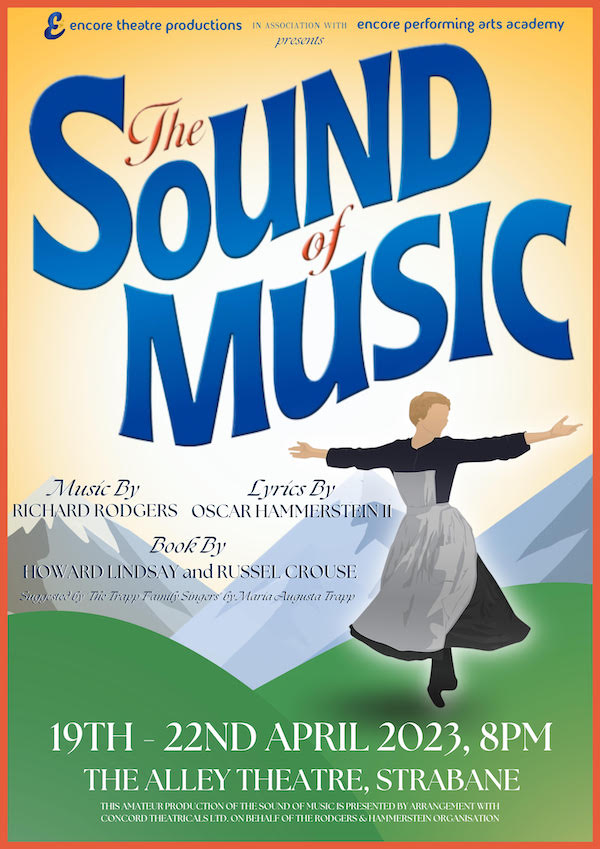 Encore recently returned to the stage following Covid closures, with their mesmerising production of Matilda Jr The Musical, which starred all their Musical Theatre students.
Prior to this, their last 'big' musical was their award winning production of Hairspray, in 2019, which was nominated for 4 awards from the Association of Irish Musical Societies (AIMS) and walked away with three wins, including Best Visual.
Encore have a great line up of shows ahead including Nativity -The Musical in December and Oliver! in April 2024. The group will also be staging their first ever play in the form of The Ferryman, in early 2024.
But for now, focus is solely on The Sound of Music. Rebecca knows that, without doubt, it will stir plenty of memories for those familiar with the show, but she is also confident it will awaken a new love for the show for those who will be watching it for the first time.
With classic songs such as Do Re Mi, Edelweiss, So Long Farewell, and Favourite Things, this show is definitely one to catch during its Run in The Alley Theatre from 19-22nd April. Tickets can be purchased via The Alley Theatre Website www.alley-theatre.com or by contacting the Box Office on 00442871384444