A trailblazing Donegal choir is preparing for one of their biggest performances yet as they give voice to a special song for the first time.
The Danu Young Women's Choir was formed just one year ago. It has a growing membership of 40 gifted young women aged 13 and up from across Donegal and beyond. They all share a common passion for singing genres of all kinds, and for celebrating female writers and voices.
On May 20th and 21st, they will perform the world premiere of Ina Boyle's setting of 'O Perfect Love' during their annual spring concerts in Letterkenny.
Ina Boyle, born in Enniskillen in 1889, was one of Ireland's most important and prolific female composers. Yet, her works are rarely performed today and few were published.
Danu choral director Douglas Carnes has unearthed a stunning piece of Boyle's music that he believes has never been sung by a choir in living memory.
Douglas tells Donegal Daily: "This piece is so interesting because Ina Boyle's entire collection of music is under glass at Trinity College Dublin library. This is the only piece that was published that there is no record of who published it. It is the only piece that is not mentioned in the memoranda that she wrote and it's never been sung before as far as anyone knows. We have no idea if it has ever been sung before. We are resurrecting it for the first time in the world, which we are really excited about."
The song will be the centrepiece of two springtime concerts at Conwal Parish Church Letterkenny on May 20th and 21st. The concerts are titled 'Her Song!' as a nod to the setlist of female-centred and empowering pieces.
Every song is either composed or arranged by a female, or arranged by a male for female voices.
The audience can also look forward to numerous other Irish premieres, including the Desert song by the Jazz group Säje. The show will also feature poetry readings of female poets by pupils of Karen Murphy's School of Speech and Drama.
"It's going to be a real celebration of femininity," Douglas said.
A native of New York, Douglas moved to Donegal three years ago along with his wife Taryn, who had received a job offer in Optum.
Douglas has a long history of music education and performance in the States. He headed up an all-male choir, performed on Broadway and is currently pursuing a Doctorate of Music Performance at The Royal Irish Academy of Music.
When he moved to Donegal, Douglas noticed a lack of opportunities for girls to sing together outside of school and church. He set up Danu as a space for young girls to feel empowered and grow together. The committee is made up of women from across the community, including local teachers and singers. The choir's accompanist is Dr Helen Haughey from Redcastle.
By practising for three hours or more each week, the young members have reached such a high level that they have qualified for the International Choir Festival in New York in January next year.
"It's a dream come true to be able to work with these girls," Douglas said.
"I've always been drawn to working with children. This age group is wanting and yearning to be together and to experience good music and growth together. We have girls from all walks of life, it's beautiful to watch them grow together and flourish. They have taught me many lessons about being dedicated to your passion.
"We have a saying on the inside of our folders. It's 'Be Brave, Be Bold, Be You' and we really try to live by that.
"It's a bunch of individuals coming together for something greater than ourselves, including me."
Tickets are on sale now for the Her Song! Concerts at 7:30 pm at Conwal Parish Church, Letterkenny May 20th and 21st. Tickets can be purchased at https://www.eventcreate.com/e/danuyoungwomenschoir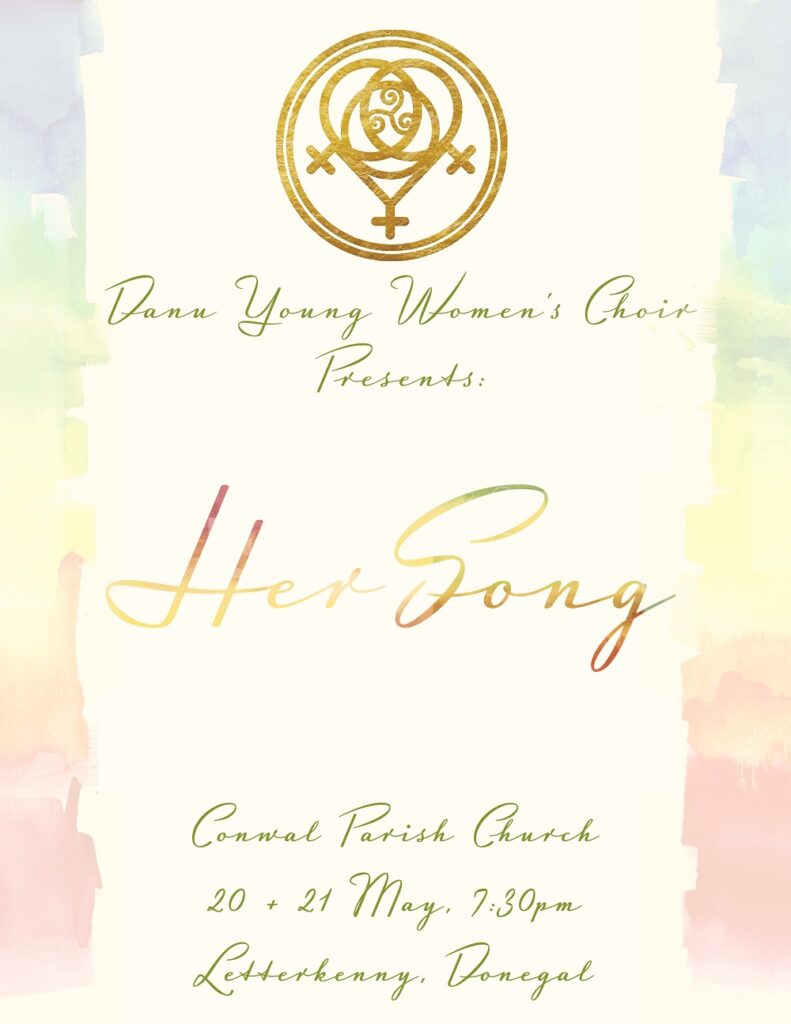 Tags: