North West Simon Community are calling on everyone to join their annual Dip & Donate 2023 Campaign from Friday, 16th to Wednesday, 21st June 2023 which is the longest day of the year – Summer Solstice! 
The Dip & Donate Campaign will contribute to the charity's fundraising efforts to ensure that we are there to support clients in an unprecedented homelessness crisis.  Ireland has never experienced homelessness at this level before and the North West's growing figures highlights this. 
From January to Dececember 2022 the North West Simon Community worked with 241 households to prevent homelessness in Donegal, Leitrim and Sligo.
Dip and Donate invites you to embrace the rush of endorphins as you enter the water and cherish the feel-good factor of knowing you're helping prevent and resolve homelessness in your local community.
If you can't make it to the beach, you can always take a dip in a local lake or river or even your back garden paddling pool! 
The charity is asking you to create a Facebook Fundraiser by following the following steps:
Log into your Facebook page, click "Create Fundraiser" click on "Charity" in the "Who are you raising money for" section and select North West Simon Community

Don't forget to share your photos and videos of your dip and tag North West Simon Community on all social media channels.  

100% of donations raised will go directly to the charity. 
If you prefer to raise money off Facebook you can donate directly to our website at www.northwestsimon.ie/donate and in the comment box please include "Dip & Donate Campaign 2023."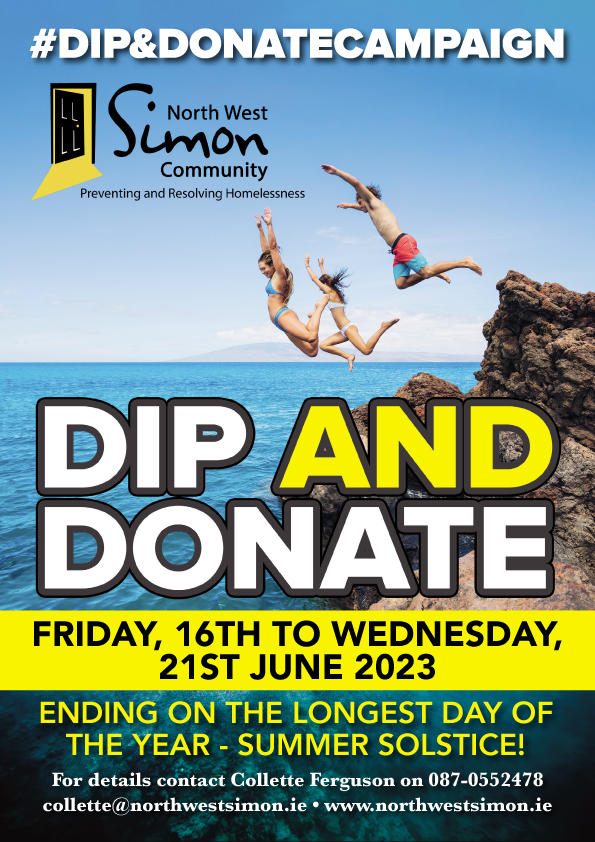 Tags: