The Minister of State with responsibility for Youth Justice, James Browne TD, today attended the launch of the newly expanded Foróige Donegal Youth Diversion Project and officially opened the Letterkenny premises.
In 2021, the Donegal Youth Diversion Project received a once-off grant for a new premises in Letterkenny as part of the expansion of YDP services objective under the Youth Justice Strategy 2021-2027. Further funding was granted in early 2023 to complete renovation work on the new premises in Letterkenny.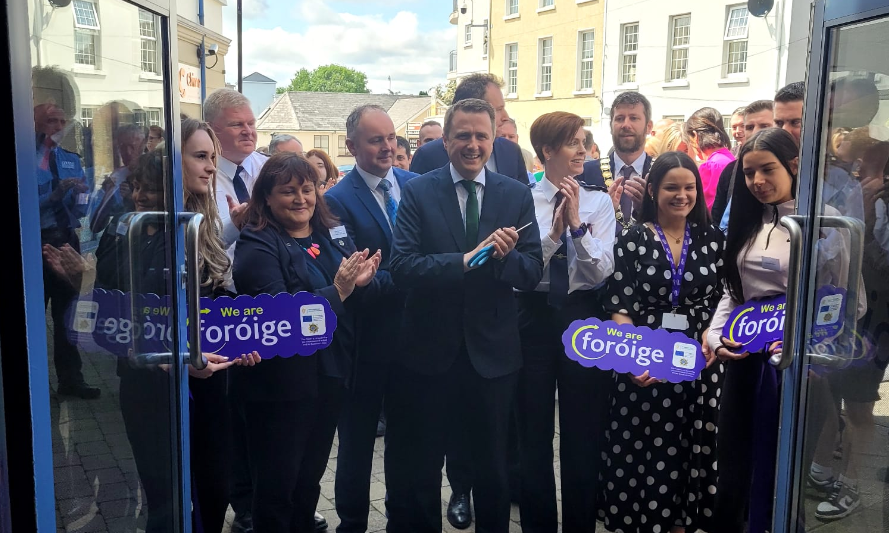 Speaking at the opening, Minister Browne said: "I am delighted to be here today to open the new Youth Diversion Project premises in Letterkenny. This project will play a pivotal role in ensuring that young people who stray from the proper path get the support and direction needed to get their lives back on track.
"This project is particularly important as the Donegal Youth Diversion Project serves a significantly large catchment area and today's announcement will ensure that all those communities are offered the support they need.
"The Cross Border Youth Diversion Project was set up in 2021 with the aim of helping those young people who are at risk of becoming connected with cross border criminality. The work of this group is particularly unique as it offers intensive support to reduce the likelihood of those at risk to reoffend in both Northern Ireland and Donegal.
"It is my honour to officially open the new premises in Letterkenny and to further support Foróige in this initiative."
Donegal YDP has approximately 115 young people engaged in the YDP service in 2023. The project also has 30 young people engaged in Early Intervention and 30 participants engaged in Family Support this year.
Since July 2019, the Early Intervention programme has been operating primarily from Letterkenny due to the town's far reaching accessibility to surrounding towns, villages and rural areas. Donegal's YDP Early Intervention programme is well established in the county, having built a strong network of relationships with other services in the area, such as schools, family resource centres, CAMHS, Meitheal and drugs and alcohol services.
The Cross Border Youth Diversion Project was set up in the summer of 2021 and aims to work with 20 targeted young people who are connected with or at risk of becoming involved in cross border criminality and are known to PSNI/An Garda Síochána and Youth Justice Services in both Northern Ireland and Donegal. This project offers an intensive support service that aims to reduce their criminogenic needs and reduce their likelihood to reoffend.
Tags: