A workshop to assist groups who provide assistance to families and individuals affected by defective concrete blocks is being rolled out in Carndonagh. 
Next Wednesday evening, June 7, Inishowen Development Partnership are holding a workshop in the IDP office in Carn to support community groups and individuals who are assisting people with the redress scheme process. 
DCB facilitator Michelle Coyle will be on hand to go through the common issues she has identified in the past number of months since she was appointed as DCB facilitator for Inishowen. 
"I have a good sense of the challenges that people are facing time and time again with this application process," said Michelle. 
"The most common problems are scanning documents and uploading others as PDFs onto the system. We have developed some tips and methods that people can use, so we want to share that learning with the community sector and to the people in the community centres who are helping people- it might make the process a bit easier. Many of the IT challenges for many in using technology are alleviated through the good support they are getting from our community centres.
"On top of the housing situation and financial costs, we know a lot of people have a level of fear when it comes to the actual application for the redress scheme. However we would like to reassure people that while it is challenging the more people that have the information the better," added Michelle.
Denise McCool, IDP Team Lead and member of the IFAN DCB/MICA Sub Group, acknowledged the work that has been led out in the community. 
"There has been great work going on in the community on a voluntary basis for many years, alongside MAG and redress volunteers that have led the way nationally," said Denise. 
"Through the IFAN DCB subgroup staff and volunteers from many of our community centres and social enterprises across Inishowen have been working with members of the public in various ways to support them in dealing with DCB/MICA with wellbeing supports, but also to assist them with their redress scheme applications, and that must be applauded. We hope that by having this workshop we can add value around IT and GDPR aspects, as well as general tips and support from Michelle in her role.  
"We are also happy to hold further workshops like these in other areas of Inishowen in future if the need is there."
As well as DCB facilitator Michelle, IDP's IT trainer Denis Kelly will also be available on the night to provide advice on how staff can help people to also help themselves. 
GDPR expert Aidan Bennett with also provide advice on GDPR best practice for people who are assisting others in the process. 
The workshop will take place on Wednesday, June 7, from 7.30pm – 8.30pm in the IDP office at Pound Street, Carn. For more information or booking email Rachel@inishowen.ie or call us on 93-62218. 
Meanwhile Michelle's DCB outreach clinics are continuing across Inishowen from 10 – 11.30am. They take place every Monday in IDP Buncrana, Moville Family Resource Centre on Tuesday mornings, Malin Head Community Association on Wednesdays, IDP office at Pound Street, Carn every Thursday, and also Clonmany Community Centre is her base every Friday morning. To book an appointment with Michelle email Michelle@inishowen.ie or contact IDP on 93-62218.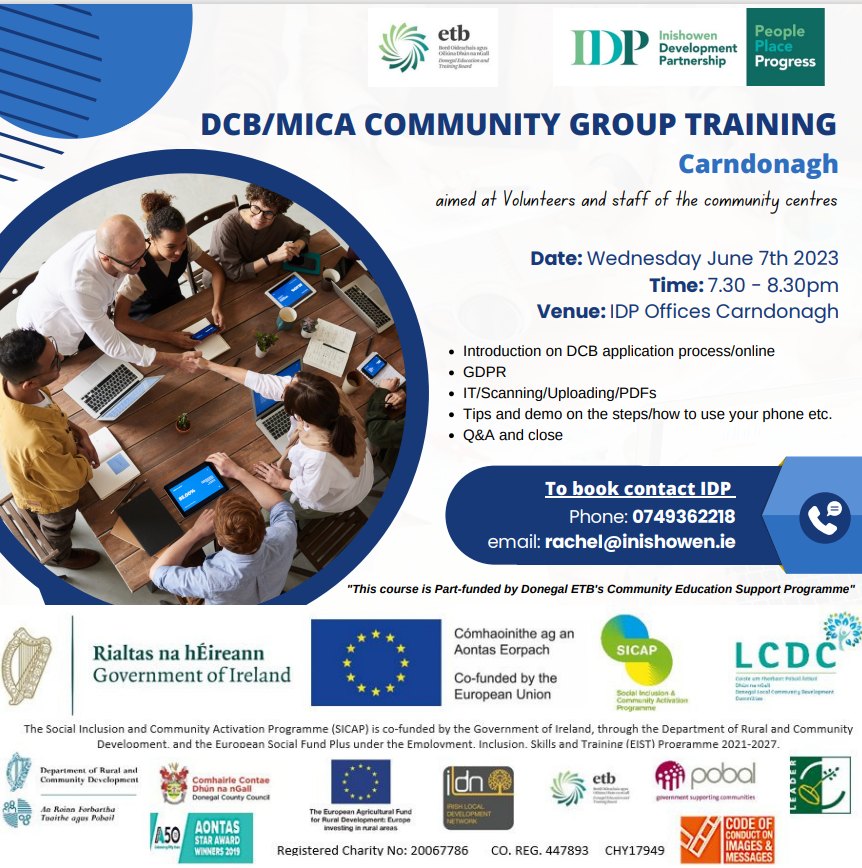 Tags: