A special public screening of Irish motorbiking film 'Freebirds' will be held at Buncrana Cinema on Saturday.
Hosted by award-winning visual artist Brigid Mulligan, in conjunction Artlink Fort Dunree, it weaves together the true stories of a group of friends from Longford who set up Freebird's Motorcycle Club (M.C.C.) in 1997.
Since then, three young members have died on the road. Through the sharing of deeply personal experiences by Freebird's M.C.C. members recalling how they finally came to terms with these fatal accidents, this documentary film, created by Brigid Mulligan and Bruno Pierucci, explores the unseen side of bikers in an Irish rural community and what being a biker means to each of them.
This includes Brigid Mulligan's brother, Sean Mulligan, who died in 2002 aged 21.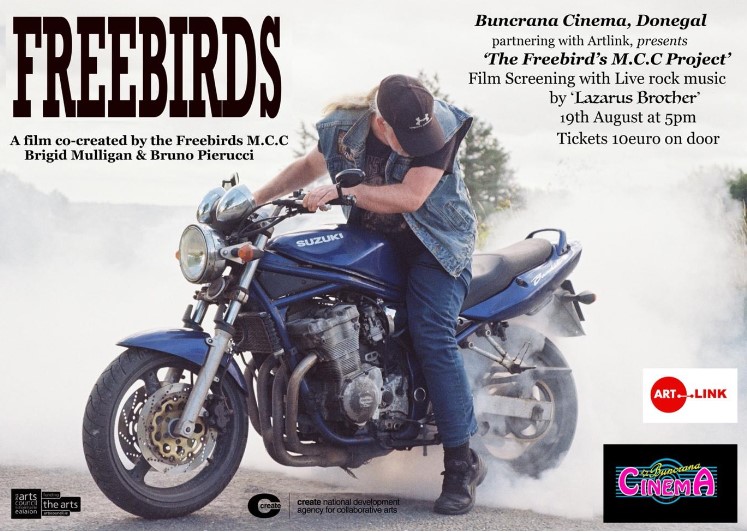 Irish Hospice Foundation Arts and Creative Engagement Lead, Dominic Campbell said: "In addition to being a visual feast accompanied by a rocking soundtrack, 'Freebirds' gives an intimate insight into how this Club's supportive community has helped members, both individually and collectively, find tangible ways to grieve for and remember their friends."
There will be live rock music on the night by 'Lazarus Brother', giving a taste of the Irish Motorcycle Rally scene.
The screening will take place at Buncrana Cinema on Saturday 19th August at 5pm sharp. The cost is €10 on the door.
There is also a showcase of the 'Freebirds MCC Project' artwork in the community space at Buncrana Cinema for one day only on Saturday.