Donegal Daily's Pet Column is brought to you by veterinary nurse Michelle Kelly in association with Gary's Pet World, Letterkenny Retail Park.
For all your pet food, health, accessories and toy needs, call instore or visit www.petworld.ie. Free shipping on orders over €29

---
There are many benefits to children growing up with pets. They teach children about companionship, responsibility, they encourage them to speak and offer protection. Petting dogs is linked to reducing stress and helps people to relax. Children tend to exercise more when they have a dog at home in comparison to children who do not have a dog, this also helps to reduce screen time and gets them outdoors. There have been studies which suggest that children growing up in close contact with pets are less likely to suffer from allergies caused by dust and dander carried by animals. 
It is very important to teach children how to behave around dogs from a young age to keep them and the dog safe.
Even the friendliest dog can become unpredictable when nervous or provoked.
Children and adults communicate differently which can confuse dogs. Babies and young children cry, thrash their arms, scream and hit things. Dogs find it hard to understand them and it is much harder for dogs to tell them when they want to be left alone.
Children also tend to treat dogs like their friend or family, which is what adults usually teach the child. This causes children to hug, kiss and try to lift the dog, showing affection in the way they would their brothers, sisters and parents. Dogs do not enjoy this, they can feel threatened by someone coming face to face with them leading to children getting snapped at. Young children may also pull their ears and tail or stumble over the dog, hurting them and in turn getting bitten. 
Children should never approach a dog when they are eating, sleeping, have a toy, are sick or resting. As the saying goes "let sleeping dogs lie" because if they are disturbed they can get a fright and potentially snap out of fear/defence, and although there are many situations where a dog snaps at a person and that person thinks they did nothing to annoy the dog, chances are there were events leading up to it and the dog gave warnings before resorting to 'aggression'.
Children should also never approach a strange dog because it may not be friendly towards people or children, always ask the owner if you are allowed to pet them and if they say no it is important not to get annoyed, the owner is keeping the dog and child safe.
Young children are more likely to be bitten by their family dog than by a strange dog and they are also more likely to get bitten by a dog than any other age group. 
Teaching children to respect a dog's personal space from a young age is very important in preventing injuries and stress for the whole family. There is a book called "Don't hug Doug (He doesn't like it)" which is great for teaching children about boundaries and to respect people's (and pets') personal space.
The canine ladder of aggression is very useful to have at hand to tell you when a dog is getting uncomfortable in a situation.
Dogs can be very subtle in the beginning when they are getting overwhelmed, licking their lips, turning their head away and yawning, some people tend not to pick up on these cues initially. They will then turn their body away and put their ears back, tuck away their tail and sometimes they'll roll over, which some people then assume is their way of acting like they are enjoying it which is the opposite of what they are trying to portray.
Eventually, when these cues do not work and they are still uncomfortable they will resort to more extreme measures such as stiffening their body, growling, snapping and biting. These are a last resort for a dog once they've given the other warnings.
Preparing for a new arrival
Having a new baby brings many changes to a household and can affect the dog in many ways, with new smells, sounds and equipment, some dogs may barely notice and others may worry about all the changes. The best way to prepare the dog is to avoid making a fuss. If their people are calm, the dog will have nothing to worry about. 
In the few months leading up to the birth it is a good idea to start building things like the crib and pram so the dog is comfortable with them. It may also help to take some time lead training the dog to walk nicely beside the pram. If they struggle it might be an idea to speak to a dog trainer to help out. 
Basic manners in the house are vital especially with a newborn baby. Verbal commands such as "sit" and "stay" can be very useful but crate and/or place training them is ideal. It gives dogs a safe place to retreat to and allows you to perform daily tasks with the baby without worrying that the dog will trip you up. Training the dog not to jump up is also important because it is not something that you'll want them doing with a baby in your arms. Food manners are useful when the baby starts to wean. Sending the dog to their bed while the family eats prevents them from begging and from stealing food, potentially making them sick if they eat something they shouldn't.
Bringing the baby home to meet the dog can be daunting, but it doesn't have to be stressful. It is a good idea not to have too many people around for this moment as loads of unfamiliar people can make the dog hyper and excitable or even stressed. Have the dog in their usual place, go in and say hello to them empty handed first, let them acknowledge your return, then, when they are calm, place them on a lead and maybe even go for a short walk with the pram to show them that everything is okay. If you do not want them to, you don't have to let them up and sniff the baby in the car seat or on your knee. This can be more stimulating than simply taking the baby out of the pram/car seat and pretending like nothing new has happened and starting to go about your day at home with the baby.
The wriggling of a tiny baby and some of the noises that babies make can remind some dogs of prey so never leave a dog and a baby in a room together unsupervised, no matter how safe or friendly they may seem.
Try and keep a routine with your dog even when the baby arrives. Making sure they get their daily walks and play time reduces stress for them and helps them realise that you are still there for them. Dogs get frustrated when they don't get to burn off their energy, especially young highly driven dogs and often they are the ones which end up in adoption centres when a new baby arrives because they are "too hyper" when in reality it is the fact that they were never given a chance to settle using some training and having a simple routine in place. 
Thinking of getting a dog?
Dogs are a big responsibility. Whether it is a puppy or an adult dog, their new home can be overwhelming. You are exposing the children to a new dog and also the new dog to the children. Dogs can pose some risks such as: bacteria (salmonella if fed a raw diet), parasites (roundworm, tapeworm etc) and bites. Children can also pose slight risks to dogs: Poisoning from ingesting items left around (grapes, chocolate, raisins, teething gels etc.), traumatic injuries from being stepped on or dropped and stress or anxiety from being chased or poked.
When preparing for the introduction, children should be reminded that they need to stay calm and gentle with their new pet because the new dog could be nervous or over-excited around new people. It is a good idea to get to know a dog's body language to help everyone understand how they're feeling.  The Doggie Language poster by Lili Chin is very useful. 
Having two adults in the room, one to supervise the children and one for the dog is advised. It may help to take the dog for a short walk to burn off some excitable energy. In the home until they settle it might help to keep a short lead attached to them in case things get out of control. Allowing children to help with the training of the dog establishes some control and allows everyone to help. 
Most importantly,having a dog is so fulfilling and is a great way to bring the family together, enjoy yourselves and remember to have fun with the dog. They are a great companion and really are a best friend to all.
For all your pet food, supplements and treats, visit www.petworld.ie or call into Gary's Pet World Letterkenny.
---
Michelle Kelly qualified with a BSc Honours in Veterinary Nursing from LYIT. She works full-time in a clinic in Derry. She is the proud owner of a labrador named Nala, who goes everywhere with her, even to work. 
As a dog owner in the North West, Michelle says she sees a lot of misunderstanding around owning a pet. With her first hand experience in a veterinary practice, she wants to give up-to-date facts and information to pet owners and to be a person people can turn to for help and advice, especially in the local area of Donegal.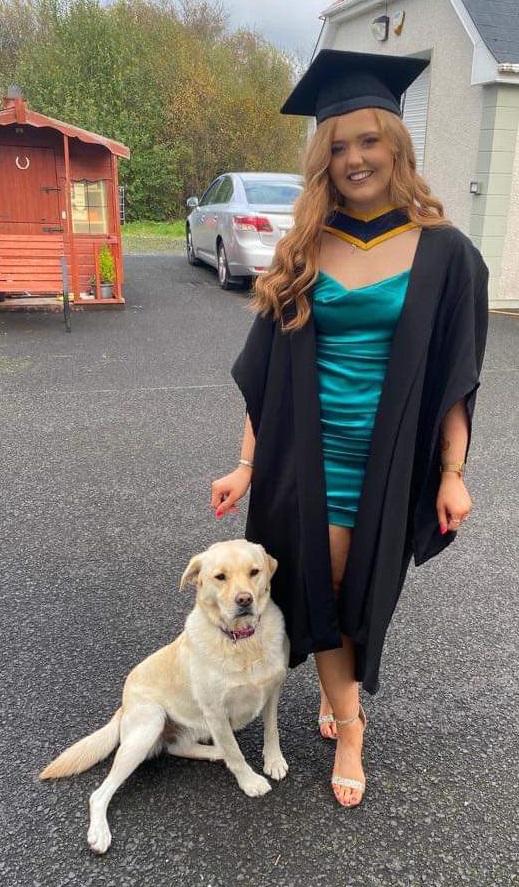 Tags: