Whatever Keith Long is doing right at Waterford United, Finn Harps manager Dave Rogers wishes he had just a taste of at Finn Park.
Tonight's 0-4 victory was their fourth successive win against Harps this season, the second such scoreline at this venue.
That gulf in class was evident previously in 7-1 and 6-1 victories for United at their Regional Sports Centre venue in Waterford.

By Charlie Collins at Finn Park
All pictures by Joe Boland
Waterford Utd are now looking to secure second-spot in the table but unlikely to catch leaders Galway Utd who were fifteen points ahead of them with only seven games remaining.
So getting ready for the play-offs is now very much their priority as unlike Harps they are out of the FAI Cup.
For Harps the final play-off spot is ten points away, currently Wexford Utd are in that spot , but with three other teams also ahead of Harps it will take a run of wins for Harps to have any chance of making it , but it's a very outside chance at this stage.
After a lively start with plenty of effort from both teams but little goalmouth action , Ryan Flood produced the best moment of the opening quarter when sent racing forward by Stephen Doherty his piledriver just cleared the crossbar in the 12th minute.
We had a big moment of confusion in the 19th minute when it first looked as if Waterford had scored , former Harps man Killian Cantwell powerfully heading in Connor Parsons corner but the 'goal' was disallowed with no-one quite sure exactly why.
It was later confirmed that the corner had drifted wide before coming back into play.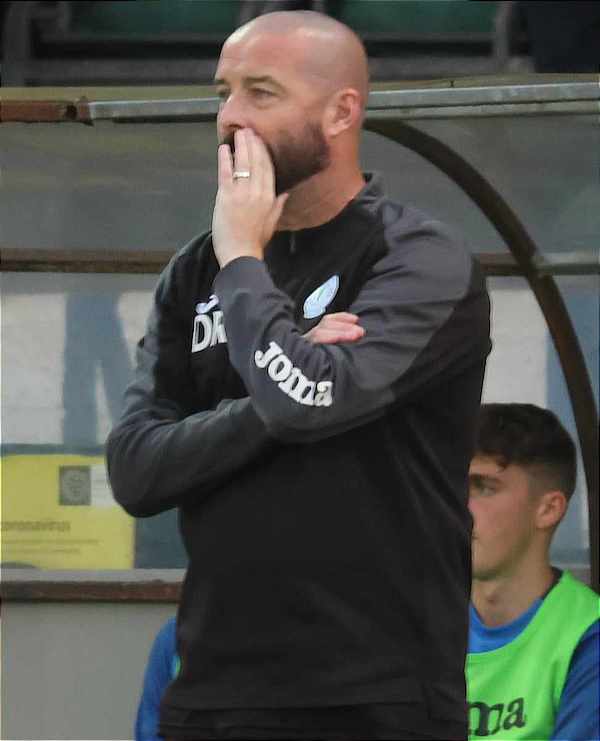 However it was a short-lived let-off for Harps as four minute later Waterford scored one that did count.
Harps failed to clear a free-kick from the right side and after the ball bobbled about in the box Darragh Power got a toe poke on it with just enough power to creep into the far corner of the net.
Harps picked things up after this and were almost level in the 38th minute, Tony McNamee's excellent pass found Ryan Flood and after turning his marker one way then the other, his cracking angled drive cams crashing back off the post with keeper Sam Sargeant well beaten.
Five minutes later another Harps chance, Noe Baba found Caoimhin Porter with a super through ball but his angled shot flew just wide of the far post, another let-off for the visitors who were forced to defend three late Harps corners but held on to lead 0-1 at the break.
Harps keeper Rory Kelly had to make a vital block to deny Conner Parsons just after half-time but two minutes later it was 0-2, Cameron Cresswell scoring after great work by Christie Pattisson and poor defending by Harps, the midfielder sliding a super pass into the path of Cresswell who confidently finished.
And the poor defending continued four minutes later when Max Hutchinson was caught in possession just outside his penalty area allowing Dean McMenamy to race through to score and make it 0-3 and game over.
And as if things weren't bad enough Harps were reduced to ten men when Noe Baba got a straight red card for a tackle on Parsons, it looked a bit harsh but the tackle wasn't really necessary on the half-way line.
Waterford added a fourth goal in the when Niall O'Keeffe put Dean McMenamy in and he added his second goal of the night with a fine finish .
The visitors were happy to clear their bench making five changes in the course of the second-half as their dominance of Harps this season continued, winning again by 0-4 here at Finn Park for the second time , to add to their 7-1 and 6-1 victories at the Regional Sports Centre in Waterford.
They will continue on their way to the play-offs , Harps must prepare for a FAI Cup Quarter-final against St.Patrick's Athletic next Friday night back here at Finn Park.
It finished 0-4 to the visitors.
Finn Harps : Rory Kelly, Caoimhin Porter ( Sean O Donnell 53mins), Stephen Doherty ( B J Banda 65mins), Noe Baba, Matthew Makinson , Ryan Flood, Jamie Watson , Max Hutchinson , Tony McNamee , Seamus Keogh ( Daniel Stokoe 73mins) , Patrick Ferry.
Waterford Utd : Sam Sargeant , Darragh Power , Ryan Burke ( Denik Osede 67mins), Niall O Keffee (,Samuel Perry 76mins), Connor Parsons ( Shane Griffen 65mins), Cameron Presswell. Roland Idowu Serge Atakayi 76mins),Christie Pattisson , Giles Phillips , Killian Cantwell ( Ronan Mansfield 76mins), Dean McMenamy. Referee : Mark Houlihan.