Sponsored Post
Want to hear more about the highs and lows of creating a global brand?

Join Letterkenny Chamber this Thursday Sept 28th 2023 – for an evening with Brody Sweeney, all welcome to the 'Into the Northwest, Entrepreneurial Edit' event.

Register here: https://bit.ly/3Eu8uct

Entrepreneurship is not a linear path, the many twists, turns, crossroads and roadblocks are often what makes business interesting and human.

This event will be an opportunity to hear at first-hand an Entrepreneur's journey. Brody Sweeney, Founder of Camile Thai Kitchen will talk about his current business and of re-invention. How Brody overcame major challenges with former businesses including O'Briens Sandwich Bars, and started again.

Refreshments provided after the main event, downstairs – in Camile Thai as organised by our local Camile Thai Letterkenny Franchisee, Andy Davitt.

Entry is complimentary to Letterkenny Chamber members as part of membership and only €10pp for non-members.

The event will take place in Safetech, Riverside Letterkenny @ 6pm (sharp) Thurs 28th of September 2023

Who is this event for? Anyone with an interest in hearing honest entrepreneurial stories, and learning from the real experiences of a serial business owner. Ideal for anyone in business, or with an interest in business!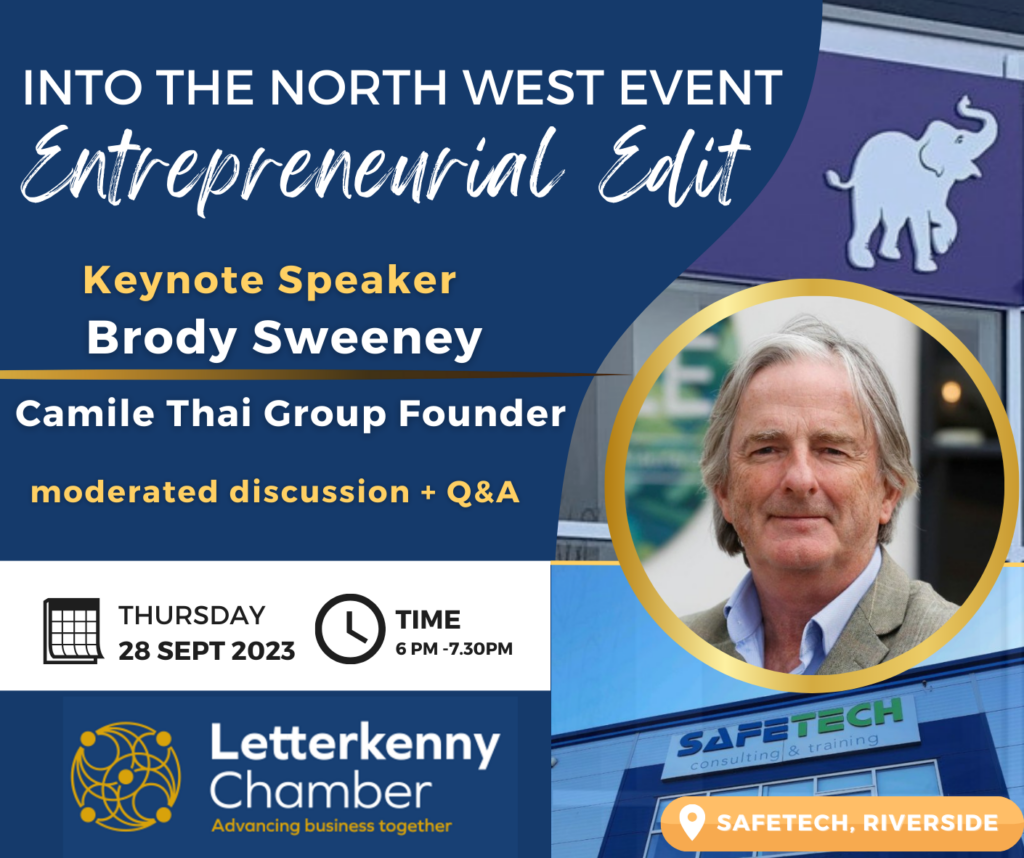 About Our Keynote Speaker: Brody is the founder and Chief Executive of Camile Thai Kitchen – the UK and Ireland's largest Thai inspired healthy restaurant delivery business. The business founded in 2010, employs over 1,000 people through directly controlled businesses and franchised restaurants. Camile operates all over Ireland and London. 
 
Brody has experienced the highs and lows of creating a global brand as he was founder, CEO and Chairman of O'Brien's Irish Sandwich Bars, a global business with sales and operations in 16 countries, employing 3,000+ in over 320 stores and sales of €140 million. He successfully built an international brand selling products with the concept of "Irishness" to various cultures in Europe and around the world. The business went into examinership in 2009, when Brody lost control of it – but O'Briens has survived and continues to thrive. 
 
He was previously a founder of the business charity Connect Ethiopia, a board member of Bord Bia, and Fluuter / Paddy Power bookmakers, and is immediate past chairman of the award winning Little Museum of Dublin. 
 
He is also author of Making Bread a best-selling business book, and Small to Tall.
Register, here: https://bit.ly/3Eu8uct or email Marie on marie@letterkennychamber.com 
Tags: