A Donegal beach provided the perfect backdrop for a special wedding celebration last week.
Sun, sea and Silkie Whiskey was the order of the day for UK couple Georgina Guest and Nathan Fletcher who wed on Fintra Beach last Saturday.
Georgie and Nathan took a different route to getting married than most couples. They were on a campervan tour of Ireland when they turned three days in Donegal into some of the happiest days of their lives.
The Fletchers' intimate seaside wedding was topped off with a dramatic photoshoot at Sliabh Liag and a family celebration at the Rusty Mackerel.
Speaking to Donegal Daily, Georgie said: "We have always wanted to travel around Ireland, so we thought why not and let's get married on the way. We are very outside/non-traditional people so it's perfect for us."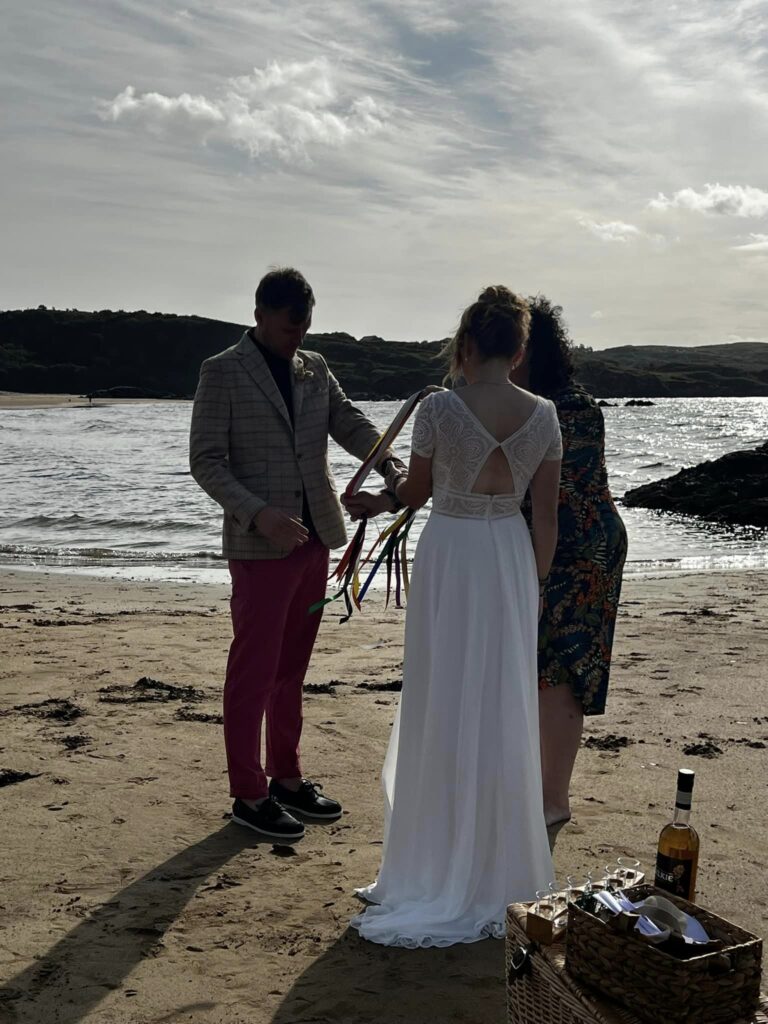 Georgie and Nathan hired a motorhome from their hometown, Rye, East Sussex UK and booked two weeks off work to travel around Ireland. Starting in Dublin, they travelled anti-clockwise around the coast. 
On Friday they were joined by family in Killybegs, including Georgie's mum and dad, Nathan's mum and step-dad, their two best friends and Georgie's auntie and uncle who flew out from Spain.
The sun came out on Saturday for Georgie and Nathan to tie the knot at Fintra, with celebrant Leantia Gallagher leading a beautiful personal ceremony. They toasted with Donegal's Silkie Whiskey and travelled up to the Sliabh Liag visitor centre for the official signing of the marriage.
The wedding party enjoyed the warmest of welcomes and superb hospitality during their time in Donegal, before continuing their tour down the west coast.
"Everyone just fell in love with Ireland, it's beauty and people," Georgie said.
Georgie and Nathan's wedding celebration was unusual, but it was perfect for them. Having been together for 12 years, the wedding is the start of another wonderful adventure for a wonderful couple.
Congratulations!