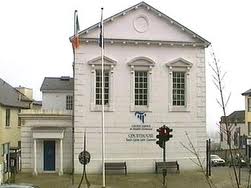 A man who kicked in the front door of house after a man shouted obscenities at him from an upstairs window of the premises has appeared in court.
Joseph McCormack kicked in the front door of the Cornerstone House in Kilmacrennan on August 29th last.
When he went inside, he was met by a young woman whom he pushed aside onto some stairs.
Letterkenny District Court was told that McCormick had been passing outside the house when a man began shouting at him.
There was 'bad blood' between both men going back as far as their schooldays, the court was told.
Solicitor for McCormick, of Ballyboe, Kilmacrennan, Patsy Gallagher, said the man had been shouting obscenities from the pub provoking his client.
However Judge Paul Kelly said he was not concerned about the history between the two men.
"He can't try kick in a door and violate property and a person and expect to be dealt leniently," he said.
The court heard that McCormick has a number of previous convictions for various offences including public order and not having insurance.
Judge Kelly sentenced McCormack to 80 hours community service and fined him €300.