There are big personalities in sport but, as one of them stressed this week, "there ain't no small sports. If it's you're sport, it's not a small sport," Patsy McGonagle told Monday night's launch of the Donegal Sports Star Awards.
Wise words from one who is involved in a sport that is big but doesn't necessarily get the airing it deserves.
I'm thinking the annual international meet organised by Letterkenny Athletic Club that hasn't to date attracted the numbers it should in view of the quality of athlete on show.
But Patsy's point was that every single sport, irrespective of the publicity it receives, is big.
And when I got chatting to fellow Letterkenny man, Bryan Harkin, following the official launch in the Mount Errigal Hotel, he reinforced the view.
Squash. Not the stuff they dole out to Andy Murray & Co. during Wimbledon fortnight but a sport that boasts a dedicated following.
And having played it for many years and taken home a trophy or twenty (they didn't call him the Racket Man but they could have), Bryan is keen to hold court on the subject.
"That was my sport, the centre of my sporting universe, and therefore the most important to me," he insists.
Back in the eighties, Letterkenny boasted two squash centres, Rainey's on the Port Road and the old Downtown club on Lower Main Street.
Anne McGrath, who would also know her way around a squash court (and a
dab hand in other sporting fields as well) joins us for a chat and they recall the numbers playing the sport at the time – 400 members in Rainey's and around 200 in the Downtown.
"For twenty-eight years, Eamon Harvey" – the late and still lamented – "and I would meet on a Sunday morning to play. And many's an argument ensued but they were great days," Bryan reflects.
Monday night's launch – the Awards night itself is pencilled in for Friday 27th of this month – brought together a host of former winners and everywhere you looked there was someone who contributed hugely to their own chosen sport.
Michael McGarvey, whose choice of ball is oval shaped and who claimed the rugby award in 2001 for his outings with Letterkenny Rugby Club, points across the room to Eamon Giles, winner of the Award of Appreciation back in 2002.
"Forty years ago, he used to travel down to Falcarragh from his home in Cranford to coach athletes. That was a distance back then and total dedication," Michael pays tribute.
Here, too, are a couple of award winners from the very first year of the Donegal Sports Star initiative (1976 – yep, that far back), Veronica McAteer, and Ed Moore.
And a host of others – each of them receiving framed recognitions of their respective awards over the years – including David Patterson, Sean Boyle, Colm McGonagle, James Cullen, Stephen Friel, Fr. Mick Sweeney, Richard Eaton, Donal Reid, Danny Ryan (there with the family members who recently went close to claiming the title of Ireland's Fittest), Paul Giles, his uncle Eamon Giles, Charlie McAteer, Jack McLaughlin, Ann Marie Meehan, Nicola Harris, Josie McKelvey, and Christine Russell – each and every one of them, including the others mentioned earlier, contributing to sporting endeavour.
Davitt Walsh, known before the fateful events at Buncrana Pier on March 20th of last year for his talents on the football field, but deemed a true hero after saving the life of baby girl. Rioghnach-Ann McGrotty, was the special guest at this week's launch.
An honour to be asked, he points out, with the rest of us in attendance thinking it was an honour to have him there.
And the personality chosen as the special guest for the awards ceremony?
The afore-mentioned Patsy McGonagle, and no better choice in terms of national and international achievement.
"Ain't no small sports." Indeed. But, like I say, there are big personalities and he fits enthusiastically into that bracket.
A worthy sporting ambassador for Donegal and his country.
Meanwhile, as stressed more than once during Monday's launch – no less so than by Neil Martin – tickets for the Sports Star Awards are only available at the Mount Errigal Hotel so don't go knocking on Neil's door or any of the other committee members for the gold-dust.
More on the event closer to the time.
RORY TO HAVE YOUTH ON HIS SIDE
In the 1997 film 'Titanic', a pronounced Welsh voice belonging to one of the rescue boats echoes out over the dark waters of the Atlantic enquiring through a loud hailer: "Is there anyone out there"?
Kate Winslet's character eventually blows a whistle to attract the rescuers attention but will hardly be responding to the call from the Donegal senior squad who could be asking a similar question. Is there anyone left there?
Two more high profile departures from the Donegal squad confirmed this week in the form of Rory Kavanagh – his second and surely final farewell from the inter-county panel – and Christy Toye who won't be featuring for Rory Gallagher this year or any other year in the future.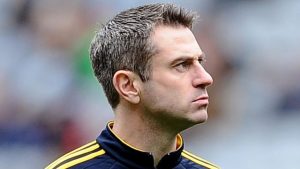 Chalk in Anthony Thompson and David Walsh, two other departures, following hot on the boot straps of Leo McLoone and Odhran MacNiallais who have opted out of the squad, and the loss of Colm McFadden and Eamon McGee and you have a well pruned panel and a transition period approaching that may spell a barren couple of years where Ulster and All-Ireland glory is concerned.
The youngsters – and there are a handful of sound prospects in that respect – will fill in and hope to help Donegal become the force of recent times.
The Dr McKenna Cup will and won't aid the cause of progress.
Undoubtedly some of Declan Bonner's Under-21 squad will feature in senior ranks and there was plenty of hope on view in the opening salvo against Martin McHugh's UUJ team.
Indeed Donegal were, by accounts, unfortunate not win in an entertaining game but in the end were beaten by one of their own – Ryan McHugh fisting the ball to the net with close to the final action.
With Paddy McBrearty also figuring for the students, it doesn't provide Rory Gallagher with any cohesion as he looks to build a team before the National League and ultimately the Championship.
He may need time to steady the ship and steer Donegal football back to where it belongs.
CUP THRILLS?
F.A. Cup third round weekend but somehow it has never in recent times conjured up the equivalent magic of Ronnie Radford's screamer for non-league Hereford United in that famous upset against Newcastle United – never forgetting the scorer of the other Hereford goal, Ricky George –  back in the mists.
And other similar shocks to boot.
When you see the likes of Bournemouth fielding a totally changed eleven against Millwall – and comprehensively dismissed from the Cup as a result – you know that the game is close to up for the once heralded competition.
The truly magical moments are few and far between these days though fair play to Liverpool for holding Plymouth Argyle to that goal-less draw.
A couple of big Cup games, nevertheless, for Irish players across the water.
Former Dundalk ace, Daryl Horgan, came on with ten minutes to go in Preston's tie with Arsenal – but was unable to prevent the Championship side from going down to a 2-1 defeat on his first team debut.
I watched another ex-League of Ireland player, Chris Forrester, in action for Peterborough United at Stamford Bridge over the weekend.
The former St. Patrick's Athletic midfielder was the subject of an interview in the 'Mail on Sunday' and spoke of the huge differences he has seen in his couple of seasons with The Posh in terms of training and indeed playing. He told the 'Mail':
"With this Chelsea game, you can go on thinking 'I need to be on it here because this is the level I aspire to' and obviously clubs will be looking at you and stuff and thinking 'he can do it at that level so why not give him a shot'," the Dubliner declared.
Only problem was, I don't believe Forrester did set any example in his role as club captain in the match at The Bridge.
True, he set up a couple of good chances for Peterborough with pinpoint passes but for at least two Chelsea attacks, one of which resulted in a goal – and these were only highlights I was watching – he was enjoying a Sunday afternoon stroll and close to putting the brakes on completely as his defence attempted to thwart the home strikers.
I certainly doubt he won any new admirers – Chelsea included – with that lacklustre approach though there's no doubt he has the ability to make it at the highest level.
Report card: Must work harder.
ANOTHER CUP ADVANCE FOR CONRAD
Got talking to Joe Logan at the Sports Star Awards launch and a happy man he was following Rochdale's 2-0 win at Barrow in the F.A. Cup.
The nil part's significant given that it was his son, Conrad, who kept the clean sheet and helped his side progress to the fourth round where they will meet Huddersfield Town.
A solid performance between the sticks from the Ramelton man – fellow goalkeeper, Mark Schwarzer subsequently sang his praises on 'Match of the Day' –  who created his own piece of Cup magic last May by helping Hibernian to claim the Scottish equivalent in a 3-2 win over Rangers – the first time the club has lifted the trophy in 114 years.
I'd hazard a guess that Rochdale have gone a lot longer than that.
DONAL'S DOUBLE
Getting a hat-trick in a game at any level is an achievement in itself – getting two of them in the one match hits the heights of stunning.
And consequently a hearty well done to Keadue Rovers striker, Donal Rodgers, who netted the neat half-dozen in his side's 7-1 thumping of Drumoghill in the Reserve Division of the Saturday League at the weekend. And all of them registered in the first half.
It brought to mind – this one at any rate – a certain Brendan Bradley who achieved a similar feat in his day when Finn Harps trounced Sligo Rovers 6-1 in Ballybofey. Unfortunately some of us were at boarding school in Falcarragh and missed the big man's double hat-trick.
Not sure where I was last Saturday but I also managed to miss Donal's day in the sun.
Incidentally, do you get two match balls if you claim a double hat-trick?