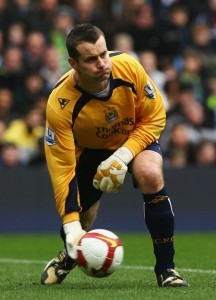 IF SHAY Given was putting himself in transfer shop window, he couldn't have put in a better performance in Man City's 3-0 win over Red Bull Salzburg at Eastlands last night.
First choice, England's Joe Hart, dropped to the bench and Given showed why he is still rated as the best keeper in the Premiership.
At one stage Given was forced to pull off a magnificent one-handed from Stefan Hierlander – and the City fans showed their appreciation with rapturous applause.
Roberto Mancini's decision to play the Lifford man came amid speculation that Given will quit Manchester City in January, but a loan move to Celtic has been put on ice – because of the Lifford man's high wages. 
Given had played just twice for Manchester City this season before tonight's game and he is keen to go out on loan when the transger window opens in January.
Celtic was Given's first senior club and he is friends with Hoops manager Neil Lennon.
But the Celtic board has refused to cough up enough cash to pay for Given's wages during a loan move.
Man City say they will not contribute to Given's salary during any loan move to another club.
Arsenal, Fulham and Liverpool have also been linked to a move for the 34-year-old Donegal goalkeeper next month.