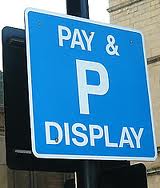 LETTERKENNY IS to launch a massive crackdown on illegal parkers – by employing TWO new traffic wardens and a raft of new penalties!
From today (MON) the price of parking for an hour on the Main Street will be increased from 60c to €1 and those who do not pay could be clamped.
The new guidelines are all part of a plan to encourage shorter parking times on the town's main thoroughfare.
Persistent offenders who do not pay for parking metres will now be clamped and have to pay a fine to get the clamp taken off.
Those looking to park for a very short time can avail of a half an hour's free parking in another new move introduced by the council.
It says that there is enough parking spaces at areas such as the Cathedral Car Park and the Courthouse for people to leave the Main Street free of cars.
Last year the town council took in more than €100,000 from the 29 Pay and Display Units located on the Main Street.
A survey of traffic in the town has found that less than 60% of motorists stay parked for less than half an hour on the Main Street.
The council says there should be no need for people to park on a long-term basis on the Main Street as there are well over 1,000 private and public parking spaces around the centre of the town.
The town Council currently has two wardens who can issue Fixed Notice parking fines ranging from €40 to €80. Failure to comply within 28 days results in the fines being increased by 50 per cent.
Ends