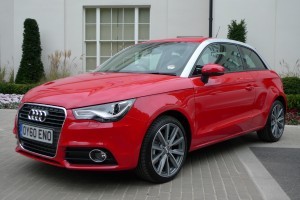 SOONER or later it just had to happen that Audi would launch a small car; the A1 has arrived and it is the smallest of the brand in the modern era and it has come to market at just the right time.
  While the A1 may be small in no way is quality or dynamics sacrificed, it has all of the qualities of its bigger stable mates.
   Audi claim that with the new car premium meets compact size for the very first time and after having driven two models from the range, I certainly could not disagree.
   There was a small Audi of an earlier era, the A2, it was way ahead of its time and even today one can demand quite a good price on the used car market.
   The A1 is thoroughly modern, with its edgy design and it blends sportiness with style and no doubt it will appeal to a very broad audience. The young who aspire to own and drive an Audi, existing customers and people who are downsizing, but who do not want to sacrifice quality.
  Investing in a new car can be a major venture for most and the good news is that the new car has the best residual value in its class.
  Keeping the motoring costs down has become a priority for all and with the A1 the good news story continues, all launch models are below the 130g/km barrier; Start-Stop technology is available and the 1.4 TFSI has the S tronic 7 speed transmission.
  The newcomer from Audi is offered in three trim levels, SE, Sport and S line and of course a wide range of options can transform the car to the individual taste of the customer.
   The 1.4 TFSI Sport S tronic which I tried had a number of options fitted, such as heated door mirrors with washer jets, 3 spoke leather sports multi function steering wheel with gear shift paddles, light and rain sensors, electronic climate control and a super Audi sound system. My second test vehicle was a 1.6 TDI sport, again a variety of options were fitted.
   I have had drivers commenting on service costs when it comes to Audi; now for another helping of good news, there is a five year service plan available for the A1 that won't cost a fortune.
   Driving the coupe-style A1 was a rewarding experience, I liked very much the cabin layout with a driver oriented cockpit with centre flip up screen and the latest generation Infotainment platform – MMI 3G+. I am reliably informed that the dashboard was inspired by an aircraft wing.
  The newcomer is a four seater, three door with adequate boot capacity and the split fold rear seats further enhance load carrying ability. I cannot say that boot space is generous, after all this is a compact car.
  The A1 scores highly when it comes to drive quality, this car is equally at ease in the city or at speed on the motorway. Ride is refined and handling is surefooted and noise levels for a small car are extremely low.
  Looking at performance and in particular the two models I tried, the 1.4 TFSI delivers 122PS, while the 1, 6 TDI provides 105PS. The 1.4 TFSI can whisk you from rest to 62mph in 8.9 seconds and on to a top speed of 126mph, while the diesel model tried reaches 62mph in 10.5 seconds and on to a top speed of 118mph.
  When it comes to fuel, the 1.4 TFSI provides 54.3mpg on the combined fuel cycle while the 1.6 diesel delivers a wallet pleasing 70.6mpg. Respective C02 figures are 119g/km and 105g/km.
  There is no compromise with the new A1 it scores highly in all key areas and it simply continues the Audi tradition of delivering a first rate motor car, but at a hefty price.
Review: Ian Lynas
TECH SPEC:
ENGINE CHOICE: petrol (1.2 & 1.4 TFSI); diesel (1.6 TDI)
POWER: 105-122PS
CO2 RATING: 105 – 118g/km
ECONOMY: 53.3-70.6mpg (combined fuel cycle)
TRIM LEVELS, three, SE, Sport, S line
Price: TBC