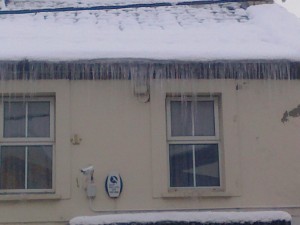 TRADERS ACROSS THE county are attempting to remove giant icicles from their premises after a shopper was hit on the head in Letterkenny yesterday.
At one stage a JCB was being used to remove the frozen droplets after a several other near-misses with shoppers during the day.
Our picture – taken this afternoon – shows some icicles which are up to four feet long.
The shopper who was hit on the Main Street did not suffer any serious injury – but it is yet another hazard that under-pressure retailers have to deal with during this hellish run up to Christmas.
Traders in other towns were also attempting to clear icicles from their premises in case customers are injured.
Donegal County Council's Vincent Lynn asked people to be extra vigilant from icicles in the current climate.
"One person has already had a lucky escape and we are asking people to be extra vigilant for falling icicles.
"Already other counries have special covers to protect people from falling lumps of snow which we do not have in Ireland.
"People should also be careful when the thaw does set in that they are not caugfht beneath this falling snow," he said.
The severe weather is continuinng tonight with snow showers in the north and west of the county and temperatures of -10C.
Our roads are once again disastrous tonight and Gardai are appealing to people to slow down.