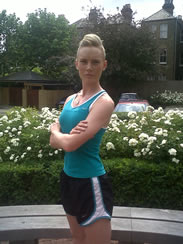 DONEGAL beauty Collette McBarron has landed a job working for international clothing chain Abercrombie and Fitch.
The 26-year-old former Army lieutenant quit Ireland last summer to start up her own fitness company in London – and has been snapped up by the British-based branch of the store.
The ex-Miss Ireland contestant admits the chain is known for its sexy image.
"They do have quite a reputation for being a bit sexier, but I never have to wear anything too revealing," said Collette.
"It's more the key looks, and shirts and jeans, that I'll be wearing in the shop. If I'm not training, I'll go in and do a shift in there.
"You can't just apply for a job there, they have people employed especially to recruit staff.
"It's good fun because it's a bit like working in a nightclub.
"The first time I went in there were people dancing in kind of skimpy clothes and shirtless guys on the door. I'm working with some other designers as well," she added.
Her company – barronsfitness – is doing well. Clients include model Abbey Clancy, partner of Spurs striker Peter Crouch.
"It's all going well, I'm looking at taking on a couple of pretty high-profile people after Christmas."
Collette is now home here in Donegal over the holidays and will be staying here for a few weeks in order to catch up with family and friends.
She is currently single after splitting with Zac Jordan, son of ex-Formula 1 racing boss Eddie Jordan, for the second time last September.