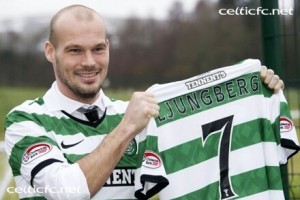 FREDDIE LJUNGBERG held up the prestigious No.7 shirt at Celtic's Lennoxtown Training Centre this morning and revealed his delight at signing for one of the biggest clubs in the world.
Following in the footsteps of Jimmy Johnstone and his former Sweden team-mate Henrik Larsson, Ljungberg has big boots to fill, but the ex-Arsenal midfielder is looking forward to the challenge.
The 33-year-old joins Celtic until the end of the season and could face a baptism of fire as he goes into the squad to face Rangers on Sunday.
And speaking exclusively to Channel 67, he admitted it is that passion which comes with the Hoops which first attracted him to the club.
"I knew a lot about Celtic before I came here," Ljungberg said, "It's a big club and there is a great passion for football here.
"Maybe some people may wonder why I left America but what I missed the most was the passion of the sport. And looking anywhere to get that passion, it's here with the amazing fans, so this is great and I'm really looking forward to it.
"When you play for a long time you look for different things. This is a great club, with great players and great management staff. I like the way Johan and Neil spoke to me, and how persistent they were. And like I said, I want to feel the passion again.
"I've got the No.7 shirt, but at Arsenal I also got Ian Wright's old number and he was a legend there. I tried to carry that as best I could and I will do the same here.
"It's a great honour that the club want me to wear that shirt and I will wear it with pride and hopefully do it justice."
Ljungberg will go into the squad to face Rangers on Sunday but his fitness may hold him back from making his debut.
The midfielder has only trained twice since October but is confident his stature makes it easy to catch up for lost time.
"I'm lucky that my body is quite tiny so I'm easily trained and I don't get that unfit," he said. "I can train a bit harder now I am here but I am already in good shape so we will see how I am feeling ahead of Sunday.
"I had a problem with my hip at Arsenal and no one knew what it was so it made my hamstring go. I suffered from that for two years but I saw the doctor when I was in America and he found my hip had been broken for a while.
"Now that's fixed I haven't had any problems and I feel like I can run past people and move like I used to in the old days. I feel very, very fit.
"Hopefully I have qualities which I can bring to this team. I have been playing well for the last couple of years so I want to bring that here and help the team at every level."
Meanwhile, manager Neil Lennon couldn't hide his delight at securing Ljungberg's signature until the end of the season.
"We worked pretty hard on this deal and we've spoke at length with the management staff about it," he said. "We're absolutely thrilled to have him here, he is a player of vast experience and he has been a quality player for a long, long time.
"He is the type of player we've been looking to bring into the squad and he's been willing to look around the place. We were very happy with his performances and the qualities we thought he could bring to the club.
"He ticks all our boxes and I can't emphasise enough how pleased we are to have him here. He's only 33 so there is still plenty of football in him and we hope he comes here and enjoys it."
Celtic go into the New Year a point ahead of Rangers, though the Ibrox side have two games in hand.
The Hoops beat Motherwell 1-0 on Wednesday thanks to another brilliant strike from Paddy McCourt. (Watch highlights here http://www.youtube.com/watch?v=kgD5whE6K-g).
But only a win at Ibrox on Sunday will settle the increasingly restless Celtic support.