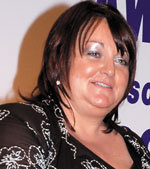 PORTNABLAGH woman Ann Marie Ward is on top of the world today after being voted the best OpenWater Swimmer on the planet!
"This is fantastic for Donegal," said the 44-year-old on the accolade.
"I am honoured, humbled and gobsmacked. It's a little surreal," she said, having beaten off Olympic, world, European and marathon competitors.
Open Water Swimming guru Steve Munatones of the United States announced the results via Twitter.
He said: "The North Irish Channel" is renowned for being the toughest channel swim in the world – cold, rough, filled with jellyfish and fraught with unpredictable weather. But it was site to the tenacious efforts of one Irish women who never quit until she reached the other side.
"Anne Marie Ward, an unlikely endurance heroine, joined one of the most elite and exclusive marathon swimming clubs in the world – the 11 members of the North Irish Channel club. Her never-say-never 18 hour and 59 minute effort – on her fourth attempt – courageously ended in darkness at 3:35 am.
"With both the English Channel and North Channel under her belt, Anne Marie completely reversed her previously unhealthful lifestyle – an inspirational story in itself – and is now one of the world's most accomplished cold-water channel swimmers. Starting humbly and simply with a 2-mile charity swim, Anne Marie is now deservedly recognized by her peers and honored for reaching the pinnacle of her sport.
"For her amazing swim between Ireland and Scotland her admirable lifestyle turnaround and dedication to charity swims, Anne Marie Ward was selected as the 2010 World Open Water Swimming Woman Of The Year.
"Among the millions of female open water swimmers around the world, the 12 nominees clearly stood out – their exploits, histories and lifestyles are all incredibly inspirational for they overcame failures, obstacles and disappointments at some point in their swimming careers. But they forged on, positively and courageously. As the award is meant to symbolize, the nominees (1) embodied the spirit of open water swimming, (2) possess the sense of adventure, tenacity and perseverance that open water swimmers are known for, and (3) most positively influenced the world of open water swimming in 2010."
The final results of the 2010 vote were as follows:
1. Anne Marie Ward, Swimmer (Ireland) 47.36% (2,558 votes)
2. Ana Marcela Cunha, Swimmer (Brazil) 28.74% (1,552 votes)
3. Linsy Heister, Swimmer (Netherlands) 10.39% (561 votes)
4. Jackie Cobell, Swimmer (Great Britain) 3.43% (185 votes)
5. Barbara Held, Swimmer (USA) 3.35% (181 votes)
6. Penny Palfrey, Swimmer (Australia) 2.24% (121 votes)
7. Angela Maurer, Swimmer (Germany) 1.72% (93 votes)
8. Eva Fabian, Swimmer (USA) 0.7% (38 votes)
9. Freda Streeter, Coach/Motivator (Great Britain) 0.65% (35 votes)
10. Diana Nyad, Swimmer (USA) 0.63% (34 votes)
11. Sue Oldham, Swimmer (Australia) 0.5% (27 votes)
12. Mighty Mermaids, Swimmers (USA) 0.3% (16 votes)