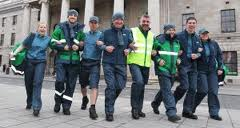 Around 200 postal workers employed by An Post in Donegal hit the streets today in their newly designed uniforms.
 
The complete new uniform kit was designed by top Irish designer Paul Costello.
The four year contract for supply of the uniforms was won by Derry based company Hunter Apparel Solutions, one of the country's leading suppliers of work wear.
 
An Post employs a total of 6,000 mail collection and delivery staff nationwide, some 200 of these based in Donegal working from a network of main and sub post offices.
An Post is spending an estimated €3m over the next four years on the uniforms that sees the demise of the jumper, tie, blazer type jacket and peak cap.
The new kit includes all newly designed shirts, 'combat' style trousers, soft-shell jackets, weatherproof over jacket and trousers, baseball cap, beanie cap, scarf hi-vis vest and safety boots.
 
Fourteen Irish companies applied for the contract but Hunter Apparel Solutions in Derry was successful and will supply a large portion of the kit.
 
In all 96,000 garments were manufactured using 130,000 metres of fabric, 500,000 buttons and studs, 95,000 zips, 250,000 brand labels and 50,000 metres of reflective hi-vis tape. 6,000 pairs of safety boots were also manufactured.
 
"The new uniforms are a big improvement from the existing kit that has been the norm for many years. It's more comfortable and user friendly.
"The 'combat' type trousers are a big improvement as are the soft shell jackets and the all weather gear. The kit is also eye catching with the new colour scheme and will certainly catch the public's eye on Tuesday," said one local postie today.