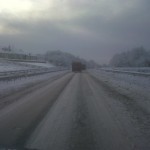 The upcoming meeting of Letterkenny Town Council is to be snowed under with issues about – snow!
A number of councillors are demanding action on a number of weather related issues after the Cathedral Town was brought to a virtual standstill during the Big Chill.
Councillors Gerry McMonagle, Dessie Larkin and Tom Crossan all have motions or questions relating to the recent cold snap.
Colr McMonagle is demanding to know if Letterkenny Town Council can source its own supply of salt in future instead of depending on the County Council or the NRA.
Not just that but the Sinn Fein representative also wants the council to buy a machine that will clear the footpaths of snow and ice in the future.
Colr Tom Crossan's motion is a little more general.
The Independent councillor wants the council to put a plan in place for the next winter before we're hit hard again from another Big Chill.
And Councillor Dessie Larkin must think the winter is coming to a close as he wants to thank all the council staff and recognise the wonderful work they did during the recent cold snap.
They deserve all the praise that comes their way Colr Larkin, but have you looked outside?    
Ends