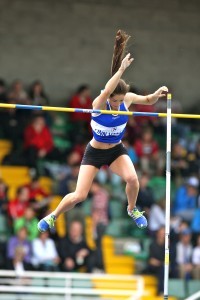 Tori Pena Irish pole vault record holder and member of Finn Valley AC has her sights firmly set on the 2011 season and of course long term hopes to be amongst that elite group of Irish competitors on the start line London Olympics 2012 .
Her best of 4-35 m in 2010 qualifies her for the upcoming European Indooor championships in Paris and with that in mind has put a really competitive competition programme in place to prepare.
She's making her preparations at her U.S. base in California as it would have been impossible to do so here in Ireland with our weather.
Training has gone well pre-Christmas as she linked up with her former teamates at UCLA having graduated from there some months earlier.
She opens her season in Seattle January 15th, then its Reno Jan.29th New Mexico Feb 5 and back to Seattle Feb 12th .
She will then hump on a plane for Ireland where she competes Feb 19th in Belfast for the Irish nationals and one more meet all being well in Europe before March and Paris Europeans.
 
Finn Valley and Ireland team boss Patsy Mc Gonagle describes Tori as one of the most positive athletes he has encountered.
She is the Irish record holder in the event and having won the Irish championship in 2010 competed in Barcelona European outdoors.
Her background is Derry/Donegal and is no stranger to Ireland having competed regularly in world Irish dancing champs as a young girl . Indeed a spectator at last year's nationals was her grandmother who travelled from Derry and was certainly a proud lady on the day.
Tori firmly believes she can achieve olympic qualification in the period ahead and we look forward to monitoring her progress in the months ahead.